---
We Know Horticulture
Fruitfed Supplies is the horticultural service and supply division of PGG Wrightson Ltd with multiple service centres across New Zealand's major horticultural regions.

Our long-lasting clients include grape growers manufacturing international wine labels, pip and stone fruit exporters and vegetable growers supplying local markets.
---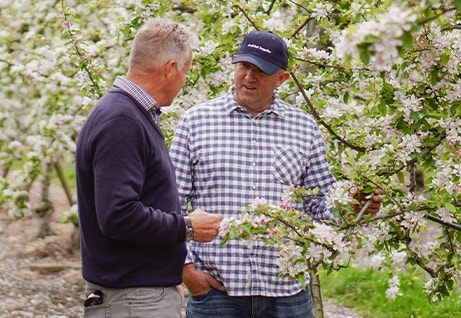 Having been part of the horticultural industry for over 100 years, our team continues to support and collaborate with growers for improved growing practices and a sustainable and successful horticultural industry. Forming long lasting relationships within the industry, our in-store teams and Technical Horticultural Representatives are supported by Crop Monitors and Technical Advisors. Together, the Fruitfed Supplies team provides a comprehensive service across a range of fruit and vegetable crops and is dedicated to supporting your goals in the field.
With a Research & Development team conducting product trials and assessing new growing techniques in New Zealand, our wider team of in-store representatives and Technical Horticultural Representatives have first hand knowledge of the latest developments and have a real advantage when recommending growers crop protection and fertiliser programmes. Our depth of knowledge and access to new products is not easily matched elsewhere, and with our research driving continous improvements within the industry, Fruitfed Supplies' technical network assists growers produce quality, profitable fruit and vegetable crops.
Our History




________________________________
Fruitfed Supplies, as it's known today, was originally formed in 1916 as a grower-owned organisation formed to advocate and support those within the horticultural industry.
Starting from humble beginnings, the New Zealand Fruitgrowers' Federation commenced its commercial activities in 1920, opening its first store in Hastings. The Federation's primary focus was to represent the interests of horticultural growers, using its collective buying power to provide crop protection products and harvesting equipment.
The establishment of the New Zealand Apple and Pear Marketing Board in 1948 was due to a strong advocacy to the Labour government by the leaders within the New Zealand Fruitgrowers' Federation on behalf of the nation's apple growers.

'The Federation' was the primary source of orchard inputs from the 1920s through the '60s and into the '70s while, at the same time, facilitating district advisory groups which continued to represented the industry's interests throughout this period.
In the 1980s the ownership structure changed with, first, the New Zealand Apple and Pear Board taking a 50% stake in the organisation for a relatively short time when we traded as Fruitfed Limited before 70% of that company was floated on the New Zealand Stock Exchange. The remaining 30% was held by the Fruitgrowers Charitable Trust until the early '90s when the trust decided to sell down its investment enabling the Hawke's Bay-based stock and station company Williams and Kettle Ltd to secure 100% ownership of what, by then, was Fruitfed Supplies Ltd.
In 1995 national stock and station company Wrightson bought Williams and Kettle before announcing the decision to merge with Canterbury-based stock and station company Pyne Gould Guinness soon after.