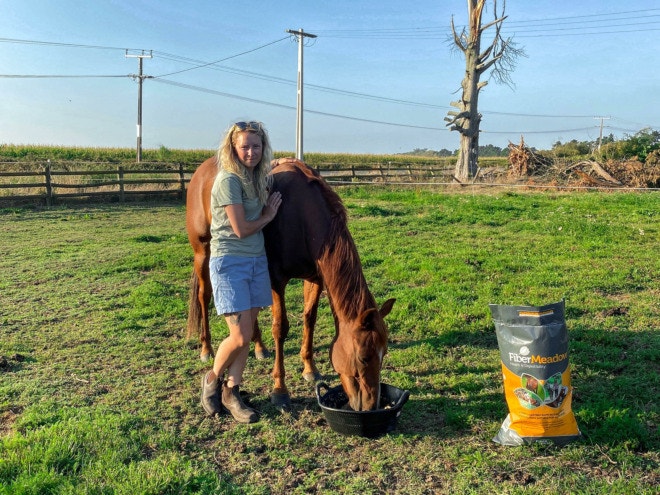 A guide to choosing horse feed
The wild west lives on in Te Awamutu with Mindy Matchitt, the local PGG Wrightson Store Manager, a keen competitor in Cutting equestrian western-style competitions. The competition has evolved since the cowboy era in America when, if your cattle got mixed up with your neighbour's herd, cowboy's and their horses needed the unique skills to break up the herd and safely return the cattle back home.
Describing competing, Mindy says cutting requires, "adrenaline with a lot of finesse."
Whether your horse competes or not good nutrition is vital. So we've tapped in on Mindy's experience to get her advice on nutrition.
Choosing the best feed for your Horse
With three horses competing, Ken aged 15, Cooper aged 7 and Gordie aged 4, Mindy carefully considers the type of nutrition she feeds her horses during competition and while the horses are spelling between May to October.
During competition season two of Mindy's horses are fed Fiber Fresh Fiberboost which she says provides good quality roughage with some conditioning barley.
Mindy also feeds Dunstan Resolve, a grain-free feed with antioxidants to support cartilage and joint health. A low grain diet is important to Mindy as her horses don't respond well when feed too much grain. She also looks for plenty of fibre and slow-release energy.
For her third horse, a 'good doer' who maintains condition well, Mindy feeds meadow hay in the morning and lucerne hay at night. For a similar product here's Fiber Fresh's lucerne.
Mindy feeds her horses supplements to aid their joint and muscle recovery as well as to help them cope with the stress of competing and traveling to events. Mindy chooses to feed her horses Dunstan's Betabeet Flakes as a supplementary feed. This also doubles as her winter feed as it is a grain-free, cool energy source ideal for horses of all ages, stages, and workloads.
Often at competition time coat sheen is important. For Mindy, though the horse isn't judged for its coat condition, she likes to have the horses looking their best. For a product that will improve coat sheen, go online to view Pryde's EasiFeed® Polished.
Here are Mindy's top tips for horse nutrition
When choosing a feed consider the horse's activity level, age, and current needs. For instance, Mindy says maybe the horse needs a 'pick me up' so you'd choose a feed that is higher in energy. She also feels it's important to match the horse's energy requirements with the right feed, as too much energy for example, can bring out undesirable behaviours. Mindy looks for a level-headed horse for competitions, so finding the right feed is essential. Next is feeding rate: Mindy says be sure to read the label and feed according to the rate of the horse's activity to avoid overfeeding.
With specific feeds formulated for say a horse's age, activity level or health conditions, it can be hard to know what to feed your horse. Mindy recommends doing your homework to research what feed is most suitable for your horse. As she says, "one brush doesn't paint the whole kitchen." Mindy also suggests talking to your local feed rep or visiting your local PGG Wrightson store to discuss your feed requirements.
We have plenty of options available in-store and online. Go online to view our range of grain and grain-free horse feed and supplements formulated to be fed as a complete feed or part of a balanced ration.
https://store.pggwrightson.co.nz/animal-feed-and-nutrition/equine-feed