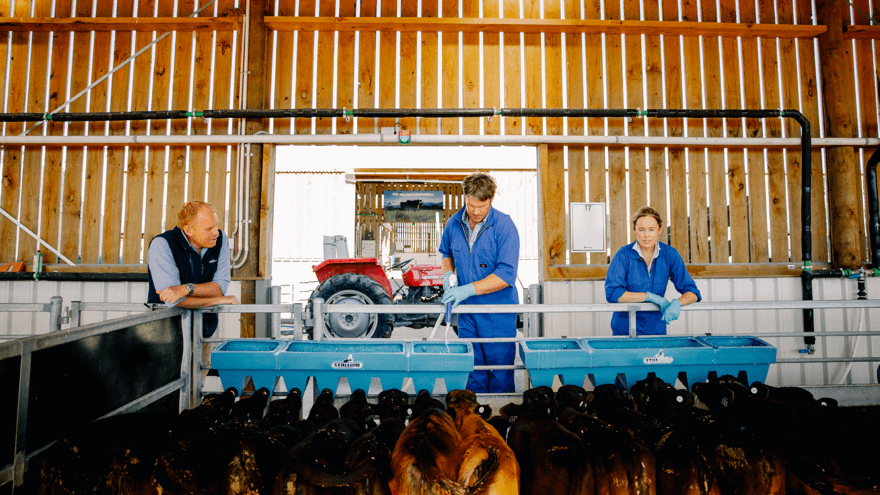 A more tailored approach to calf rearing
Andrew and Rebecca Furzeland focus on the first 120 days of a calf's life, as this is critical to the lifetime performance of the animal.
Rearing dairy heifer replacements for optimal milk production and Wagyu Dairy Cross beef animals for quality meat, they have developed a tailored rearing system, with the aim to understand how best to meet the calves nutrient requirements to maximise their performance.
Based in Methven, the Furzelands rear autumn and spring calves alongside grazing youngstock. Their pasture is perennial ryegrass mixed with white and red clover and plantain.
Andrew describes their main rearing challenge as being able to determine and meet the nutrient requirements of their animals, while factoring in seasonal variations.
"There are a number of Calf Milk Replacers (CMR) on the market, and it is important to understand feeding rates that suit your system to maximise an animals' genetic potential," says Andrew.
As calves are reliant on liquid nutrition, particuarly during their first 21 days, they are fed twice daily for approximately four weeks, then gradually transition to once a day, though this is dependant on calf rumen development and meal intake. Andrew and Rebecca target a minimum of 85 kg weaning weight for dairy heifers and a minimum of 75 kg for Wagyu Cross calves.
Since 2019, Andrew and Rebecca have fed MaxCare CMR. It was introduced by PGG Wrightson Key Account Manager, Hamish Drennan, whom they describe as their "go-to person" and a key member of their team.
Initially trialling 100 Wagyu Cross calves on MaxCare Ultimate, Rebecca notes the animals were in healthy condition and showed consistent growth rates.
The opportunity to visit the Maxum factory (supplier of the MaxCare range of CMR) in Australia was invaluable, in conjunction with visiting some dairy and beef rearing farms who have achieved positive results feeding MaxCare CMR.
"Having a vision of the whole process was eye-opening," Rebecca continues. "It wasn't just about a quality milk powder. It was the people, the ongoing product development and the hands-on support from the MaxCare team that impressed us."
Over the last few years, Andrew and Rebecca have trialled MaxCare Ultimate, Premium and Finisher. They currently feed both MaxCare Ultimate and Premium which is linked to the individual calf rearing contracts. It provides consistency for their calves and aligns with their strategic objective of setting good foundations of nutrition to assist with achieving optimal animal performance. They recommend it as a nutritionally balanced product.
"We've effectively built a team with Hamish, PGG Wrightson, MaxCare and Seales Winslow," concludes Andrew. "They share our vision and we're constantly improving. Currently we're working with MaxCare to develop a CMR with more beneficial ingredients, moving away from 'average' to a more specific formulation."