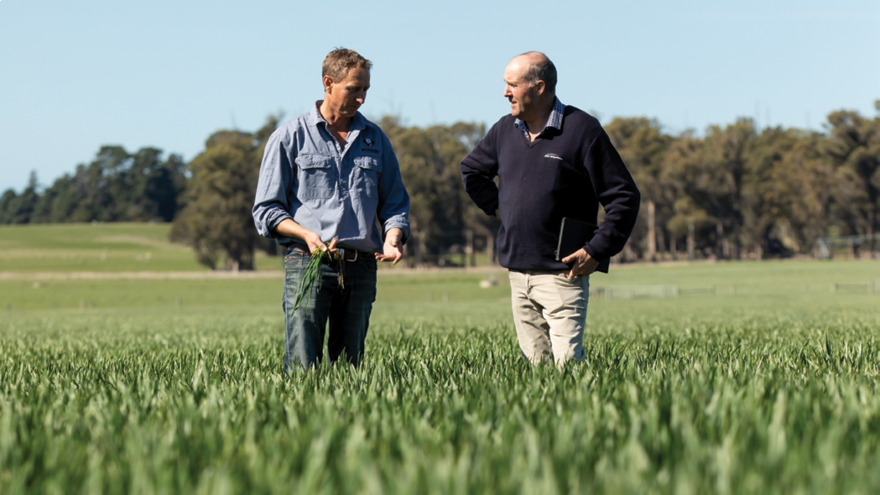 A simple solution to increase yields
A recent addition to arable farmer Hayden Cowan's crop programme has turned patchy crops into high yielding ones.
Hayden owns Parkdale Farm in North Canterbury, growing wheat, barley, grass, clover and winter brassica and grazing beef and dairy cattle.
The Cowan's have been PGG Wrightson customers for generations. Technical Field Representative, Henry Wardell, provides a full farm advisory service, going on-farm weekly during cropping season.
"Henry is good value," says Hayden. "I know he cares about our progress."
With the farm being east-facing and terraced, too much wind and not enough rain provides challenges. In the past, Hayden struggled with patchy crops with some spots yielding only 2,000 kg per hectare (ha) of brassica.
To offer a solution, Henry brought in Yara Fertilizers New Zealand Representative, Paul Johnston.
"We know YaraVita Gramitrel, a foliar trace element product, is effective," explains Henry. "Plenty of farmers have compared treated versus non-treated areas and we've seen a visual difference in the crops, as well as big yield differences."
Designed to provide crops with an optimum micronutrient supply, YaraVita Gramitrel offers a combination of Magnesium, Manganese, Copper and Zinc, as well as Nitrogen.
"We apply Gramitrel to the cereal crops too and see consistently good grain weights. Even in the particularly challenging 2018 season, we had good grain samples. I believe we were one of the few to achieve a grain test weight in the high 60s that season," explains Hayden.
"I was really keen to get to the bottom of the patchy brassica yields," he says. "We gave YaraVita Molybor a crack. The results were good. We consistently yield over 5,000 kg per ha in our brassica crops, even in the 'bad' spots."
Using a 24 m trail sprayer, Hayden applies YaraVita Gramitrel once to his cereal crops, just 2 L per ha at growth stage 30, along with a herbicide. Molybor is applied to the brassica in autumn.
Hayden notes he has compared similar products and even tried an alternative. "YaraVita Gramitrel is more highly concentrated and consistently delivers us good results," he says. "It's much better bang for buck."