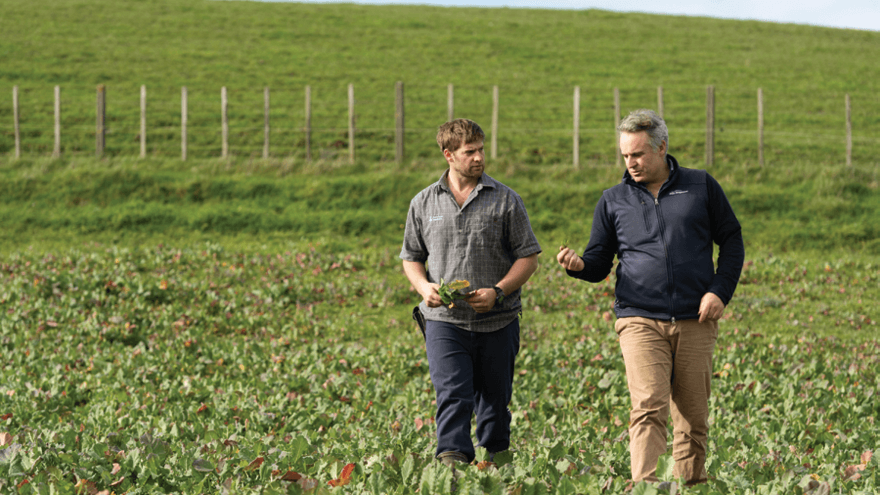 A tailored approach to agronomy pays off
In the last two years, Gollan Partnership have seen a marked increase in yields enabling them to increase lambing numbers by 10 to 15 animals per hectare (ha). Richard Gollan and his father Rob attribute the growing success of their farms to implementing tailored cropping and spraying plans.
Richard manages three farms, a total of 400 ha in Turakina, Rangitikei. Primarily a beef and lamb finishing business, the Gollans finish 9 to 10,000 lambs annually. They also fatten beef stock; approximately 70 steers and 120 bulls and run 500 five year old ewes.
In the lamb finishing area they target 20 kg ewe lambs and 22 kg male lambs, a process that takes two to three months. To feed the animals they crop approximately 130 ha, growing rape, Pasja II (leafy) turnips, Raphno brassicas and a mix of chicory and clover as well as pasture. Crops are direct-drilled during October to early November.
Richard says their challenge is having food supply to meet demand, essentially being able to fill gaps when there is a feed deficit. They are also working to limit downtime and cropping transition.
Challenges to the crops include diamondback moth, white butterfly and springtails whilst environmentally they navigate wet winters, dry summers and clay soils.
PGG Wrightson Technical Field Representative, Will Lampp, works closely with Richard to plan for the upcoming season, a process that Richard finds invaluable.
"I enjoy PGG Wrightson's crop and spray planning," says Richard. "We go through each of the three farms to work out what to plant and how to manage each crop. It's a good and thorough set-up and I'm confident Will is on the same page as us."
Will's background includes shepherding, shearing and dairy farming with agronomy being his main strength. He specialises in forage systems and animal nutrition.
On farm every 10 to 14 days during the cropping season, Will is in constant contact with Richard. Between them they have embraced technology, both agreeing it has minimised downtime.
"Anytime I need a weed identified, I simply take a photo and send it to Will who identifies it and advises us how best to tackle the problem," says Richard. "Or, when I'm busy weighing lambs, Will can check the crops and send me a rundown with his recommendations by email. It's too easy."
With Will's advice, and help from PGW Seeds Area Sales Agronomist Duncan Phyn, Richard has had an increasing amount of success with his crops.
Will's advice in selecting a post plant pre-emergence spray on the Raphno crop has given Richard reliable weed control with minimal damage to the crop and the spray used has a short clover plant back. If using a post emergent spray for any weed escapes, Will advises to use one with a shorter clover plant back as most weeds are controlled by the post plant
pre-emergent spray.
After the chicory and clover crops have been planted, they are monitored by Will and Richard and a herbicide is recommended when the weeds and clover have reached an appropriate timing to get the best out of the spray.
The Raphno is also monitored on a regular basis and if pests such as diamondback moth and white butterfly are found, the crop is sprayed with an appropriate insecticide when the time is right.
"Our spraying programme has certainly led to an increase in yields," Richard notes. "I believe proper weed identification has enabled us to target specific weeds and pests with the right chemical.
"PGG Wrightson provides an invaluable service to us. Will is a constant in our business. The store teams are friendly and helpful.
Reviewing his evolving farming practices Richard says, "This has been one of our best years and it keeps improving."