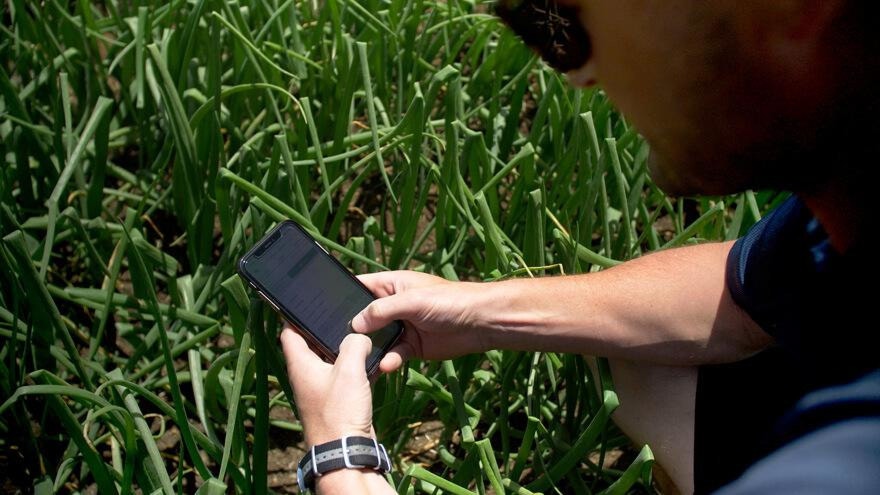 Agronomic digital tool streamlines record keeping
Having introduced the digital agronomy tool Greenlight Farm Management to New Zealand with software creator Muddy Boots, PGG Wrightson customers and the company's Technical Field Representatives (TFR) are benefiting from the efficiencies this app provides.
Faced with increasing regulatory obligations, farmers understand the need for software to provide a permanent record of cropping, nutritional and spray programmes implemented on-farm. With a user-friendly interface and functionality that allows for information to be entered while out in the field, Greenlight Farm Management assists with recording farm inputs.
Based in Waipukurau, PGG Wrightson TFR Joseph Watts has been with the company for over three years and has utilised Greenlight Farm Management from day one. As a TFR for farmers on intensively farmed arable based systems, Joseph says these operations need accurate records of what has been planted year-on-year for the success of the cropping programme.
Discussing the functionality of Greenlight Farm Management, Joseph says setting up the software is simple with a property mapped out using existing shape files. From there, Joseph explains,
"Greenlight Farm Management provides a history of what's been planted in a paddock and what products have been sprayed on the crop, so when planning future cropping rotations, withholding periods and plant back periods on sprays have been noted."
As a communication tool, Covid-19 has further demonstrated the software's capability, with a farmer, contractor and TFR able to share observations and record tasks completed without having to be face to face. "I have been able to continue interacting with farmers through Greenlight Farm Management. I can record and share what I've observed in a paddock and, if an issue arises, provide a recommendation," says Joseph.
To demonstrate how to record an observation in Greenlight Farm Management, Joseph explains, "I simply bring up the paddock on the app. I can either take a photo of an issue I've found in a crop or type in a note. Whether it's a pest, disease or recording a crop's growth stage, I can geotag the exact point in the paddock so in the future it is easy for me, the farmer or a contractor to follow up on what I've observed."
From there, Joseph can make a spray recommendation. By using Greenlight Farm Management the products included in a recommendation are audited according to the label's information
registered on the Agricultural Compounds and Veterinary Medicines (ACVM) Register. If the chemical is not at a rate according to its label, an alert will appear. This function provides confidence the recommendation is at the correct rate, reducing the likelihood of an error. The plan can then be confirmed or changed by the farmer or spray contractor, providing a permanent record of what was sprayed.
Come harvest, Joseph says farmers can utilise the spray records to meet compliance obligations. "Arable farmers selling malt barley, or vegetables such as sweetcorn and peas, need to supply a spray diary to the company purchasing the crop, which can easily be sent directly from the software."
To discuss using Greenlight Farm Management to record your farm inputs, or to organise a free trial, contact your local PGG Wrightson Technical Field Representative.