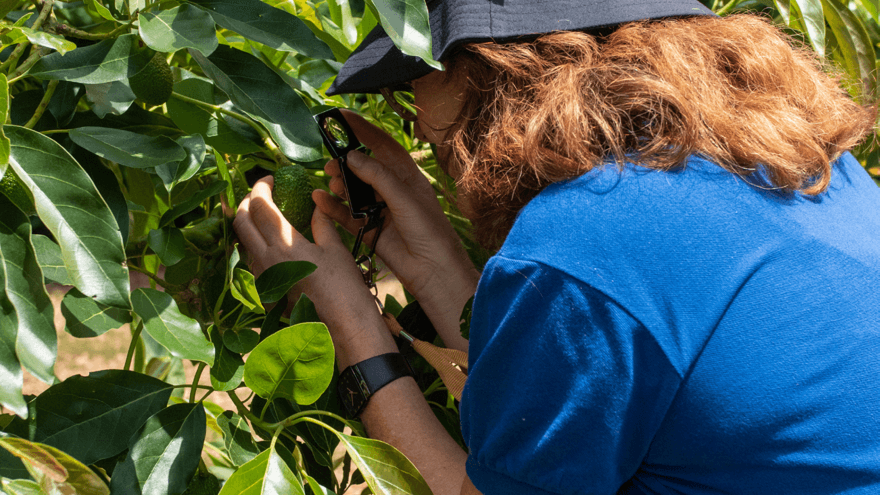 Avocado monitoring expands northward
When Fruitfed Supplies launched its avocado monitoring programme in 1997, it was a joint venture called AvoGreen with the then Avocado Industry Council and run primarily in Bay of Plenty being the main region in which avocado trees were planted in New Zealand.
With extensive planting of avocados in North Auckland and Northland in the past five to ten years, particularly around Tapora at the top of the Kaipara Harbour and Houhora and Kaitaia in the Far North, the demand for avocado monitors has also shifted. The Fruitfed Supplies Crop Monitoring team currently have 13 monitoring scouts covering the northern orchards, five in Bay of Plenty and two scouts covering the South Auckland market.
Alastair Reed, Fruitfed Supplies Regional Crop Monitoring Coordinator based in Katikati, says AvoGreen monitoring has always been based on integrated pest management principles to help growers utilise compatible crop protection products and improve pack-out.
Initially AvoGreen was a voluntary programme, Alastair explains. "But by February 2010, if you wanted to export your crop, all insecticide applications had to have justification and AvoGreen monitoring was the principal way to get that justification. As the industry expanded in New Zealand, AvoGreen offered a point of difference in export markets, helping demonstrate New Zealand growers were focused on issues such as food safety and compliance. The recent addition of China as an export market for New Zealand avocados would not have been possible without the AvoGreen programme."
New Zealand Avocados now manages the AvoGreen monitoring programme internally, looking after training of monitoring operators and grower auditing and compliance requirements.
As the largest certified AvoGreen monitoring operator, Fruitfed Supplies Crop Monitoring works with several hundred growers nationwide.
Alastair notes: "All monitoring scouts are trained by a New Zealand Avocado certified trainer and every certified monitor has to do an annual refresher course to remain certified, therefore maintaining high standards across the industry."
The speed with which monitoring data is reported to growers has long been a key aspect of Fruitfed Supplies' Crop Monitoring programmes. Monitoring results are recorded via smartphone app in the field and distributed to the grower and nominated parties within 15 minutes of the crop monitoring round being completed.
"Growers tell us they have come to rely on our reports arriving promptly to help them make timely, informed decisions about their crop protection programme."
Alastair adds: "Getting feedback from growers is also valuable to our team, helping us to continually improve our service. This season, we've appreciated getting phone calls from several growers, thanking us for the service and commenting on the improved pack-out they've achieved. This means that we are helping them with their export compliance, the original reason for the AvoGreen monitoring programme being developed and obviously still an important function of crop monitoring in New Zealand's avocado orchards."
For more information on product selection and best use guidelines for pest and disease management, please contact your local Fruitfed Supplies Technical Horticulture Representative.