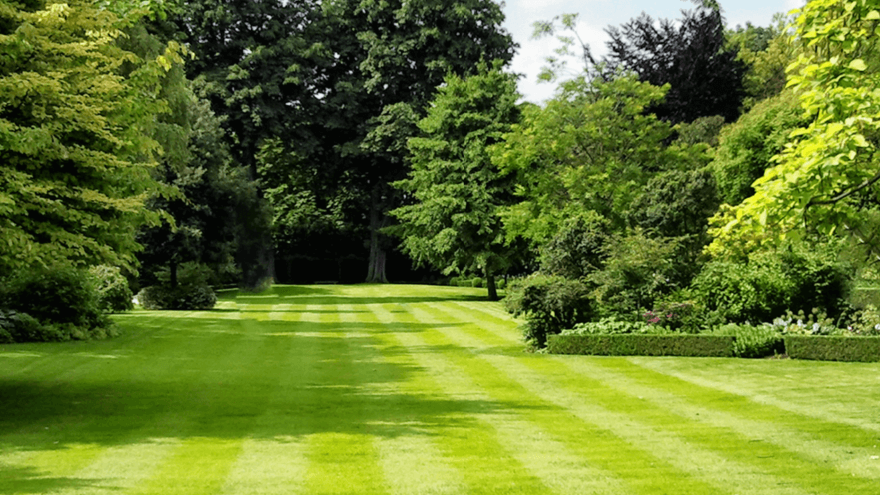 Becky's lawncare tips
If you have patchy areas on your lawn that need oversowing, or you are looking to sow new lawn, Becky Latter PGG Wrightson Customer Service Representative based in Canterbury, has a wealth of knowledge to share with you.
Prepare, prepare, prepare
If you're sowing new lawn Becky suggests putting in the hard yards preparing the area for sowing. This means removing any existing grass and weeds. Spray to remove the weeds, being careful not to spray any tree roots. Then wait a week for the old grass and weeds to die, raking the soil to remove any debris.
Having created what's called a false seedbed, Becky says spread a new grass fertiliser over the area and water. By doing this, the remaining weeds will germinate and you can remove them before planting the seed. It is much easier to remove the weeds now than when your lawn has established. As a final step, level the soil, compacting it, creating the right environment for the seeds to grow.
Patching your existing lawn
Need an ugly spot on the lawn repaired? Becky recommends creating a soft seedbed by raking up the affected piece of lawn – removing the debris and to soften the soil. Then place a seed raising mix on top of the soil and sow the seed, lightly covering the seed with the mix so it is hidden from birds and in the dark - ideal conditions for growing seeds. Using the back of your rake press down to ensure the seed has contact with the seed raising mix. Water using a misty spray so you don't drown the seed; excess water will bring the seed to the surface for the birds to eat.
To purchase Becky's recommended mix, click here for Tui's Seed Raising Mix.
Here's a couple of good suggestions from Becky. Just as you note the paint colour and brand ready for doing touch-ups at home, she says to note down the lawn seed you've sown. By doing so you'll avoid purchasing the wrong seed which can lead to an area of your lawn growing a different colour. Secondly, if you're unsure what might be causing issues in your lawn, take a photo and bring it into your local store so the team can identify what the issue might be and recommend the right product for you.
Choosing lawn seed
Ask yourself: do I want a magazine quality lawn that I'm going to spend time fertilising and mowing, or a hardy lawn as I have children or pets? Becky says you might even want two separate lawns; a picture-perfect front lawn and a back lawn for the kids to run on.
For seed options go online to our store to view the Durascape range by PGG Wrightson Turf.
Durascape's® All Purpose Superstrike® Lawn Seed is a fast-establishing blend that will handle wear and tear while presenting well.
Durascape's® Traditional Superstrike® Lawn Seed is suitable for low mowing and has good drought and shade tolerance. With care will make an amazing show lawn.
Durascape's® Sports Oval Superstrike®Lawn Seed will produce a hardy lawn that will establish at low temperatures, such as in late winter or early spring, and recover well from wear.
Durascape's® Fine Fescue Superstrike® Lawn Seed produces a fine textured lawn and will control grass weeds such as Poa annua.
Feed your lawn
If you're placing fertiliser in the soil at the same time as laying lawn seed, Becky suggests using a phosphate fertiliser like DAP. Better yet, choose a slow-release product. For a strong, healthy lawn the grass needs strong roots and phosphate supports root growth.
Becky recommends The Andersons Lawn Starter and Lawn Food fertilisers which you can purchase at your local PGG Wrightson store.
Tackling weeds
Firstly, note you cannot easily remove grass weeds from a grass lawn. Becky also points out if you're wanting to control weeds in an established lawn, you'll need to note the age of the lawn. Some products will cater for young lawns and others for older.
For a product that will remove weeds in a lawn less than one year old, shop at our store online for Kiwicare's LawnPro Turfclean Ultra.
Controlling insect pests
Know the lifecycle of the insect you're trying to control. That's key as Becky explains. With grass grub and porina caterpillar commonly found in lawns, damage shows up after the insect has been active so trying to control the pest then is fruitless. Say you've noticed clumps of dead grass in your lawn, indicating the presence of grass grub, that damage was done when it was feeding just under the surface three or four months ago.
If you think grass grubs are damaging your lawn, jump online to purchase Kiwicare's LawnPro Protect to control insects in your lawn.
Becky's tips for a healthy lawn
Choose a coated lawn seed treated with a fungicide to deter birds and assist with early disease control.
Fertilise your new lawn with a product that includes phosphate to support root development.
Water your lawn regularly in dry conditions as a lot of turf grasses have shallow root systems.
Don't overmow by putting your mower on its lowest setting. Grass uses photosynthesis so needs green leaf to grow.
To view more products available, simply click to visit PGG Wrightson's gardening section here to shop online.