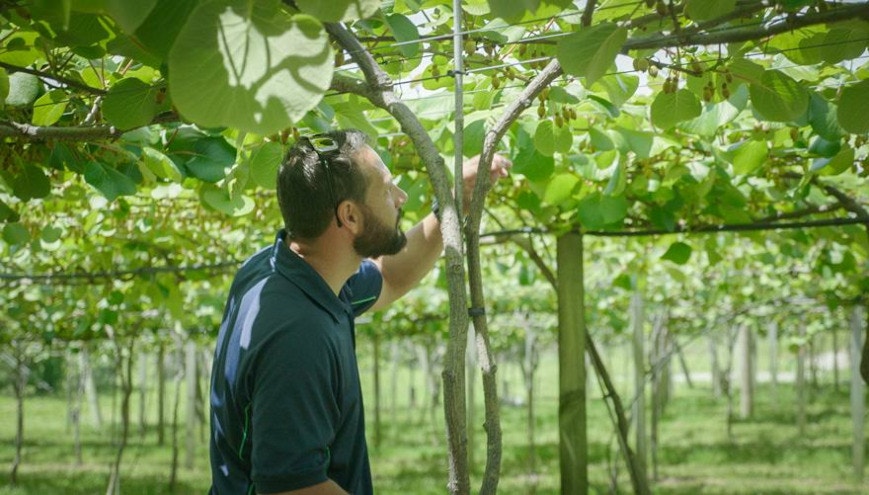 Being a part of a grower's team
Fruitfed Supplies Technical Horticultural Representative, Steve Wood, feels a great sense of satisfaction when he sees his recommendations having a positive impact on a business. Even more so having built long lasting friendships with his customers.
Based in Te Puke, Steve's customers grow green, red and gold kiwifruit, avocados and blueberries. On-orchard, his technical knowledge assists growers when planning spray programmes as well as offering advice as the crop moves through the various growth stages. "I'm someone the grower can bounce ideas off and I can help solve any issues that arise daily in the orchard."
Taking care of the plant's health is a focus for Technical Horticultural Representatives as Steve explains, "I complete soil tests, and once analysed, I form a fertiliser recommendation and order the product. For the grower, they can forget about this as they know I'm on top of it. I'll simply tell them to apply the fertiliser at the right time."
Throughout the season Steve will complete a walk-through of an orchard to monitor the crop. He'll look at the leaf colour and check for pest insect pressure. He'll then make a recommendation on how to manage what he's seen.
Unforeseen events, such as bad weather, highlight a Technical Horticultural Representative's product knowledge and how this benefits their customers. As Steve describes, "if there's a big rain event coming, particularly in spring as it is a crucial time for protecting plants from Psa, I'll field calls from customers asking me to re-arrange their spray programme. This might mean replacing nutritional sprays with Psa protectant sprays. Once the weather has passed, I'll then re-schedule the nutritional sprays back into the programme."
A Technical Horticultural Representative's involvement in growing their customer's businesses begins in the planning phases, organising spray programmes for the coming season and can also include helping plan an orchard's expansion.
With a number of his customers buying bare land to develop as orchards, Steve says he completes the time-consuming job of securing materials. "I'll visit the property and discuss the lay out plan with the customer and calculate the number of posts, strainers and other materials needed for the build. I'll then go to our suppliers and secure the product."
Supporting Fruitfed Supplies' Technical Horticultural Representatives are Technical Specialists and the Fruitfed Supplies Research & Development team who regularly conduct product trials. As Steve says, this network provides him with technical knowledge which he passes onto his customers.
"We're lucky to have kiwifruit trials, for example, running in orchards locally. This allows me to get a first-hand look at potential new products. At the end of the trial, when the product is registered for use in New Zealand, I already understand its effectiveness in local conditions and I can share this knowledge with growers."
Written by Fruitfed Supplies