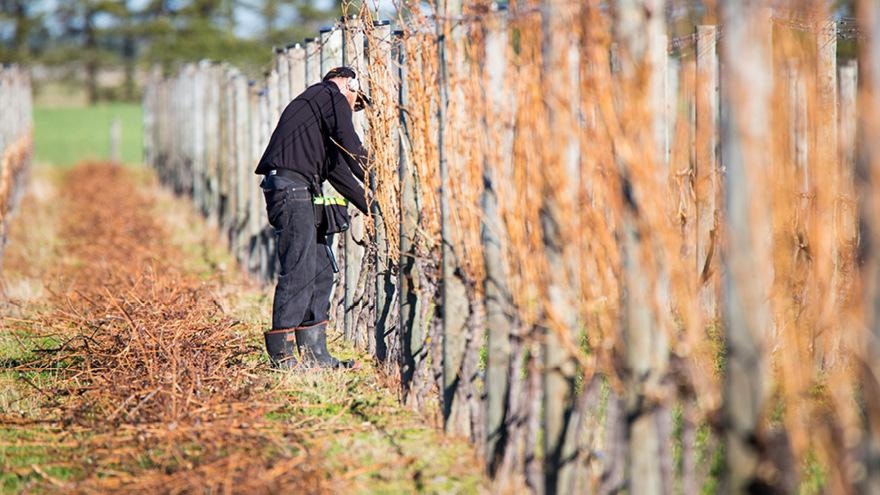 Best practice for grapevine pruning
One of the biggest risks when pruning grapevines is the likelihood that open wounds are infected by one of the various pathogens that contribute to Grapevine Trunk Disease (GTD).
There is a common misconception that the cost of protecting open wounds with pruning wound protectants outweighs the benefit of preventing GTD, whereas a 10-year study funded by New Zealand Winegrowers (NZW)1 highlights the benefits of using wound protectants to prevent vines becoming infected with any of these pathogens.
With rising costs, the lack of contract labour and short timescales, many pruning cuts are left unprotected or only partially covered. Irrespective of size, all pruning cuts leave the vine vulnerable to infection if left unprotected. Eutypa lata spores, for example, remain airborne for 36 hours after any amount of mist or rain, while Botryosphaeria spores are carried onto open wounds by rain drops.
To effectively prevent vines becoming infected with GTD, pruning wound protectants such as PruneTec and Greenseal Ultra, must be used correctly.
A purpose-designed wound protectant, PruneTec prevents these production-affecting diseases from gaining access to grapevines and other orchard crops via pruning wounds. It is the only product approved for control of Botryosphaeria dieback and petri disease in grapes. It also results in enhanced bark callusing which enables the tree or vine to recover from pruning or grafting quicker.
How to use PruneTec:
» Stir thoroughly before use. Do not dilute PruneTec with water as the seal integrity will be reduced.
» Apply PruneTec with a paint brush or applicator to the pruning wound making sure it has a clean surface. Make the application in a continuous uniform layer over and beyond (minimum 1 cm) the edges of the cut surface.
» All infected, stained wood must be cut out, or alternatively the vine or branch should be cut back to healthy tissue before applying PruneTec.
» PruneTec should only be applied to plants during the dormant period
Best practice pruning tips based on the NZW study¹ include:
» Wherever practicably possible, avoid pruning around a rain event.
» Pruning protectants must applied as soon as possible after making cuts.
» The wound must be entirely covered with the pruning protectant to be effective.
» If the protectant is washed off by sap flow or rain, it must be re-applied.
When timescales do not allow for the application of PruneTec or Greenseal Ultra, an alternative is to apply Gelseal Ultra Spray-On, which has been shown to provide curative control (reach-back) for up to seven days after pruning¹.
Gelseal Ultra is also the preferred treatment in times of high sap flow as research¹ has shown that spray application is a better option than pruning wound protectants. A Bragato Research Institute (BRI) research fact sheet² also shows that if done properly with correct sprayer setup, spray application achieves greater than 80 percent coverage of pruning wounds.
Adequate coverage of Gelseal Ultra requires high volumes sprayed to visible run-off. Two applications are better than one when applied in alternate directions. Use a water rate between 15 and 35 litres per 100 m of row. Spraying before cane stripping is highly recommended. This avoids obstacles in the inter-row and allows spray to drip off cut canes onto fresh wounds.
More advice on best pruning practice and these products is available from your Fruitfed Supplies Technical Horticultural Representative.
Written by Jon Peet, PGG Wrightson Technical Specialist - Viticulture
1 NZ Winegrowers - Optimising Management of Grapevine Trunk Disease for Vineyard Longevity, (Sosnowski, Mundy & Van de Jong, - Jan 2020).
2 BRI research fact sheet (April 2020) - Spray application: Protecting pruning wounds on dormant vines. Available on NZ Winegrowers website.
ACVM registration number: PruneTec #P008878. Read registered label before use.