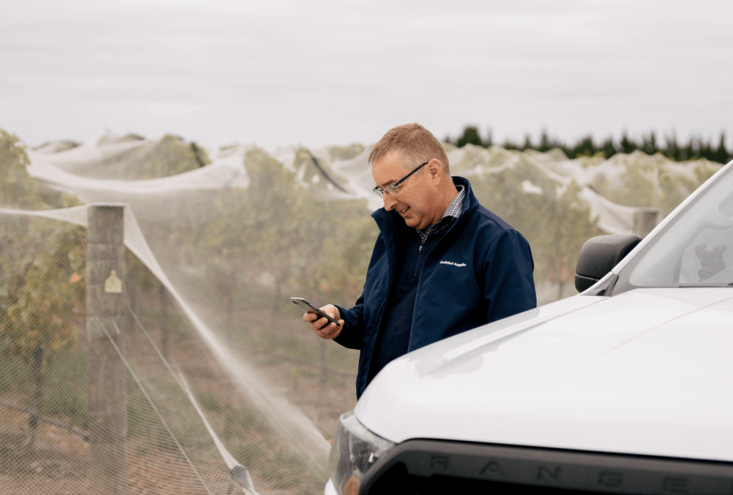 Digital tools simplify crop management decision making
With Fruitfed Supplies' Technical Advisors, Technical Horticultural Representatives and Crop Monitors out in the field with growers daily, the team understands the challenges that lie within growing a range of crops along with the increasing compliance and traceability obligations.
Seeing a way of helping growers with recording and reporting on agronomic practices, Fruitfed Supplies provide digital decision support tools to enable a simplified, more efficient way of capturing
data for communication and traceability purposes.
Fruitfed Supplies Crop Monitoring Service utilises a software system to record and store grower data collected from scout visits monitoring for pest and disease levels in a crop. The findings from
these visits are entered into the system and a report is then sent digitally to the grower. The report provides meaningful data for the grower, showing pest and disease pressure levels compared to
industry thresholds as well as reporting on the presence of beneficial insects. As well, the software can provide historical trends and tailored reports, designed according to a grower's needs.
Fruitfed Supplies is focused on providing digital tools that represent a clear value to its customers and found Greenlight Farm Management from Muddy Boots by TELUS Agriculture, to be the best way of enabling their technical advisers and growers to collaborate on their farm records.
Greenlight Farm Management (GFM) is a digital decision-support tool used for traceability, compliance, recording and reporting that has been customised with New Zealand-specific nutrient
information and crop protection product recommendations. GFM is currently used in over 35 countries with more than 15 million hectares of land managed using this software.
Max Spence, PGG Wrightson's Precision Manager, says this "represents a huge vote of confidence in the value of this software. TELUS has significant resources and is focused on bringing together the functionality and value of more than a dozen precision companies. We see a positive future for Greenlight Farm Management."
This tool provides genuine benefits for growers. Nathan Inch, PGG Wrightson's GFM Support Manager says, "with digitisation changing the way we work, the adoption of tools that provide transparency, compliance and traceability will be part of this change. Greenlight Farm Management records information in real time while in the field. This includes when and how much product is applied to a crop, the water rates used, who did the application, with what machinery and what the conditions were at the time. The data is normally recorded and stored on the app and synchronised back to the internet, with the information able to be viewed and reported by management, or accessed out in the field, assisting in crop management decisions."
"Greenlight Farm Management is also a valuable communication tool between a Technical Horticultural Representative, grower and spray contractor with each being able to view and confirm the information. The software allows for increased consultation and openness between users, and with product choice and timings becoming increasingly important, this tool simplifies this process."
Having been on offer to growers since 2016, GFM is already being used successfully by Fruitfed Supplies customers.
Donovan Keen, Regional Manager from AS Wilcox, a major vegetable producer in New Zealand, is one of those customers, and he clearly sees the benefit and importance of using GFM to assist with his decision making. As a large grower it is a time consuming and complicated process keeping tabs on pest pressure and control programmes occurring throughout the operation.
"There are always challenges and complexities within farming around sustainability and traceability. These two areas tie in hand to hand with what we do on a day-to-day basis. For traceability, it's imperative we can track what we grow right from putting the seed in the ground through to when that produce hits the store. One of the tools we use to help manage traceability is Greenlight Farm Management. It helps us with the technical aspect of traceability, around product inputs and applications – when and how we've done it and link it to the specific planting."
To learn more about Fruitfed Supplies' technologies, including Greenlight Farm Management, contact your local Technical Horticultural Representative.