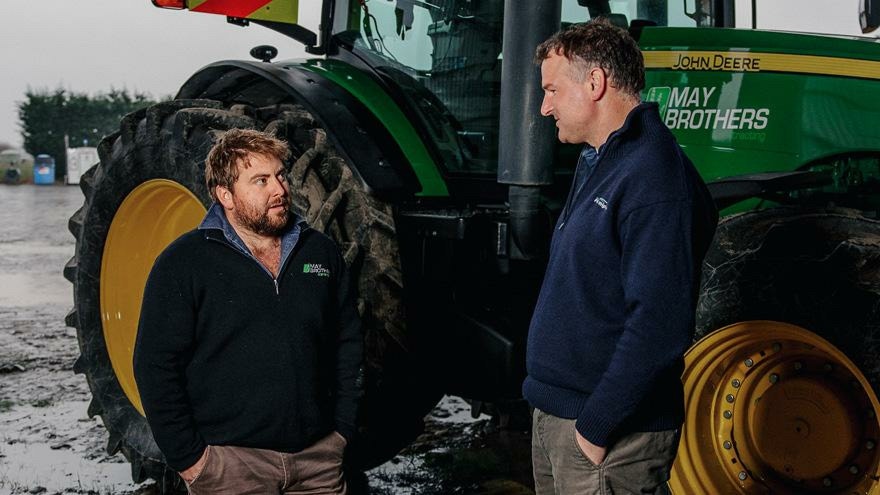 Discovering opportunities in potato growing
With a well-established arable cropping and contracting business in mid-Canterbury, brothers and business partners Tim and Phil May have now added potato growing to their enterprise.
Over the past 17 years, May Brothers Contracting has continued to expand, offering a range of services like cultivation, planting, harvesting, bailing, transport and supplementary feed sales. May Brothers' staff and machinery head to customers' farms across mid-Canterbury, primarily around Ashburton, Rakaia and Methven.
Two years ago, when an opportunity came up to get into growing potatoes, Tim says "It was an opportunity to grow potatoes on a reasonably large scale which fit alongside our existing operations pretty well."
Tim says both he and Phil have always had a passion and interest in farming. When Tim left school at 15, he worked on a potato farm and has maintained an interest in the crop ever since.
"We have a substantial number of tractors and trucks for transport purposes already and now invested in the required machinery for potatoes. Overall, we felt potatoes were a good fit with our existing business from that perspective. In fact, the potato work has enabled us to invest in more machinery for the existing arable farming and contracting businesses.
"The workload fits in well too. Basically, potatoes extend our season with planting in September and October and harvesting potatoes to go into storage taking place late autumn and early winter. This utilises staff earlier and later than the main summer jobs of grain and silage, especially harvesting during March, April and May which requires a lot of people. It's working well to help us retain more fulltime staff and it also means more machinery is being utilised for a greater part of the year."
While Tim and Phil haven't had the luxury of overseas staff arriving for seasonal work over the past couple of years, they generally aim to have overseas workers arrive in September if possible. "It's good to have the earlier workload available to utilise those staff doing cultivation and planting for the potatoes, then we know we've got the staff secured and ready to start sileage a month or two down the track."
Their third season with potatoes gets underway this September with planting of their once-a-year, main crop potatoes and Tim's looking forward to getting another season's worth of experience.
"Every new crop comes with challenges, but it's a good challenge to have new things to learn. I personally really enjoy the agronomy side of things and have been taking a lot of it onboard. There are some similarities with other arable crops but different diseases and pests."
Tim is aware of how important quality is for the end user, which is factored into the equation of managing costs and achieving a good yield.
"You don't want to be applying crop protection products if they're not needed and that's where Craig comes in."
Tim's referring to Craig Watson, their Fruitfed Supplies Technical Horticultural Representative, who walks their potato crops weekly to provide regular feedback.
"There's a lot of forward planning from planting onwards," Tim explains. "It's all go every day if the weather's right and we don't want any holdups so Craig's got the products organised. He helps with crop nutrition and pre-planting planning too, looking at the varieties and the conditions they prefer versus the paddock histories.
"We've got a busy workload as it is and there are times when we can't get to a particular paddock to check so Craig will be in there looking for me. Soil moisture is a big one and he'll give me feedback so we can get the irrigation on when needed."
Craig monitors for pest and beneficial insects as part of an integrated pest management programme, looking at traps
in the area through the growing season.
Tim says: "The beneficials do a massive job of helping control tomato-potato psyllid. It's important to use the right programme at the right time to target pests at whatever growth stage they're in so as not to impact the beneficials."
While mid-Canterbury's cold winters knock psyllid numbers down, the pest returns to new crops as growing degree days rise each season. "We've got to be on the ball with our spraying programme and application methods to target psyllid effectively. It's an expensive pest which impacts processing so it's good to see plenty of research being done to help us tackle it."
Potatoes also fit in well for the May Brothers' in terms of crop rotation on their own farms among the ryegrass, maize, small seeds and cereal crops.
"We've built a client base in mid-Canterbury over the past 17 years growing other crops like maize, cereal silage and grass crops under contract. Potatoes are another good fit for some clients and we like having that option to offer them now as well."