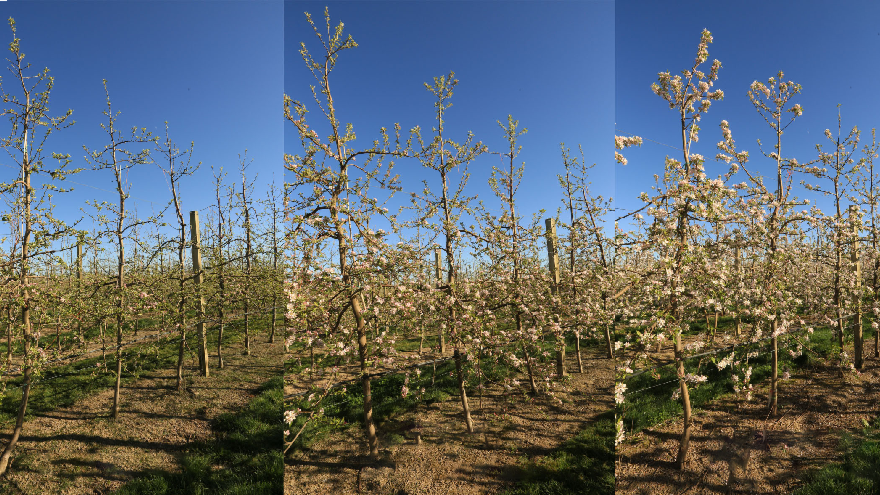 Effective bloom compaction in pipfruit
With New Zealand's pipfruit plantings continuing to expand, many growers favour intense production processes that are also safe and sustainable to help them manage the bloom period, fire blight risk, packhouse and labour supply, thinning costs and harvest pressure.
During dormancy, the tree's physiology sees starch, nitrogen compounds and bloom inhibitors (abscisic acid and naringenin) increase, while bloom promoters, such as gibberellins, cytokinins, and auxins decrease.
Problems with a reduction in bud-break or spasmodic bud break can occur when chilling requirements are insufficient, meaning flowering and harvest are likely to be spread out and more challenging to manage.
By managing the pipfruit bloom period with a safe and effective bud-breaker, growers can:
Shift harvest dates to improve harvest management and get earlier fruit to market.
Reduce (compact) the flowering period which, in turn, reduces the number of picks required at harvest.
Lower the risk of bad weather during key stages such as flowering which lowers the possible exposure to fireblight infection.
Data shown in table 1 below is part of the six years' worth of research and commercial use of Erger, which has become a reliable and safe bud-break solution (see photos and table 1 for comparative product trial results).
This trial carried out in Hawke's Bay in 2015 demonstrated that:
Erger had good compaction on annual and spur wood flowering, and from top to bottom of the tree, an attribute consistently shown year-on-year in commercial use of the product.
Erger successfully shifted harvest date seven days earlier than untreated and four days earlier than hydrogen cyanimide. The Erger treated block also had a much higher percentage of fruit harvested at first pick.
Best practice guidelines are to apply Erger between 30 to 40 days before natural bud-break.
30 days – cumulative trial data shows this timing will give good compaction on annual/spur wood as well as the top/bottom of the tree, with less bloom movement.
40 days – cumulative trial data shows this will give a larger shift in bloom movement, creating an earlier harvest. Bloom will still remain compact, but less compact than a 30-day timing.
Different varieties have different natural bud-break dates. Using Royal Gala as a standard timing, growers can expect Braeburn bud-break to be 10-14 days earlier than Royal Gala, Jazz 5-7 days earlier, Envy to be similar to Royal Gala, Fuji 3-5 days later, and Pacific Queen 10-14 days later.
Michael Hope, North Island Territory Manager for Valagro, suggests growers who used Erger last year to look back at their results for each variety and block to check they were happy with the outcome.
"Keep an eye on this year's winter chill updates, so you can hit your desired timing again in spring. If your bud-break and bloom was spread out, consider applying Erger at a later timing. If you didn't receive good shift in bloom movement vs. untreated, consider applying slightly earlier."
The first set of new research data from Erger trials in kiwifruit will be released soon.
For more information on the bud-breaker Erger, please talk with your Fruitfed Supplies Technical Horticultural Representative.
Table 1: 2015 Hawke's Bay trial in Galaxy apples
Assessed on 6 October
Untreated
Hydrogen cyanimide
Erger
Flowering results
10% flower
50% flower, uneven flowering with tops of trees still to flower
80% flower, compact annual and spur flowers, and even from top to bottom of tree
Harvest pick results
15% first pick on
20 February
55% first pick on 17 February
80% first pick on 13 February