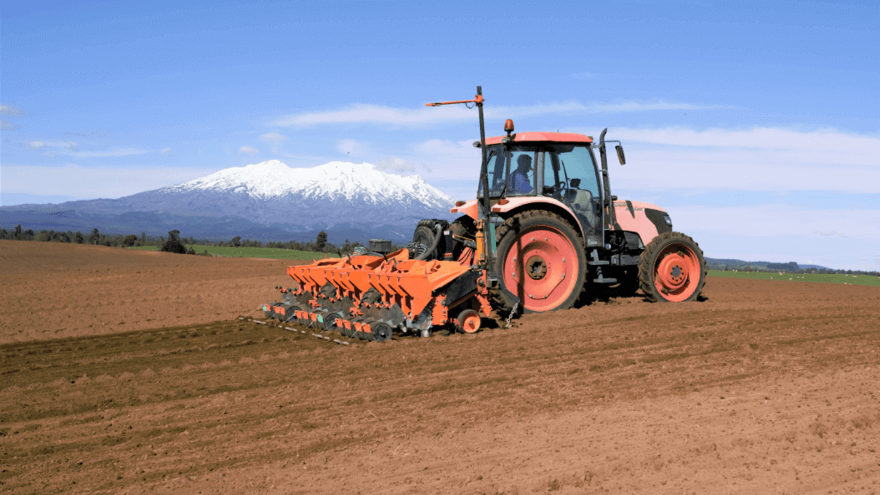 Family connections grow stronger in Ohakune
Brothers Norman, Harvey and Ivan Young and their extended family crop around 200 hectares of carrots and potatoes near Raetihi in the central North Island.
The Youngs have an enviable family history as growers of quality vegetables with their connection to the Central Plateau dating back to the mid-1940s when their father, Kim Young, and their grandfather, Chong Lee, first moved there. They are one of the last Chinese families still growing vegetables in the region.
Their current growing operation with its highly mechanised packhouse, modern tractors, harvesters and planters, and their own truck and trailer units delivering produce to customers around the North Island is in stark contrast to how the family grew vegetables by hand in those early years, although the family work ethic hasn't changed one bit.
Kim emigrated to New Zealand from China in 1938, aged 12, to join his father, Chong Lee, who was market gardening near Levin before moving the family to Ohakune in the '40s. Together the family worked leased land to grow cauliflowers, cabbages, potatoes and carrots which were sent to market in Auckland and Wellington by rail.
In 1947 Kim married a young woman called May in a wedding with over 700 guests which was one of the first Chinese family weddings in Ohakune. The young couple worked for Chong Lee before establishing their own 28 acre market garden on leased land in 1949. They worked hard, with May quoted in the book on Chinese growers called Sons of the Soil as saying: "First year we bought the tractor, second year the truck and third year the Plymouth car. We were doing well, each year getting better."
Three years later, at a time when it was unusual for Chinese people to farm stock in New Zealand, Kim and May purchased a 236 acre sheep and beef farm. They established the company Kim Young & Sons Limited while raising 10 children who all helped grow vegetables and farm as they got older. They were one of the first growers to start driving their own produce to market with the trip to Auckland taking around eight hours, with all the children going along to see their grandparents.
Sadly, Kim passed away in 1963, leaving May to raise their 10 children then aged 14 to three. The eldest of the three boys, Norman says their mother worked hard with the children's help although the area in vegetables was downsized to about six acres. "We've come through some hard spots; we just keep going."
With the help of various advisers, Norman was looking after the farm by himself by the age of 16 and the next year, in 1969, left school to market garden full-time. Year by year, the family worked together to increase the area in vegetables. Harvey and Ivan joined Norman on the farm in 1974 and 1976 respectively, and they added more machinery as they could, including trucks, tractors, a washing plant and a harvester. More expansion followed with the purchase of a neighbouring farm and other properties over the years with a large sheep and beef operation now run by a manager for the family. This additional land offers improved crop rotation for the carrots and potatoes over suitable growing land.
As the brothers became adults and married, their wives started making their own contributions to the family business which continued to thrive with more land acquisitions, leased blocks and the establishment of their own packhouse.
Shift to the current day, Norman says they have a more corporate structure. He has recently handed over the day-to-day packhouse management and marketing aspects of the business to his son Kim. "I'm basically Kim's trouble-shooter and my nephew Scott has taken over the outside harvesting from his father Ivan," says Norman.
Kim Junior's partner Emma manages human resources, recruitment and training. "Emma has taken on quite a big role," says Norman's wife Kerry. "As more family came into the business, they've been able to expand into certain roles which changed the business structure. Our next generation is coming through with Scott's fiancée Francine also working in the office, so we're stepping down a bit more."
The carrots and potatoes are now pre-packed under the Kim Young and Sons label rather than sold at auction. Staffing for the packhouse has been challenging in this COVID-impacted year but more locals have become part of the team.
Another lengthy connection for the Young family is the one with Fruitfed Supplies with Norman and Harvey having worked with Ohakune Technical Horticultural Representative Kath Lee-Jones for many years. Norman says: "Kath knows the family very well and she helps with fertilisers and sprays, seeds, soil testing and advice. Also, Scott knows Daniel Sutton, the Vegetable Technical Specialist from Pukekohe, well too with Daniel having gone to school with Scott in Ohakune, so that works well for us too, given Daniel's knowledge of vegetable crops."
The Youngs potentially have a fourth generation lining up to join the family business. "Kim has a little son and I hope he'll work with us. Harvey also has a son. We've got three generations now and we're aiming for a fourth!"