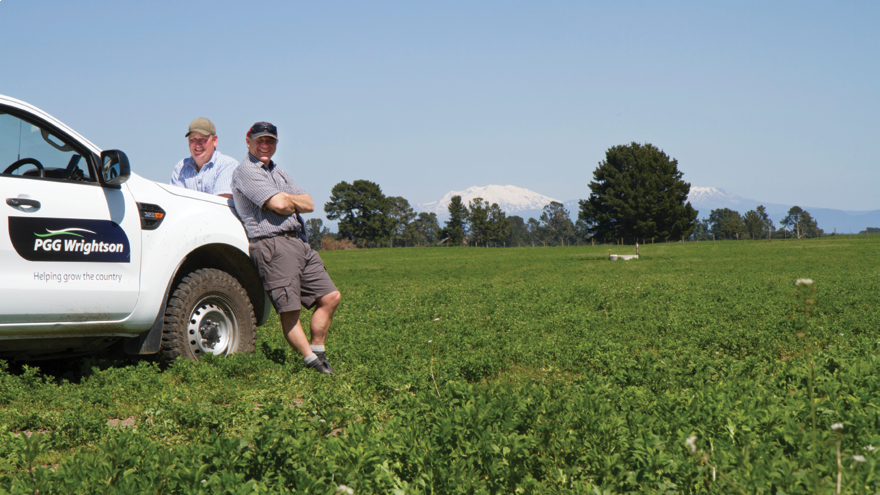 Fine tuning of farm cropping programme improves performance
"Over the past four years we've made quite a few adjustments to our cropping programme, fine tuning what we do and what fits our system. The improvements we've made are largely due to our relationship with PGG Wrightson Technical Field Representative, Darryl Jones."
Leighton Swan, Operations Manager of two of Opepe Farming Limited Partnership's dairy units in Taupō, says Darryl has been instrumental in helping him manage and maximise crop performance.
The two dairy units total approximately 700 hectares (ha) of mostly flat land, with some rolling country, all situated approximately 600 m above sea level. The operation milks 2,200 dairy cows and rears 1,500 calves annually.
"Altitude is our biggest challenge," says Leighton. "The cooler climate affects yields. With the farm being ex-drystock land, we also battle with brown top grass coming through, putting pressure on both feed quality and yield."
Growing supplementary feed is necessary to fill feed gaps. Darryl notes that Leighton is always one to try new farming practices if he sees value behind the theory. They have tried several crops to see what works best, constantly refining the cropping programme. This year, they've dropped summer turnips and winter fodder beet, putting the focus on 60 ha of swedes and 200 ha of lucerne (the lucerne is grown on separate drystock blocks).
Leighton purchases his seed, and most farm inputs, through PGG Wrightson and Darryl sees the supplementary feed crops through from start to finish each year.
"The crops go in late October," explains Darryl. "Once we get confirmation from Leighton on which paddocks will be cropped, the first step is to make a spray-out recommendation and put together seed options.
"The next step is to work out sowing dates and application rates with Leighton and the contractor and a tailored fertiliser programme is worked in with Ballance Agri-Nutrients.
"Once the crops are in, I monitor insect and weed pressure with a weekly farm walk." Darryl also checks in weekly with Leighton, communicating his recommendations.
"I appreciate having the crops so closely monitored by someone who has good technical and local knowledge," says Leighton. "It helps us to make good decisions on inputs and crop management."
Yields are up, too. "We've found that HT Swedes do really well here and with the right herbicides and insecticides, we've seen a noticeable increase in yields over the last four years," says Leighton. "How much obviously depends on the season, but I'd say we're easily up four to five tonnes on the swede crop.
"Every year we look at what worked and what hasn't. Darryl is instrumental in these decisions, suggesting new varieties or products. I really value the advice and support that PGG Wrightson offers our business."