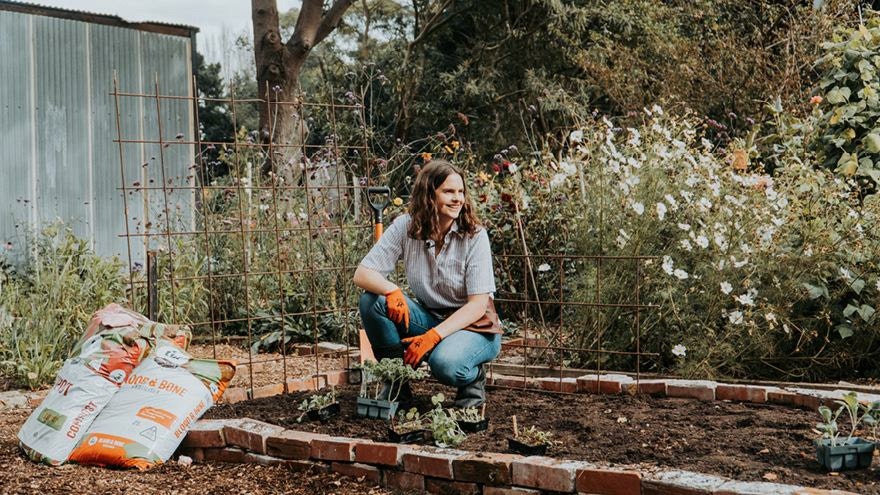 Flora's guide to preparing a vegie patch
Having had a lifelong passion for gardening and growing her own food, Flora Brons created her business, Flora Grow, to show people how fun and simple it is to grow nutritious vegies. Having grown up on a lifestyle block in Canterbury, Flora has always enjoyed having plenty of space to play and a big garden to explore how to grow.
Starting a vegie garden, Flora says, is about trial and error. Don't be afraid to make a mistake, that's how you learn. And the rewards are plentiful. As Flora says, one seed can produce 15 tomatoes or three corn cobs. Think what one packet of seed can grow!
Autumn is the busiest time of year for planting your vegie patch. Conditions are ideal, Flora says, as you're at home more having finished summer holidays, there's sufficient rainfall and temperatures aren't too hot.
In early autumn plant your brassicas, cabbages, kale, broccoli and cauliflower. Garlic too, which if planted early, will help prevent rust from developing. In late autumn plant beetroot, sugar snap peas, silverbeet and red onions which you have cultivated from seedlings.
Seed sowing
Prepare your beetroot, sugar snap peas, silverbeet, coriander and red onion seedlings now so you can transfer to your vegie patch later in autumn. Flora suggests putting them in pots with seed raising mix. Jump online and purchase Tui's Seed Raising Mix from PGG Wrightson's online store.
Preparing you vegie bed
Mulching and compost, both packed full of nutrients to replenish the soil, need to be added to your vegie bed in readiness for your autumn plantings. Mulch, Flora explains, will help keep weeds down and protect the vegies from damage over winter by retaining the soil's moisture and warmth. Use compost to create, or top up, existing beds. Don't be fooled, vegies grow over the winter as they develop their root systems and take up and store nutrients ready for spring growth. For an organic compost, Daltons Organic Compost is available online or you could try Tui's Compost.
Don't forget to cover your brassicas with mesh to protect against white butterfly. Designed to protect horticultural crops, Cropsafe Protection Mesh is perfect for the job.
Flora says, as the frosts begin to arrive, the mesh can be removed as white butterfly is no longer an issue. Frosts also signal it's time to pull out last season's tomato, cucumber and zucchini plants. Once done, add compost or a fertiliser such as Tui's Vegetable Mix. Then, in their place, plant your seedlings.
Helpful tools
A handy tool is McGregor's Multi-Purpose Scissors with sturdy, stainless steel blades. Flora recommends using a watering can which will be used time and again, particularly when potting and growing seedlings then transferring them to your vegie patch. As its autumn, a rake is a must, not only to help remove the old vegies from the patch but also to rake up any leaves that are falling from surrounding trees.
To view PGG Wrightson's range of garden supplies, go online here and enjoy the option of click n collect or delivery.