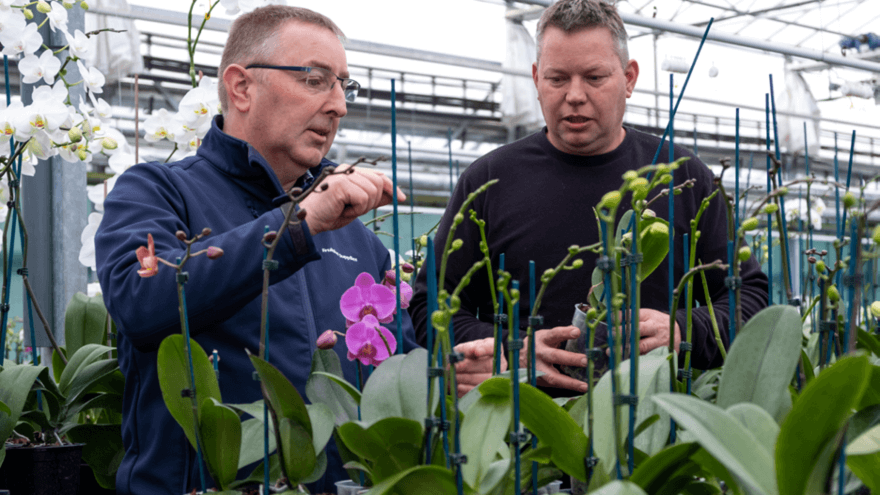 Flower power continues at Moffatt's
Well known flower producer, wholesaler and retailer Moffatt's Flower Company, based in Halswell on the outskirts of Christchurch, is now home to an exciting trial with yellow dahlias which aims to help people with diabetes.
In July 2020, the company was sold by Steve Moffatt and his family to the Winters family who, among their various enterprises, own Aroma NZ Ltd. With operations in the Marlborough Sounds and Christchurch, Aroma NZ specialises in creating scientifically proven nutritional supplements from green-lipped mussels and other natural products.
The team from Aroma NZ has been involved in the dahlia diabetes project for the past two years with preliminary trials showing the natural dahlia extract reduced the blood glucose level of participants, highlighting its potential to reduce or reverse the risk of diabetes for many people. They are working on the dahlia extract's commercial development in partnership with Otago Innovation Limited, the University of Otago's commercialisation arm.
John Gallagher, General Manager of Aroma NZ, says they were actively looking to diversify their range of products. "Our current range is predominately based around our aquaculture health products. The opportunity to diversify into a botanical as a nutraceutical arose through our relationship with the University of Otago. We then started actively looking at land to do some commercial growing trials when Moffatt's came on the market. It seemed a great opportunity to take on Moffatt's Flower Company to grow that business while, at the same time, utilising the skills of the staff to grow dahlias for our plant nutraceutical venture. Moffatt's has a great reputation for growing premium roses and supplying fresh cut flowers and has a great team. The upside was that the Moffatt's site had land available with capacity for growing the dahlias."
Several varieties of dahlias are used to make nutritional supplements around the world and one particular bright yellow dahlia flower has three active ingredients in higher concentration than other varieties. A trial block of this dahlia was planted at Moffatt's last summer with Production Manager, Lenny Arkesteyn helping with the growing and harvesting aspects. It helps that Lenny has maintained a strong connection with flower growers in his homeland, The Netherlands, to discuss various points with experienced peers.
Growing this dahlia for the purpose of extracting the active ingredients is different to dahlias as cut flowers, Lenny explains. "The flowers need to be very open and perfectly bright yellow whereas we'd pick a dahlia for cut flowers when it's not quite fully open so it lasts longer. We've seen we can grow the yellow dahlias here but need to work out how to control their growth, a mechanised means of harvesting longer term and how best to extract the active ingredients from the flowers."
Alongside this exciting project, the Winters family hasn't lost focus on Moffatt's core business of growing quality flowers and a more recent innovation of propagating houseplants for wholesale and retail.
At the time of acquisition, Moffatt's was just starting to grow houseplants, John says. "We saw this as a great opportunity to scale up and get traction with this part of the operation especially with the rising popularity of houseplants. We concentrate on producing quality rather than quantity. We supply our loyal wholesale network of florists and supermarkets as well as corporate customers. We also sell direct to the public through our retail shop onsite and website."
Another new project has been to convert one glasshouse to lily production. Lenny says they focus on the core colours and varieties for bouquets and continue to buy certain colours and styles from other growers according to season. "We decided to grow lilies in crates rather than in soil which means we can produce four and a half crops per year compared to the usual three."
John says lily production is proving very successful. "We can ensure we have a steady supply of this staple flower. We are committed to growing the highly regarded Moffatts Flower Company brand and are investing in capital to ensure we grow with our customer demand. It now seems that the demand for roses is again on the increase so it might be our next venture is to increase our glasshouse footprint to increase the supply of roses which are, after all, the flower which started the Moffatt's brand."
The long-term connection with Fruitfed Supplies also continues with two Technical Horticultural Representatives – Tim Mounsey and Rob Wards – offering technical advice and product supply as needed.
"One idea from the Fruitfed Supplies guys was to apply gibberellic acid, a product used in cherries, to peace lily plants to encourage flowering," Lenny says. "It's worked very well."