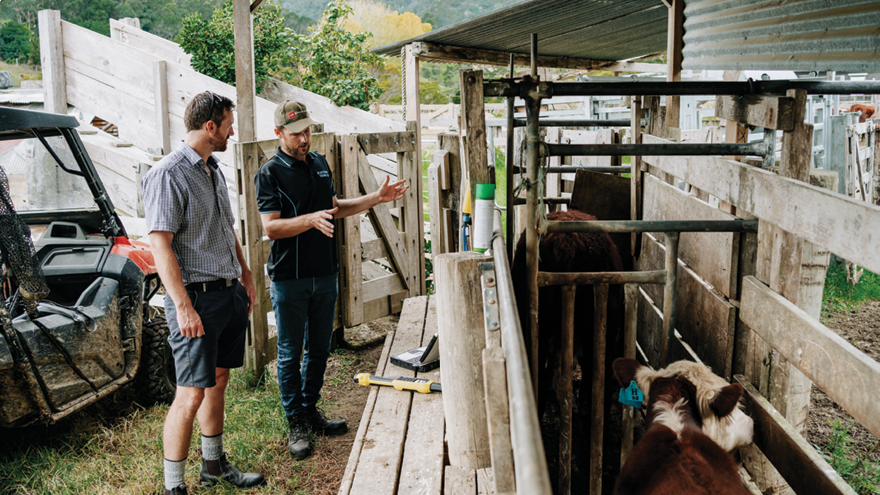 Herd monitoring data drives profitability
Hereford Stud owner Paul Shepherd has used herd management weighing and monitoring software for 20 years, using the weigh data for decision making right across the business.
Paul, along with his father run Waimaire & Otengi Poll Hereford Stud at Kaeo. With 250 breeding cows, they produce two year, 18 month and yearling bulls for sale to the beef and dairy markets.
The home farm is 240 hectares (ha), 175 ha effective, with another 200 ha of leased land over three blocks. With a sea boundary, the land is rolling to steep country and soil type varies from heavy clay to light volcanic.
Described as a progressive thinker and astute businessman by his PGG Wrightson Technical Field Representative, Isaac Vujcich, Paul adopted herd management technology long ago. In the last 12 years, he's used Tru-Test's Datamars Livestock Software with load bars, weigh scales and an EID reader. The system is easily compatible with his specialised stud recording software too.
"Being a stud, we must record multiple weights of each individual animal through their lifetime to produce an estimated breeding value, so having a system that's simple to use is crucial," he explains. "With our Tru-Test EID and weigh scales connected to our laptop via Bluetooth the information is instantly recorded on our stud software."
The data captured also provides a sound basis for multiple management decisions, including crop inputs.
"We keep an eye on weight for general animal health and to make sure we're hitting target weights," Paul continues.
"If we need to drop numbers, we can quickly see which of our fattening animals are ready for the works.
"It also enables better genetic decision making; the estimated breeding values generated from our recorded weights means that we can more easily select the genetically superior animals to breed from.
"And we always weigh pre-drenching, ensuring accurate calculations for individual animals and no waste."
Notably, the Tru-Test system appears to keep on working. In 12 years, Paul hasn't needed product support.
Of course, the weigh data provides good insight into crop quality, based on whether the animals are hitting target weights, and the agronomy space is where Isaac and PGG Wrightson's technical team come to the fore.
"This year we've scaled back the oats to grow more pasture," Isaac says. "Permanent pasture is a combination of fescue and cocksfoot, which handles the heat and summer dry better than ryegrass.
"We also planted 9 ha of new Raphno brassica instead of Chicory, and we're trying a combination of cocksfoot, clover and plantain in new pasture."
A customer of PGG Wrightson for as long as he can remember, Paul says he gets good advice from Isaac. "I consult with Isaac on anything to do with crop selection. Once the crops are germinated, he's the authority on weed and insect pressure.
"With good data backed with good advice, I'm satisfied we're making efficiency gains all the time."