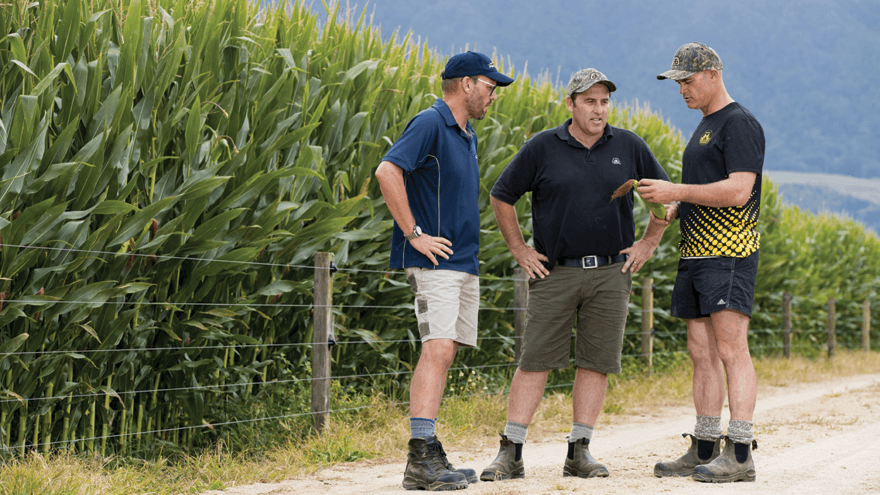 Inoculant investment worth it
When Shane and Lynda Campbell were considering a change to Pioneer® 11C33 maize silage inoculant, they knew there was someone they needed to talk to first.
For the past three years, the Campbells have worked alongside PGG Wrightson Technical Field Representative, Robbie Corin, to ensure their maize crop thrives from planting to harvest, and beyond.
"Robbie is our 'go-to man'," Shane says. "He monitors our crop all season, undertaking soil tests, making fertiliser recommendations and informing us when it's harvest time.
"We knew we needed to talk to him to ensure that 11C33 would help us achieve what we wanted and that our investment would be worthwhile."
The Campbells' notion was right and Robbie encouraged their decision to inoculate their maize crop with Pioneer® 11C33, a maize silage-specific inoculant that helps keep silage cooler for longer.
Milking 225 cows on 65 hectares (ha) effective at Waharoa in the Waikato, the Campbells are two years into a strategy to simplify their farming operation, having moved from a larger sharemilking position to a smaller one. They also left behind the convenience of a feed pad so they needed to review their management system to ensure their cows continued to be fully fed and producing an impressive 525 kg of milk solids per cow.
"Robbie outlined the benefits of Pioneer 11C33 which included being able to feed out a day in advance without experiencing silage heating and the loss of valuable energy," Shane says.
"The farm can get very wet, particularly in the spring, so to be able to feed out before the cows get to the paddock is invaluable.
"Using 11C33 has really alleviated the challenge of not having a feed pad at our disposal."
The Campbells planted 4 ha of maize on their lease block this season; in previous years they have grown the crop on the home farm and averaged 24 tonnes of Dry Matter (DM) per ha. They also buy in 200 tonnes DM of maize silage annually which is inoculated with Pioneer 11C33.
Maize silage is fed throughout the season in varying amounts with cows each receiving just over one tonne DM of maize silage annually.
For the last two years, the herd has been fed a transition mix of magnesium chloride, magnesium sulphate, magnesium oxide, ammonium chloride and maize silage, beginning four weeks out from planned start of calving on July 15. This method eliminates the need to dust the paddocks with those minerals, saving time and labour. From spring onward, cows receive 4 kg of DM per cow per day of maize silage through until the end of artificial breeding on November 10. In January, the Campbells were feeding the herd a mix of 2 kg DM of maize silage and 4 kg DM of pasture silage.
Shane says locking in the quality of the silage is another important contributor to their decision to use Pioneer 11C33.
"We want our feed to retain as much quality and energy as possible, so it is reflected in milk production and cow condition. When we're only feeding 2 kg of DM per cow per day, it takes us two days to get across the face of the silage bunker and we don't want to see excessive energy loss in that time."