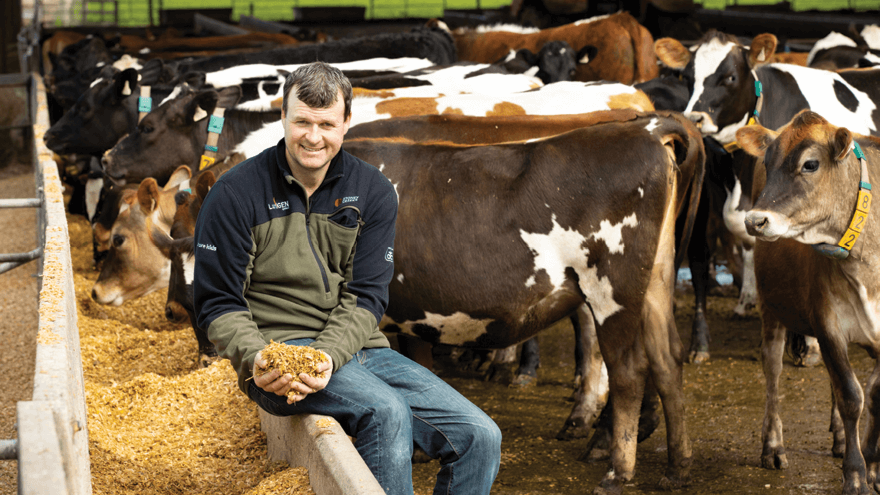 Inoculant maintains silage quality
A high producing dairy herd needs access to quality feed and Waikato dairy farmer Brad Payne knows this producing his own feed including silage.
Brad milks 750 cows on his 265 hectare (ha) property, supported by a 40 ha runoff nearby. He also keeps his young stock, 200 one-year-old heifers and 400 calves, at home. Brad grows his own feed including 64 ha of Pioneer® brand P0725 maize for silage along with planting a late 5 ha crop of P8000 in November after the calves are weaned. Until then, these paddocks house calves and automated calf feeders.
To ensure his silage is of the highest quality at feeding time, Brad's contractor inoculates the maize silage at harvest with Pioneer® brand 11C33.
"Silage inoculant is a non-negotiable for me," says Brad. "It stops the silage heating up when I open the stack, ensuring the energy and nutrients aren't lost. I inoculate all the feed I grow, including grass silage, to maintain quality."
With the herd producing between 550 to 580 kg milk solids per cow, production certainly reflects the quality of the feed.
Brad confirms, "I use maize silage as a tool to help maintain cow condition. I want them to calve with a body condition score better than 5, maintain 4.5 throughout calving and increase to a 5 again by the time they dry off. Maize silage helps me do that."
Brad bought in maize silage until 2005 when he started to grow it on-farm as part of his pasture renewal process. Today, he hasn't bought any maize silage for five to six years. "As we accumulated more blocks, we started becoming more self-contained and doing everything ourselves," he confirms.
The feed pad, upon which maize silage is fed to the herd, was constructed in 2003 and covered three years ago. This season's calves will start with 2 kg of maize silage on the feed pad in January, and by the time winter arrives, this will increase to 3 kg.
"I love seeing well-grown young stock coming into the herd," says Brad. "There's no competing, no getting picked on; the transition for them is much easier."
Brad works with PGG Wrightson Cambridge Technical Field Representative, Simon Dodds, with whom he has built a
great relationship.
"The good thing about having dealt with Simon for so long is that he knows exactly what I'm trying to achieve," says Brad.
"He recommends so many hectares of a particular maize hybrid and organises the chemicals to go along with it.
"With Simon and Logan Scott, Pioneer Area Manager, always checking crops in the area, they will tell me if other farmers are experiencing any issues so I can keep an eye on my own crop."
For more information on inoculating silage to maintain its quality, contact your local PGG Wrightson Technical Field Representative.