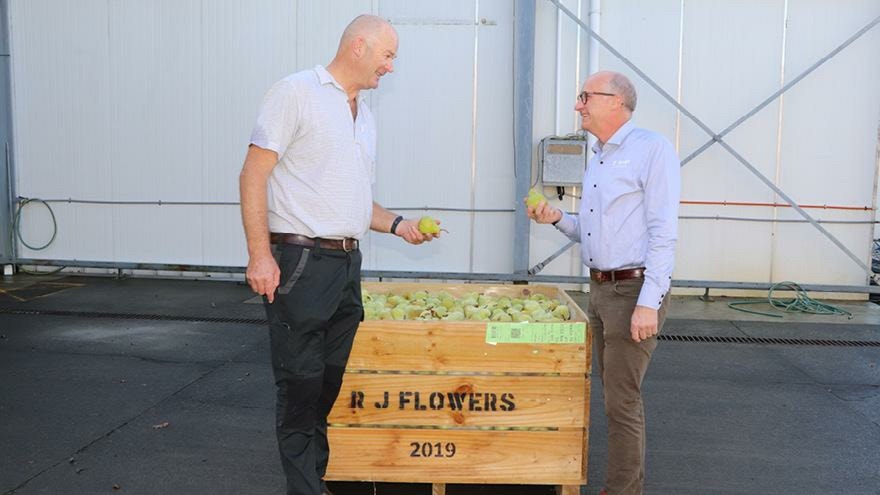 Introducing innovation to maintain a great tradition
Proactive risk management is the cornerstone of John and Wendy Evans' medium-sized family operation called R J Flowers in Hawke's Bay.
That's the reason they're growing three crops – apples, pears and kiwifruit – rather than specialising in one. "It's good to have a bit of diversity," John says.
Two other key aspects of his approach are attention to detail and an appetite for innovation. "Technology has moved so far," he explains. "If you don't take advantage of it, you put your business at risk."
John has put all three principles into practice to get their pipfruit orchards free of black spot and keep them that way through the exceptional rainfall last season.
"We've had a difficult recent history with black spot. Once you get it, it's a real test. It's hard to get on top of it again."
The fact that the R J Flowers team has managed to get back and stay on top of the disease is down to good management rather than luck.
The first step was improving their spray coverage. "I think the level of black spot we had was largely about coverage, so we upgraded our sprayers. We've got a good fleet now of pretty much the latest design."
They also reviewed the product mix, adding first Sercadis® and then Belanty® to the fungicide rotation alongside such tried-and-true products as Polyram®. Sercadis is a second-generation SDHI fungicide, while Belanty is a new type of DMI, the first isopropanol-azole, which can control black spot strains that older DMIs
struggle with.
"We've used Sercadis more and more in the last two years," John says, "especially in our pears. It's great to have another string to our bow and another great thing about it is its compatibility with other products. Those tank-mixes save us extra passes."
Sercadis can be applied twice before flowering to provide early protection, and the R J Flowers team have taken full advantage of its tank-mix flexibility.
"We're also being proactive against fire blight and applying Sercadis in conjunction with copper and the antibiotic KeyStrepto™."
While Sercadis has no direct effect on the fire blight bacteria, tank-mixing it with the other treatments helps keep the crop in robust health by minimising natural wounds such as black spot lesions which are entry points for bacterial infections.
The extra rainfall this past season created the perfect conditions for black spot to thrive. "It was quite incredible really. I hear there's still a niggling level of black spot in our district, and certainly if your orchard wasn't very clean the conditions could have caused problems."
Despite all the challenges, John is happy to report that the R J Flowers team rose to the occasion. "We're fortunate in having good people who are very conscientious. We watched the forecasts and took every window of opportunity to get sprays on. We ended up having a good season, which is a huge relief.
And a lot of that's thanks to all the good work and the good product options we have available."
One effective preventive spray programme suggested by BASF is a pair of Sercadis applications seven days apart in the pre-flower period (open cluster to pink) followed by a pair of Belanty applications through flowering up to 80 percent petal-fall. Sercadis can be applied up to four times a season, so there's the opportunity for two consecutive follow-up sprays from early post-flowering up to 21 days post petal-fall.
For John, using the new chemistry to supplement the old is a prime example of the wider approach he and Wendy take to keep their whole business thriving. "It's important to be conscious of the bigger picture – always thinking of both now and the future, the long term.
"Polyram's been a mainstay of fungicidal programmes for a phenomenal length of time, but we're pleased to have both these new products. We've been using Sercadis for a while, but Belanty was new to us this season. It's good to have another black spot control option. We're a little challenged in that regard, having lost other products to changing industry standards."
For more information about Sercadis and Belanty, talk with your local Fruitfed Supplies Technical Horticultural Representative.
Article supplied by BASF
ACVM Registration Numbers: Belanty® #P009798, KeyStrepto™ #P001369, Polyram® #P002062, Sercadis® #P008977. Read registered label before use.