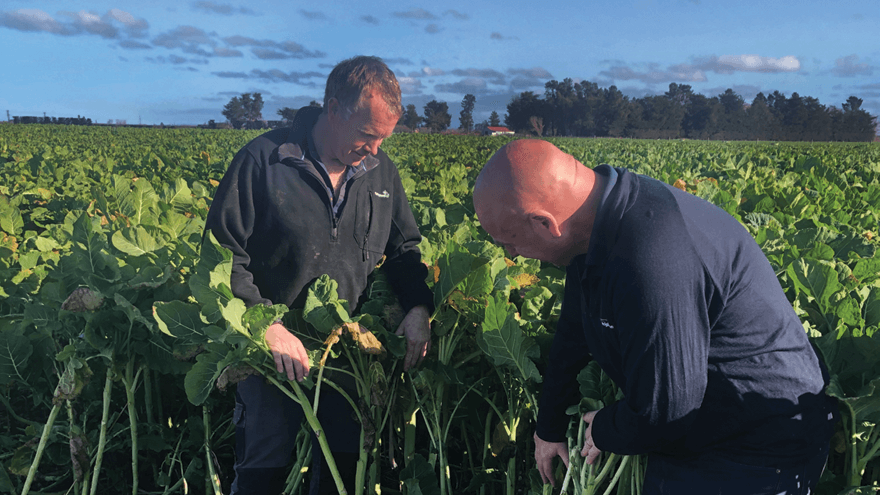 Kale cultivar delivers high yield, quality and utilisation
The days of choosing kale simply based on Dry Matter (DM) yield are well behind us. Decisions around agronomic attributes such as leaf percentage, stem softness and utilisation play a big part in maximising livestock performance.
PGG Wrightson Seeds' leading brassica breeding programme is a joint venture with Plant and Food Research that has a specific focus on forage quality. Testing and selection for kale stem softness is a major focus of the programme, which ultimately drives utilisation and animal performance.
When choosing a kale for your farm system, it is important to differentiate between short, intermediate and giant types, carefully weighing up the advantages that each one has to offer for different farming systems.
Short kales, such as Kestrel kale, offer high quality stem and good leaf percentage delivering a premium feed option where stock liveweight gain and body condition are priorities. When yield and quality are equally important, Regal® kale delivers a high leaf percentage, top yields and good stem softness relative to other intermediate types. At the other end of the spectrum are giant types, such as Corsa kale, which should be considered if production of bulk feed for maintenance of liveweight is the primary decision driver.
For Sharemilkers, John and Michelle O'Connell from NZ Rural Property Trust Eiffelton in Canterbury, Regal kale ticks all the boxes. John has experienced high yield, feed quality and utilisation of Regal over the last five years and recommends it to others as a 'proven performer'. A focus of their operation is cow condition, starting well before winter with the aim of having cows at a condition score of five by calving. The quality of winter feed and DM yield contributes to achieving this, with Regal kale fitting well in their farm system.
PGG Wrightson Ashburton Technical Field Representative, Phil Bloomfield, supports John and Michelle with their agronomy programme. It begins in spring when Regal kale is split sown to provide an extended period of feed throughout winter. In mid-November, 10 hectares (ha) are sown, followed by another 10 ha in mid-December. While the later sowing does compromise yield, this maintains late winter quality and John says the higher-quality feed more than compensates for any yield reduction.
If conditions allow after the kale is finished, half the paddocks are sown into a catch crop of oats which are taken off as a green chop silage in December. Following this, the paddocks are left to freshen before being sprayed out, grazed and direct drilled into kale for a second year. Following year two of the kale crop, cereals are planted for whole crop silage. Once the whole crop is removed, paddocks are sown down into pasture for the next four years.
The cowshed is the hub of the 375 ha operation and the aim is to utilise as much of the feed grown on the 75 ha support block to go into milk production. Growing silage for the shoulders of the season is important. John and Michelle are environmentally aware and see wintering off as best practice for their heavy soils, therefore the majority of cows are wintered off-farm.
To find out more about the type of kale best suited to your farm system, contact your local PGG Wrightson Technical Field Representative.