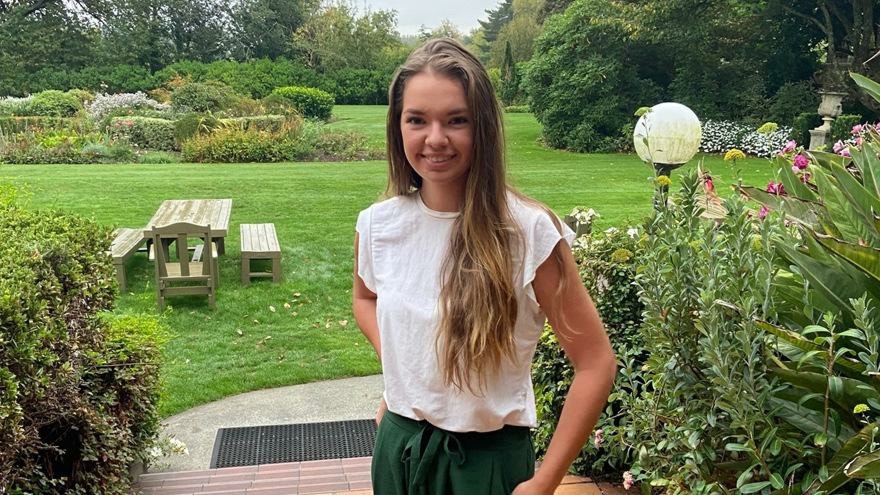 2022 Massey scholarship winner pursues dream career in Horticulture
This year's winner of the Fruitfed Supplies' Massey University student scholarship is Kirianna Matthews, who is in her third year of studying for a Bachelor of Horticulture.

Originally from Pukekohe, Kiri's passion for horticulture stems from her time at Pukekohe High School where her father Dave Matthews teaches agriculture and horticulture.

Kiri explains: "Dad's introduction to the primary sector encouraged me to focus my studies and work skills there, which led to me being named the top ag-hort student in Years 12 and 13. I took the opportunity to gain extra credits outside of school by completing fencing courses, Light Utility Vehicle training, Level 1 of Grow Safe, riparian planting projects and going out to Limestone Downs near Port Waikato to gain experience doing practical farm work such as drenching, crutching and docking."

In her first two years of the Bachelor of Horticulture degree, Kiri discovered the subjects that interest her most incorporate crop production across both horticulture and agriculture, such as Plants for Agriculture and Horticulture, Plant Biology, Principles of Soil Science, Pasture and Crop Agronomy and Horticulture Production Systems.

Kiri's practical work experience includes school holiday and after school jobs in a kiwifruit packhouse and at the PGG Wrightson store in Pukekohe. She's continued to reflect her cross-sector interests with 12 weeks of summer work as a Planter Operator at LeaderBrand, formerly known as Sutherland Produce, in Bombay, where she was taught to use the machinery to plant broccoli, lettuce and silverbeet seedlings. She developed an understanding of GPS technology for farming, traceability from seed to store and the seed to harvest processes on a commercial scale.

This past summer saw Kiri working on a sheep and beef station near Ohakune where she fulfilled her goal of developing more cross-sector skills and expanding her knowledge of regenerative farming and utilising land for the best possible outcome.

"Over the past 14 weeks I've learned an enormous amount about stockmanship with my huntaway Bounce, fencing, cropping, chemical handling, large machinery operation as well as land use.

It was just me and Farm Manager Shane Auckett working the 1600 ha farm which aided my time management skills. While mustering, we discussed topics like stocking intensity and pasture utilisation, and the efficiency of summer and winter crops."

One of the summer crops, Pallaton Raphno, stood out to Kiri when they compared weight gains between pasture fed lambs and Raphno fed lambs. Roughly 50 percent of the Raphno lambs were ready for the works whereas only about 20 percent of the pasture grazed lambs were ready, highlighting some of the efficiency gains from this sort of cropping.

Kiri's experience to date helped her discover a passion for crop management with an emphasis on seed selection.

"This is an area within the industry I am keen to pursue. As horticulture and agriculture become increasingly intensive, seed breeding and selection, and choosing the right crop for the land and desired outcomes become more important.

"At LeaderBrand, I was able talk to seed company Reps about their trial work. I also talked with Shane about his relationship with his PGG Wrightson Rep and their discussions about the Raphno crop. Seeing the results from this crop formed part of my realisation that helping farmers and growers produce the best quality crops for their business is what I want to do. I really enjoy how involved these suppliers are with their customers."

Kiri appreciates the support of Fruitfed Supplies offered by the scholarship. "Winning this scholarship is an acknowledgement of my passion and the work I have done over the past five years to help me discover my dream career. It's also a great opportunity to get my name known in the industry, meet lots of like-minded people and find out more about Fruitfed Supplies' nationwide operations."

Craig Trembath, Sales Manager for Fruitfed Supplies, says it was very difficult to select a winner for this year's Fruitfed Supplies Horticulture Scholarship. "There were some great calibre candidates who put in applications. We were impressed with Kiri's background. She clearly has a passion for horticulture, is doing very well in her tertiary studies and has a bright future ahead of her. Kiri has also done some casual work in our Pukekohe branch and made a favourable impression. We are very pleased to be able to support the Massey University Horticulture programme and do our bit to help develop future talent." The Massey University Fruitfed Supplies Horticulture Scholarship is an academic scholarship available to one third year Massey University student studying horticulture. The annual scholarship of $5,000 helps promote excellence in horticulture by supporting future leaders in the industry.