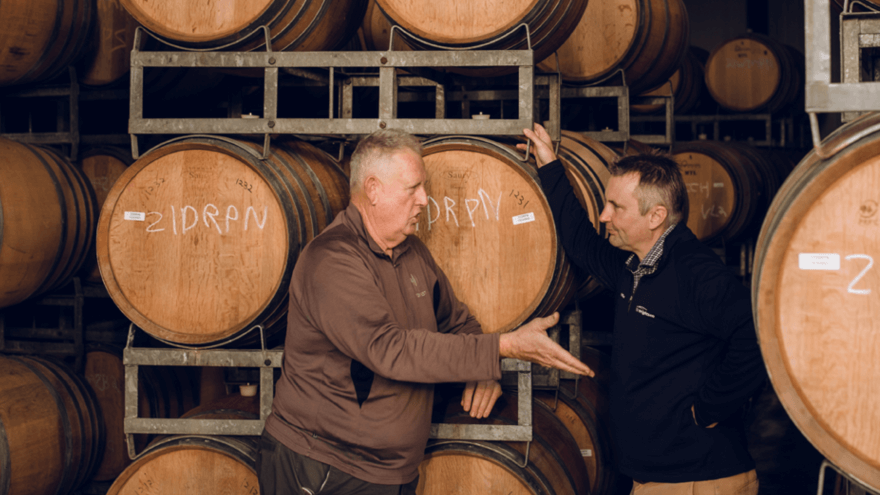 Leading the way with New Zealand's lower alcohol wines
Forrest Wines is synonymous with innovation in New Zealand's wine industry since John and Brigid Forrest first purchased land to grow grapes in Hawke's Bay and Marlborough in 1988.

Last year John was named a New Zealand Winegrowers Fellow for his contribution to the industry, recognition he is both humbled and honoured to receive.

With John initially the only person working in the business day to day, Forrest Wines has now grown, though you'll still find him in the vineyard. Other Forrest family members are involved in the business too. John's wife, Brigid, has always been involved in the business while also working full time in medicine for the last 35 years while their daughter, Beth, is General Manager and Production Manager at the winery.

While the 2021 harvest produced a low yield, John says the company was lucky in one respect, having secured two new contract growers to boost production. "While overall we were down about 30 percent, we are still able to supply our major overseas suppliers, though we've had to delay our plans to introduce our low alcohol wines into Australia."

The foundation of Forrest Wines' success lies in John's training in science, having obtained a PhD in neurophysiology from Otago University. "My training has been immeasurably valuable. I was criticised in my last science job for being too artistic. Winemaking is a beautiful combination of art and science."

While working as a scientist in Palmerston North in 1988, John and Brigid purchased bare land in Hawke's Bay. "Visiting the area we came across some gravelly, bare soil out the back of Hastings." Now known as Gimblett Gravels, John saw the potential to create "a big Aussie red" there. Literally a week later the pair decided to return to their hometown of Blenheim, purchasing land there too.

Only two years after purchasing land, Forrest Wines received their first accolade. "We bought a small amount of cabernet and merlot fruit that I looked after by hand two months from harvest." Planning on making a red wine, things drastically changed when the fermenter overflowed. John ran off the juice, producing 200 cases of Rosé which won the Director's Trophy for Champion Rosé at the 1990 New Zealand Wine of the Year Awards.

More awards followed with John instrumental in the creation of lower alcohol wine in New Zealand. "In 2006, I held our first tastings of our low alcohol wine; The Doctors' Riesling. Attendees commented on how they enjoyed drinking a good wine at lower alcohol, so I researched how to produce Marlborough Sauvignon Blanc with lower alcohol. The Doctors' range now accounts for 80 percent of our production."

John adds: "I don't think people appreciate the increasing rate at which consumers are drinking lower alcohol beverages worldwide and how well positioned New Zealand is for producing low alcohol wine."

As expected, there were challenges in producing lower alcohol wine, which John overcame through trials on his Marlborough vineyard. But first, John was confronted with the negative reputation lower alcohol beverages had with consumers. Before releasing his first lower alcohol Sauvignon Blanc, he had to be confident the wine possessed the same characteristics as one with a greater alcohol content.

"Through my trials I worked out which leaves produce the most sugar in the ripening period. A shoot contains about 14 leaves to ripen a bunch of grapes. Selectively removing leaves at the right time can produce up to 40 percent less sugar compared to a grape at the same stage of ripeness. To produce alcohol, sugar and yeast are needed as a part of fermentation. To produce lower alcohol wine, less sugar equals less alcohol, with the challenge lying in retaining the same flavour profile of the grape."

Recognition for successfully producing The Doctors' Sauvignon Blanc came in 2012 when Forrest Wines won a gold medal against higher alcohol wines at an international wine competition. Since then, they have continued to develop The Doctors' range and are now looking to create wines at less than nine percent alcohol.

"Once you understand how to replace the texture, viscosity and feel of a wine, it opens up going lower and lower while still producing premium wine," says John.

Fruitfed Supplies Technical Horticultural Representative, Blair McLean has been involved with Forrest Wines for the last 24 years. Through Blair's recommendations, the winery and vineyard has used a range of services and products to assist with growing premium grapes including crop monitoring for disease and pest pressure in the vineyard. Every winter Blair and Vineyard Manager Richard Morrison plan a spray programme for the season ahead focusing on using nil residue products. "Blair's a fantastic rep, with a good depth of knowledge. We trust Blair and he's always gone the extra mile for us," says John.