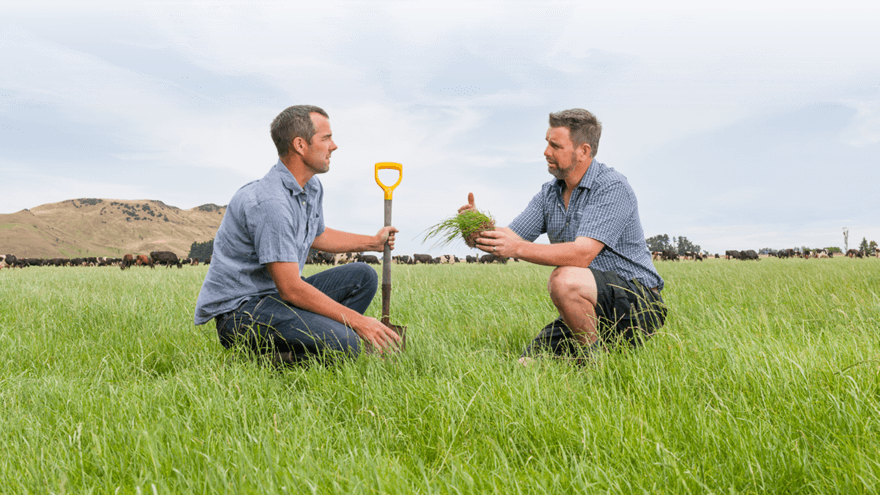 Local and technical knowledge equals tailored solutions
PGG Wrightson's nationwide network of over 100 Technical Field Representatives (TFR) are focused on offering technical knowledge to help farmers meet their goals.
"We've got a team of people who are very passionate about agriculture and who are focused on achieving the best outcomes for their clients," says Kaleb Bolton who has been a TFR in North Canterbury for the past decade.
These outcomes are formulated thanks to a TFR's local knowledge and technical expertise. For Kaleb, his experience extends to understanding agronomy within a range of farming systems: sheep and beef, dairy, deer and pig farms along with arable and smaller lifestyle blocks.
"I understand soil composition and the weed and pest pressures affecting crops and pasture in this area. Here in Canterbury, our pest pressure starts in the north and moves south as the soil warms. I can look at a crop and, with a knowledge of where the pressures have traditionally presented, I can assess where an outbreak may occur and the effect it may have on crops. I can then inform farmers who could be affected in the area and offer an effective solution."
This understanding of local conditions is valuable for new farmers moving into these small rural communities. "When new customers start farming in the area, I can offer advice on what the farmer will potentially have to deal with, what has previously been planted in a paddock, the soil type, including any nutrient deficiencies, and what the pressures may be."
Moving north, Taranaki based TFR, Belinda Wilson, has been in her role for 10 years. She says it is her local knowledge and understanding of her clients' farms that allow her to recommend tailored solutions.
Belinda says looking to plant a new crop or pasture involves, "talking to the farmer to find out where their feed deficiency lies and what infrastructure is on-farm. As most of my customers are dairy farmers, I need to understand if break feeding crops would be suitable. The goal of my discussion with a farmer is to find a crop that will suit the farming system."
Having been a farmer herself, Belinda understands how much farmers appreciate having a TFR who can monitor their crops and identify any weed and pest pressure and recommend a suitable control programme.
Belinda's recommendations are based on her experience and a current knowledge of the products registered for use, having attended regular training hubs given by the PGG Wrightson Land Production Technical Team. "My clients know I have backing from our technical team who are only a phone call away," says Belinda.
What Kaleb and Belinda enjoy most about their role as TFR is creating long lasting relationships with customers. As Kaleb explains, "some farmers I may assist with 90 percent of their business and other's 10 percent. Regardless, the most important factor is the relationship I've formed with the farmer, having achieved a level of trust that means a farmer knows the recommendations I provide will contribute to the farm's productivity."
Talk to your local PGG Wrightson Technical Field Representative about planning your crops for spring now.