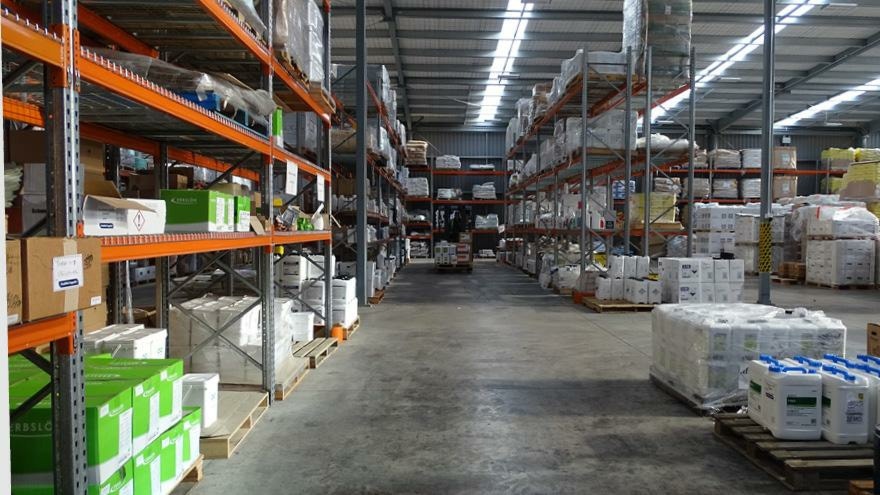 Major Milestone for Fruitfed Supplies Blenheim
The Fruitfed Supplies team in Blenheim is celebrating an outstanding result following their first audit for the Brand Reputation through Compliance of Global Standards (BRCGS) programme and have received an AA grade certificate for the storage and distribution of winery inputs and additives.

BRCGS, formerly the British Retail Consortium, is an internationally recognised mark of food quality, safety and responsibility with more than 29,000 certified suppliers in 130 countries being assessed via a global network of accredited certification bodies, as listed in the BRCGS directory.

As a significant supplier of winery inputs, which are food products, and winery additives, that come into contact with food products, to wineries around the country, Fruitfed Supplies' Winery Supplies team is acutely aware of customers' compliance requirements when exporting to European and United Kingdom markets.

Kirsty Eggleston, PGG Wrightson's Quality Assurance Coordinator, explains: "Most large wine companies have BRCGS certification, or something similar, to facilitate access to European and UK markets.

"Food safety standards are in place to assess the risks inherent in our supply chain, identify controls for those risks and eliminate hazards from entering the food chain. The Fruitfed Supplies Blenheim branch has established a comprehensive product safety management system for identification and controlled management of hazards in food and product which meets BRCGS standards specific to the sourcing, storage and wholesaling of winery inputs and additives."

Fruitfed Supplies, as a trading division of PGG Wrightson Ltd, comes under PGG Wrightson's food importer registration with the Ministry of Primary Industries¹ to import winery inputs, including but not limited to process aids and additives. Fruitfed Supplies has appropriate food safety programmes in place which help ensure safe and traceable products as they move through the system.

Jimmy Bowden, Winery Product Manager, notes that all the work that has gone into achieving the BRCGS certification is a significant achievement by the Blenheim team.

"Our customers face increasingly complex requirements for access to overseas markets, so we are working hard to enhance how we can support customers with quality, auditable documentation specific to their needs for legislative and international access.

"This is a major milestone for Fruitfed Supplies and particularly for our largest winery supply site in Blenheim. Achieving BRCGS certification represents our commitment to supporting New Zealand's horticultural industry and we look forward to continuing this journey with our customers."

A review of product safety management systems at all Fruitfed Supplies branches rolls out over the next 12 months to support even more customers with their food safety requirements across various sectors of the horticultural industry.

Kirsty is working with individual branch personnel to develop Hazard Analysis Critical Control Point (HACCP) plans which includes a multitude of components around preventing contamination of the products through the prevention of pests, building sites, hygiene, procedures for recall, traceability and cleanliness, and monitoring the risk of packaging damage. The programmes include auditing and inspecting suppliers, checking that transportation processes do not add risk, procedures to help ensure products with compromised packaging are not supplied to customers, the commitment of management, reporting and the development of a product safety culture within the organisation. All of these elements are held together by a quality management system to manage, control and implement the processes.

The team at Fruitfed Supplies Hastings has started work with Kirsty to prepare for their BRCGS audit in 2022.

If you need documentation or other information on winery supplies for compliance and market access, please talk with your Fruitfed Supplies Winery Supplies Representative.

¹MPI registration number FIMP008108, issued 27/07/2021.