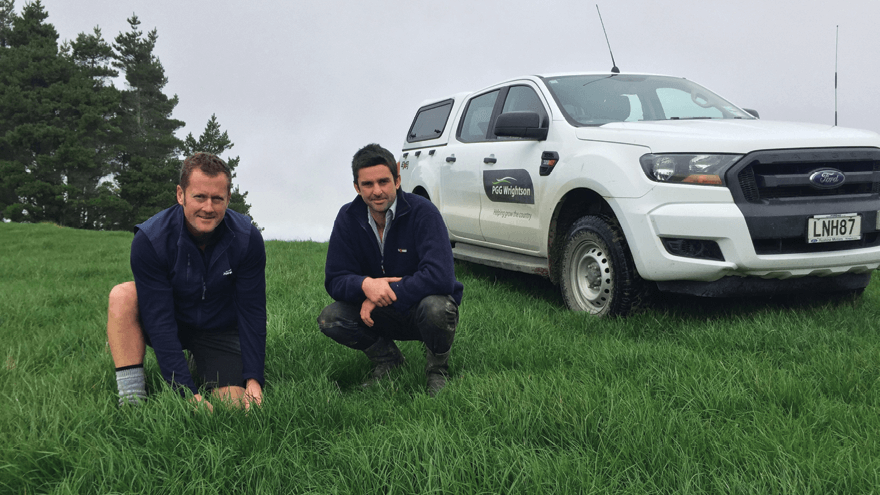 New tetraploid hybrid ryegrass delivers through the seasons
Mohaka AR37 is Agricom's recently released tetraploid hybrid ryegrass that has shown impressive resilience following tough summer dry conditions over large areas of New Zealand.
With highly productive genetics and the added strength of AR37 endophyte insect protection, Mohaka AR37 provides farmers with a fast growing two to four year grass suited to a wide range of environments and farm systems.
Mohaka hybrid ryegrass is bred from a range of elite hybrid material and is ideal for intensive grazing systems. It provides fast establishment speed and winter production similar to Italian ryegrass but with longer lived genetics to improve persistency and production through the tougher months of summer and autumn. Being a tetraploid, Mohaka AR37 is a high quality grass with a breeding focus on lower aftermath seedhead production and greater density.
Jason Wyn-Harris, Equity Partner of Te Maire Limited, sees the benefit of using Mohaka AR37 on their 830 ha effective sheep and beef farm near Flemington in Central Hawkes Bay. Previously, Jason had successfully used Ohau AR37 long rotation ryegrass. Last spring, following advice from his local PGG Wrightson Technical Field Representative James Parsons, Mohaka AR37 was sown after their winter crop with the idea of increasing pasture production. So far Jason has been impressed with its speed of establishment followed by the incredible recovery from drought and autumn production. "The density of the sward and production following the dry summer has been incredible."
With the bull finishing unit situated 600 m above sea level, it is exposed to cold winters where one to two good snowfalls are common. Shoulder season production is crucial for the system to work and that is where Mohaka AR37 fits in with its high level of winter activity, impressive summer recovery and autumn production. Mohaka AR37's late heading date and low aftermath seed head production delivers good quality pasture leading into summer.
With desirable traits such as density, high production and the strengths of AR37 endophyte, Mohaka AR37 suits many farming systems.
For advice on the suitability of Mohaka AR37 on your farm, talk to your local PGG Wrightson Technical Field Representative.