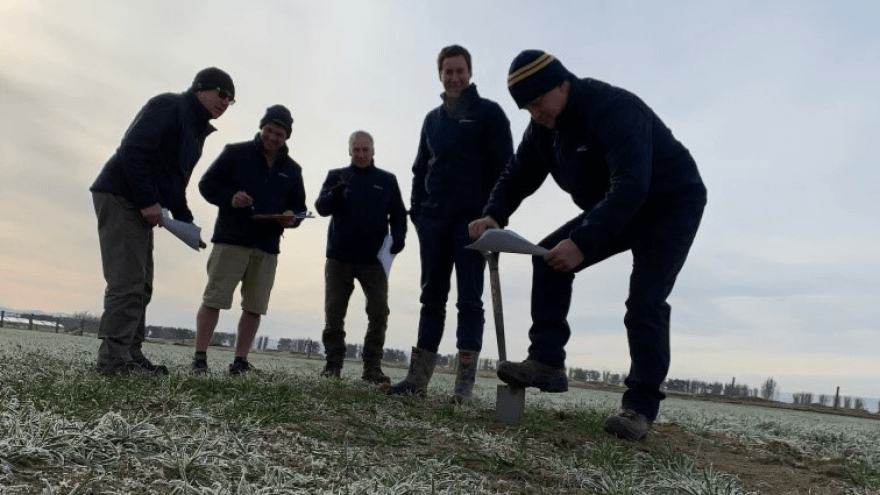 Passing on technical knowledge
Across PGG Wrightson members of the Agronomy Technical Team and experienced Technical Field Representatives (TFR's) have formed crop specific groups to share their knowledge and experience and provide specialised training.
Established four years ago, these sector groups monitor changes and identify opportunities within each cropping segment – cereal, maize, pasture and forage. This includes each group collecting and sharing up-to-date information on growing practices, that will achieve results within a range of farming systems, to TFR's across the country.
Recently, the cereal crop sector group has been delivering small group training on how to grow wheat, barley, oats and triticale within a range of conditions. To allow TFR's to receive this training, six locations are used throughout New Zealand.
Led by a Technical Specialist in Agronomy, the group meets at each location every three to four weeks to follow the crop from sowing to harvest. Discussions focus on relevant points at each stage of the crop's lifecycle, including key timings for weed, pest and disease identification, nutrient planning and spray timings.
Brian McCutcheon, PGG Wrightson Retail Sales Manager for Mid to South Canterbury and Cereal Crop Sector Chair explains, this type of training is pertinent for growing cereals, with increased interest in growing oats for oat milk, barley for malt, wheat for bread and cereals as feed grain or silage. In addition to the more traditional growing patterns and uses, recent regulatory changes have recognised the benefits of sowing a cereal crop following on from a winter brassica or maize crop within a cropping rotation. By doing so, the cereal crop assists with absorbing nitrogen from the soil, which in turn, reduces nitrate leaching. The cereal crop is then cut and used as green feed or whole chop silage by the farmer.
The Agronomy Technical Team keeps up to date with regulatory changes, having built close relationships with relevant government agencies, such as the Ministry of Primary Industries and relevant industry bodies. As Technical Specialist in Agronomy, Gary Bosley, says, "once we are advised of legislation or regulatory changes, we consider the ramifications for farmers and build recommendations that support them to grow crops in an efficient, profitable and environmentally sensitive way."
From there, Gary says, "we arm our TFR's with the most up-to-date agronomic options and products available on the market so they can advise farmers on how to get the best performance from their crops, with recommendations based on sound technical knowledge that is independent of our suppliers."
"The Agronomy Technical Team also work with suppliers, evaluating product in-field trials prior to market launch. This allows the team to keep the crop sector groups abreast of changes, passing this knowledge onto TFR's whose recommendations farmers can be confident are backed by data as well as meeting current regulations."
To discuss the benefits of growing a cereal crop, contact your local PGG Wrightson Technical Field Representative.