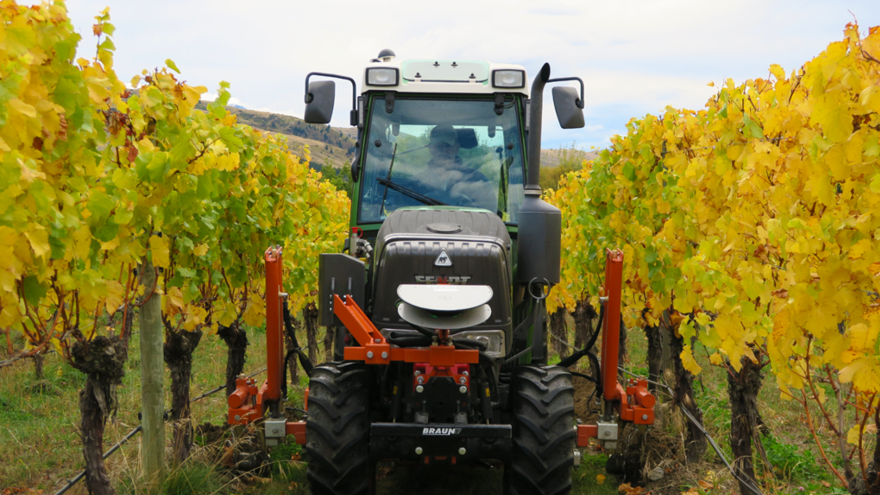 People and technology at Felton Road
Investment in their people and new technology never stops at Felton Road Wines in Bannockburn, Central Otago. Their team has spent the past few months learning about and contributing to technology developments which will benefit many in the horticultural sector worldwide.
Alongside tending their four vineyards, totalling 32 ha, during the challenging 2020-21 growing season, Viticulturist Gareth King and his team have been providing feedback to German company Braun Maschinenbau GmbH about the soon to be released Braun Vineyard Pilot Assistant (VPA) machinery.
Braun offers several well-proven vineyard tractor attachments such as mulchers, mowers and cultivators. The latest technological advance is the radar-based VPA unit which monitors what's in front of the tractor and tells the tractor and the attached tools what direction, movement or task is required.
Gareth has been working with Braun vineyard machinery for two decades and is pleased to contribute to the all-important trialling of the VPA technology in a commercial environment.
Gareth explains: "Braun has 50 years' expertise developing under-vine management equipment and, over the last five years, has taken this a stage further with automated technology. The VPA unit maps what's in front of and beside the machine to position the tractor within the row, move the mower or cultivator head around a vine, lift up, drop down and where to cultivate in the under-vine strip. The operator is hands-free with their only job to turn the tractor around at end of rows and line it up again. You could be checking weather data, having a really good look at the vines and so on while machine is working along that row."
Gareth notes that Braun's own trial work shows that the operator's heart rate is lowered when the radar is doing the intense work of managing the equipment working around the vines. "People are less stressed, more relaxed while the important weeding work is being done. From a health and safety point of view, your staff are being looked after."
In organic and biodynamic vineyards like Felton Road's, mechanical control of under-vine plants is the most viable option so any technology which makes this vital vineyard task more efficient is obviously helpful.
"Like all technology, it has to be trialled by people in real life situations and that's why the VPA has been here in New Zealand this summer. We've helped iron some bugs out of it and scared a couple of local growers seeing how it can go wrong, but it's going to be a step forward for people. To do a good job with this kind of precision ag technology, vineyards need to be set up correctly with straight rows. The VPA is close to being released and is designed for use in any row crop, not just vineyards and orchards."
People technology is equally valued at Felton Road, which is known for its commitment to training those new to viticulture, either young people from school or those looking to transition into a new career. Constant learning and opportunities for improvement see Felton Road personnel stay with the company for many years. Gareth, with 20-plus years to his credit, is one example. Another is Assistant Viticulturist Annabel Bulk, with 10 vintages at Felton Road. Annabel succeeded in the regional and national Young Viticulturist competitions and then won the Young Horticulturist of the Year title in 2018.
"People make technology work and people's work and lives can be improved by the right technology, so you can't consider one without the other. Learning to use the VPA technology has been interesting with older, experienced operators not necessarily doing any better than someone new to driving a tractor."
The concept of people technology flows through into Felton Road's relationship with Fruitfed Supplies which dates back many years with earlier investments in Orchard-Rite wind machines and EcoTrellis systems, and currently includes the provision of technical advice, crop protection products and winery supplies.
"Over the years Fruitfed Supplies has been very good at making sure they have people with strong technical knowledge, be it agronomy, crop monitoring and so on. In Central Otago, we now have a very good representative in Blair Deaker whose background includes both conventional and organic growing. That's positive for anyone down this way looking for local advice from a local supply company, particularly if they are changing over to organics and need the experience of someone like Blair to help."
With the Braun VPA unit and tractor heading back to Germany shortly, the Felton Road team are focused on the winery and turning this year's fruit into fine wines. "It was a challenging season right from the start, no spring frosts but considerable wind pressure all season. Rain in January and a run of warmer weather helped, then three weeks of the most consistent weather we can remember during harvest. The winery is at capacity and there's no reason why there shouldn't be some very good wine produced out of Central Otago this year."