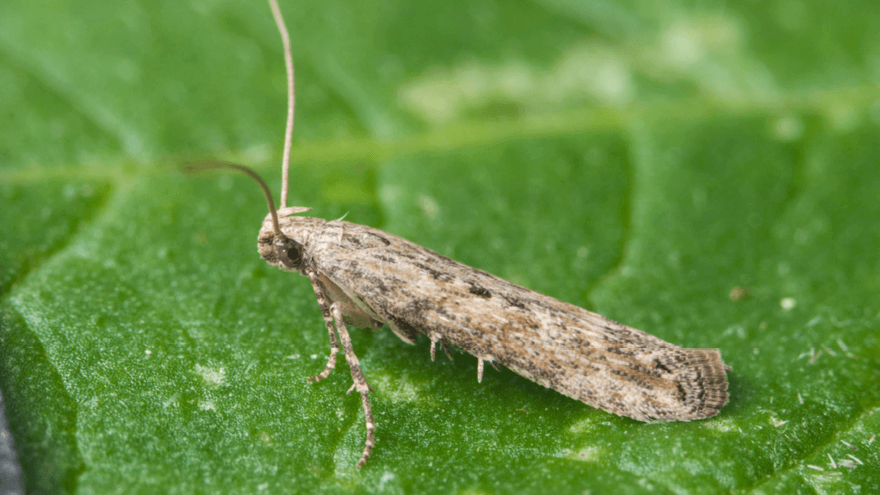 Potato tuber moth strategies
Fruitfed Supplies is supporting potato growers in Pukekohe with greater information and control strategies for potato tuber moth (PTM), Phthorimaea operculella. PTM was once the biggest insect pest in potatoes before the arrival of tomato potato psyllid and is again causing significant losses in Pukekohe crops over the last few growing seasons.
Adult moths and larvae can be active from October through to July, with January to April the main period of concern. Both adults and larvae are found in the potato canopy, with larvae causing mining damage to foliage. However, the crop damage comes when larvae get access to exposed tubers which may occur after cracking or eroding of growing mounds.
Effective control of PTM populations in the foliage helps minimise the number of larvae seeking access to tubers, but control practices need to be extended through ground storage periods as well shed storage. Once PTM reach potatoes in storage, the pest will continue to develop year-round.
Several Fruitfed Supplies personnel are working collaboratively with Pukekohe growers to tackle PTM on multiple fronts. Using the Fruitfed Supplies Crop Monitoring team and pheromone trapping, we are conducting a regional survey looking to track the arrival, development and peaks in PTM numbers across the district. This data is then shared across all growers involved in the survey, optimising the value and regional response and helping the growers make well-informed control decisions.
The Fruitfed Supplies Research and Development team is looking into new PTM control options and helping with new product registration data. We are looking into other factors to help improve the effectiveness of in-field control options. Some insecticides 'miss the target' when it comes to PTM so there is a big push for more targeted, appropriate insecticide use. We are also working on in-field cultural practices to protect tubers, boosting numbers and effectiveness of beneficial insects to control PTM, and storage control options at the end of the season.
For more information on PTM control, please talk with your Fruitfed Supplies Technical Horticultural Representative.