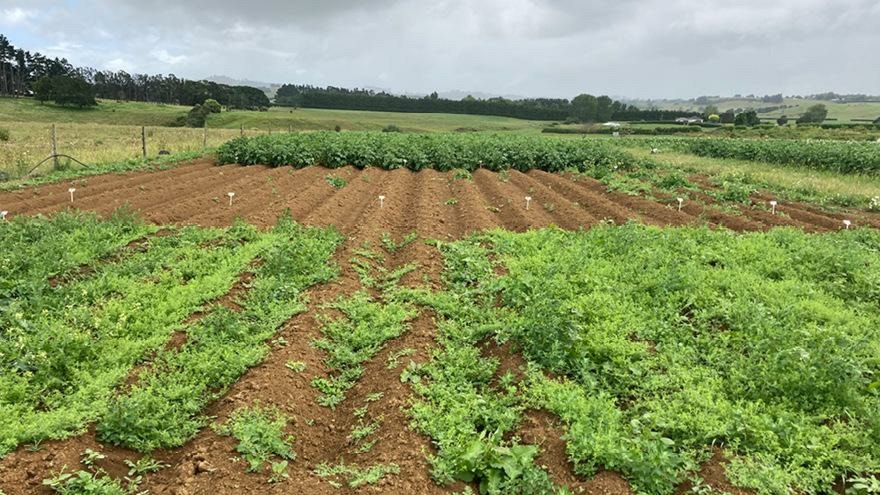 Product showcase in Pukekohe
Syngenta Crop Protection showcased their products for potato growers for the second time over the 2021-22 season.
Raeleen Watherston, Syngenta Customer Marketing Lead, explains: "The aim of the Pukekohe Potato Partners Innovation site is to showcase our products in a programme designed to put them under pressure, so visible differences can be seen between products that you wouldn't see if you were growing a potato crop in a commercial situation."
Two trials being run in one location was convenient for growers and local Fruitfed Supplies personnel to visit and see for themselves how the products were working in the field.
Raeleen says last season they showed Boxer Gold® herbicide alone and with various mixing partners. "There was a good level of weed pressure in the untreated part of the site and when compared to the treated areas, indicated the level of control achieved. We could also observe the performance of the herbicide combinations on bare earth and with a crop, where weed control was further enhanced by crop shading."
The second trial looked at a new potato tuber treatment being developed for seedborne diseases. Amistar® fungicide was also applied as an in-furrow treatment which, when compared to the untreated area, showed how it protected the crop against Rhizoctonia and silver scurf through crop emergence to improve overall marketable yield at harvest.
Daniel Sutton, Fruitfed Supplies Technical Specialist – Vegetables, values Syngenta taking the initiative to demonstrate how their products perform in the field under testing conditions. "It's a great way to show our growers how to get the best from any recently launched Syngenta products for the potato sector."
Raeleen says they intend to repeat the innovation site trials this coming season alongside Syngenta's Potato Partners programme, which supports the precise use of Syngenta crop solutions in potatoes.
Your local Fruitfed Supplies Technical Horticultural Representative can assist with more information on Syngenta products.
ACVM registration number: Amistar® #P004840, Boxer Gold® #P009706. Read the registered label before use.
Article supplied by Syngenta