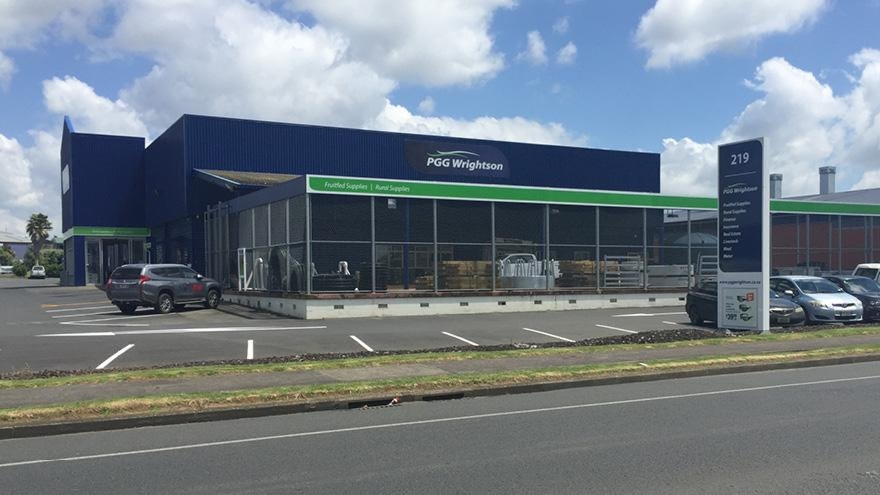 Pukekohe team adapts and delivers
There's no doubt that Covid-19 has impacted New Zealanders in various ways with changes to the way we live and work. When the Auckland and Northland regions remained in Alert Level 4 in late August last year as the rest of the country went to Level 3, the Fruitfed Supplies teams in Pukekohe, Helensville and Kerikeri went into the new spring growing season having to find new ways to work together and with customers.

Pukekohe Area Sales Manager Andrew Luxmoore explains what it's been like for the team to work under the restrictions of Levels 3 and 4 lockdowns.

"The onset of another round of lockdowns in August 2021 caused issues for the whole country, regardless of what line of business you were in or products you were trying to access as a consumer or a business," Andrew says. "The Pukekohe and Helensville branches had the longest period of time operating under Alert Levels 3 and 4, and the red traffic light of the COVID-19 Protection Framework before this changed to orange in late December."

With the primary sector classed as an essential service, Fruitfed Supplies Technical Horticultural Representatives (THR) and PGG Wrightson Technical Field Representatives (TFR) were able to provide growers and farmers with products needed to keep their crops pest and disease free, as long as there was no direct contact and appropriate safety precautions were taken with product handling. They were allowed to access a grower's property only when requested by the grower to see a specific issue or problem.

Andrew says that growers and Fruitfed Supplies personnel were under significant pressure during this period of Alert Levels 3 and 4.

"They stood up to the challenge magnificently, in my opinion, to deal with what became the new 'normal'. Not being allowed to walk through crops with the grower or to have any kind of face-to-face conversion with a grower was a real challenge. Growing great crops is a very personal thing for both the grower and the agronomist, and our team of Representatives dealt with the pressure professionally and calmly."

As Andrew explains in the Greenlight Farm Management article on page 3 of this issue of Facts, having access to this technology offered benefits to both growers and Representatives.

"The Greenlight Farm Management software provided a great solution to not being able to have face to face time with our customers in the field. Shared photos via Greenlight became the new way of communicating, supplemented by more phone calls than usual. By the time Level 3.2 came around in November, the ability to have socially-distanced meetings with growers was a relief to all.

"Growers were facing plenty of challenges of their own, so we appreciate that they responded well to the new ways of operating using the Greenlight technology, emails and phone calls to do business. They were understanding of any supply delays, although we all worked extremely hard to minimise these as much as we could."

Representatives couldn't rely on the regular information supplied by the Crop Monitoring team as Monitoring Scouts were not allowed to work under Level 4, although they were able to resume regular monitoring services under Level 3.

In the branch, under Level 4 restrictions, Customer Service Representatives worked a split roster of week on, week off to manage workloads and staff wellbeing while also ensuring business continuity in case anyone contracted the coronavirus and their team needed to go into isolation.

"All our branch staff returned to normal work patterns with September's move to Level 3 as we needed all hands on deck for the busy spring season. All product sales were contactless with customers able to order from the branch door, online, via their Representative or by phone."

Pukekohe THR, Jesse Clark says he did his best to keep things 'business as usual' while working within the confines of a lockdown.

"I think the key for me during this time was just being available," Jesse explains. "When asked, I went out to check crops following a weather event or high disease pressure, then made sure growers got products as needed."

Jesse says being restricted to phone conversations, emails and the use of Greenlight was frustrating at times as he prefers face-to-face interaction.

"At the same time, without these tools, we would have been hamstrung. It's been very much on a grower-by-grower basis depending on their comfort levels with the various tools. Much of what I do with crop agronomy is already done digitally but I've had to be more operational in my approach, giving recommendations, taking orders and solving problems over the phone. Having no face-to-face meetings also limited the opportunity to discuss new products which could have benefited certain crop protection programmes."

Jesse says grower feedback has been positive. "The fact our store remained open for business with door service that didn't need to be pre-booked was a huge help for growers who faced curve balls such as sudden weather events, these events make forward planning difficult. We were able to provide a service through recommendations and product solutions almost instantaneously. Growers have appreciated our availability throughout this pandemic-impacted period because the Fruitfed Supplies team was able to help with products promptly." The hardest part of this whole situation according to Jesse has been shipping delays. "We have had to be extra vigilant around stock levels, phoning growers to pre-empt their requirements and doing a bit of extra planning."

Alert Level restrictions also forced changes to this year's Potato Tuber Moth (PTM) monitoring survey, a regional programme which commenced in 2020 to gather more detailed information about pest arrival, development and spread across the region.

"We planned to start monitoring this season earlier than last year," Andrew explains. "We started in the last week of August, but this was disrupted for obvious reasons until Level 3 came into effect early October when restrictions allowed us to re-enter growers' properties."

That early season data showed higher pest pressure, which resulted in the tactical application of early insecticides.

"We had more data to compare to last season from early November onwards which highlighted that PTM numbers were larger this season. The value of using pest specific products was highlighted before Christmas with in-field numbers spiking and causing significant canopy damage in blocks where these pest specific products weren't used. We saw effective control of PTM in blocks where Benevia® insecticide was used."

Thinking back over recent months, Andrew says he is immensely proud of the Pukekohe team. "They continued to provide the best possible service and product supply when under significant personal and professional pressure. They can be proud of their efforts."

Craig Lamb, Area Sales Manager for Helensville, agrees. "The whole Covid situation has been a major challenge for staff and customers alike, but the team were totally committed to provide growers with the best possible service in a safe way. It certainly wasn't ideal with no direct contact with growers, however we adapted to the contactless protocols. It was pleasing to get very positive feedback from our customers. The in-store team adapted to the changes extremely well and did a great job with a strong focus on efficiency. It was certainly taxing on them both mentally and physically, but we pulled through."

Craig Trembath, National Sales Manager for Fruitfed Supplies, is extremely proud of how our teams throughout the country have adapted to changes brought about through Covid.

"We have an important role to play being an essential service," Craig says "It's a privileged position to be in and our team has worked very hard to adapt to change in order to support our customers while they continue to grow and harvest produce under challenging conditions. Our branches required to operate under lockdown with borders in place for extended periods have done it the toughest. The rest of our team have tried to support the Auckland, Northland and Waikato personnel as best we can from afar but have to admit it's been frustrating not being able to front up in person. We thank our customers for their patience and understanding and, of course, our valued staff and their families for going the extra mile, working through the tough times, and supporting and being there for each other."

ACVM Registration Number: Benevia® insecticide #P008571. Read registered label before use.