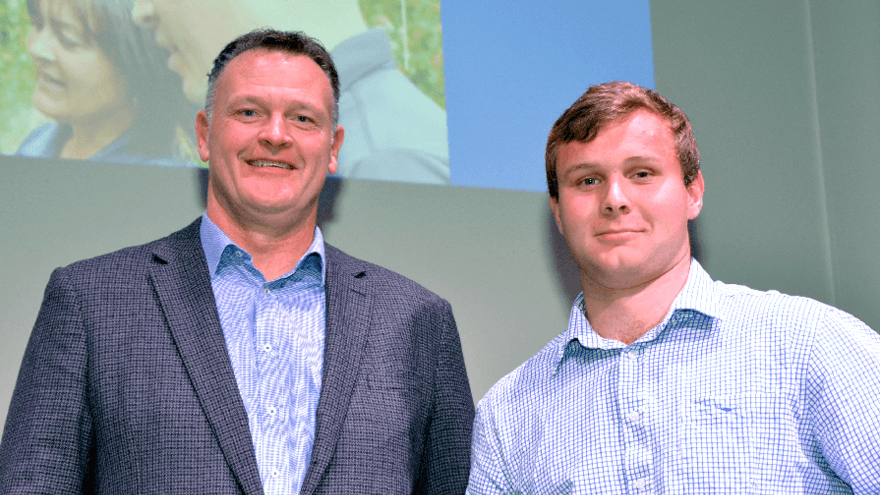 Scholarship winner's keen involvement in horticulture
The 2021 recipient of the Massey University Fruitfed Supplies Horticulture Scholarship, Dylan Hall, has grown up surrounded by horticultural crops in Gisborne.
Now in his last year of study completing a Bachelor of AgriCommerce majoring in International Business, Dylan is looking to build his own career backed by his family who grow apples and citrus fruit.
His initiative within the industry has been recognised by the Fruitfed Supplies management team.
"We awarded Dylan this year's scholarship as we wanted to recognise his proactive involvement in horticulture and his eagerness to gain experience in all aspects of a horticultural business," says Duncan Fletcher, National Manager Fruitfed Supplies.
Discussing his scholarship win and recent work within horticulture, Dylan's enthusiasm and determination to make his mark on the industry is obvious. Last summer in Gisborne, he was approached by a couple of growers to help graft oranges and mandarins. He also used an empty block on his family's orchard to grow watermelons and rockmelons, harvesting in early February. Having had a hot summer, the crop was a success.
"I've grown up around perennial crops, so I thought I'd try growing an annual," says Dylan. "It was awesome to take responsibility for both growing a crop and marketing it. We sold the melons, selling some at farmers markets in Auckland, plus I got support from local horticultural marketing companies who helped me sell and distribute nationwide."
Now back at Massey and immersed in his studies for the year, Dylan is Vice President of the Massey Horticulture Society. In this role Dylan helps organise events for members with his focus on establishing a connection between students and the horticultural industry as he feels it vital for young people to get involved in the industry to help future proof it.
Looking to the future, Dylan is interested in both the marketing and technical aspects of horticulture.
"Having been involved in the growing side of horticulture my whole life, I'd love to stay involved in this part of the industry. Apples and kiwifruit are my favourite crops as new varieties and growing systems are being developed all the time. I would also like to get more exposure to marketing having enjoyed learning it at university."
The Massey University Fruitfed Supplies Horticulture Scholarship is an academic scholarship available to a third year Massey University student studying horticulture. The scholarship of $5,000 is
intended to help promote excellence in horticulture by supporting future leaders in the industry and is awarded to one student each year.
The first scholarship recipient was presented in 2020 to Alex Tomkins who, on her successful completion of a Bachelor of Agri Commerce, majoring in International Agri Business, has now commenced her professional career in the kiwifruit sector.