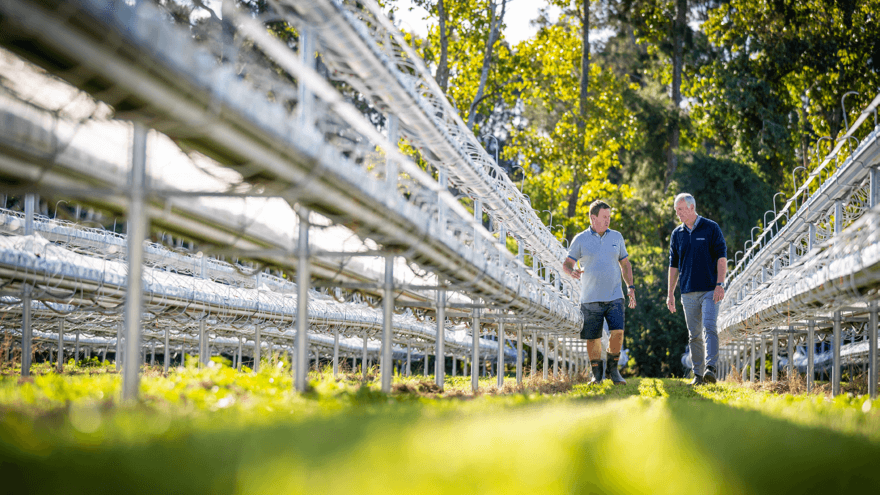 Significant gains from new growing system
Whenuapai's Anthony Rakich, of Danube Orchards, is pleased with the efficiency and productivity gains achieved by changing his strawberry production from traditional in-ground growing to a raised, hydroponic growing system.
Anthony's family has always grown an area of strawberries alongside their pipfruit and plum blocks, with Anthony recalling a photo of his father Arthur as a baby with his mother picking berries in the family's original Henderson orchard.
"Strawberries have formed the majority of our business for a number of years, with just a small area now in apples and plums," Anthony says who supplies the fruit direct to Foodstuffs.
A desire to improve overall efficiencies and lower operating costs led to Anthony investing in a table-top growing system which he sourced from Haygrove in the United Kingdom for one hectare of growing area and 100,000 plants. This compares to the three hectares and 150,000 plants he had previously in traditional mounded in-ground rows.
"It's a two-tier system, two rows about waist height and one row around shoulder height. We were extremely busy last March and April, clearing the in-ground plants and levelling the blocks. Installing the growing tables and all associated irrigation lines, pumps, valves and drippers took longer than I anticipated. I started with two workers helping me and ended up with 10 workers to get to the point of setting out the coir-filled grow bags we get from Fruitfed Supplies and finally planting out the berry plants last June."
The installation project involved PGG Wrightson's Advanced Irrigation Systems (AIS). "The team and I spent weekends laying and digging in the irrigation lines. AIS and Craig Lamb from Fruitfed Supplies worked alongside each other seamlessly to ensure I received the support and supplies needed to get operational."
Anthony's first season with the new system delivered several expected efficiency gains, such as the ease of picking. "My workers loved it. It's a little cooler for the berries, being raised, which reduces disease pressure and also makes it cooler for pickers. The coolness meant we started harvesting about a week later than we would normally have with in-ground, but we kept picking longer than usual, through until late February rather than January."
Many raised growing systems are also under polytunnels, but Anthony's are not. "I'm not trying to get an earlier or later crop. I just wanted to make the job easier and save the annual costs and hassle of ground preparation which was often impacted by weather either being too dry or wet to work the ground. A consideration of not growing undercover is that rain flushes nutrients through the grow bags, but we analyse nutrients in and out every day, year round, so can adjust for this."
The evenness of plant growth and improved production per plant are two elements which impressed Anthony with his new system. "Previously, you saw some differences in plant size with variations in soil across the block. Now, with the same nutrients and conditions, the plants are even with production per plant, and every plant is producing the same amount. Although we have a third fewer plants than previously, we were a long way away from our overall production dropping by a third, and we'll know a lot more for our second season when it gets underway later this year."
Getting to grips with daily plant nutrition and testing routines was made easier with good reference material from Haygrove and Craig's product information.
Craig also assisted with a new vertical spray boom to fit Anthony's reconfigured sprayer now towed by a smaller tractor along the 80-metre-long rows.
"Our family has dealt with Fruitfed Supplies since back in the days the branch was in Henderson and Craig became our rep soon after he joined the company. He's always keen to help with advice and technical information whenever needed."
Danube Orchards continues to be a family business with Anthony's sister Yvonne managing the administration and packhouse and her son Alex also working for the company. Father Arthur, age 90, is still active around the property, helping with a range of tasks.
While having already considered the possibility of expanding the area in growing tables, Anthony is focused on setting up for the second season to maximise productivity from every plant.