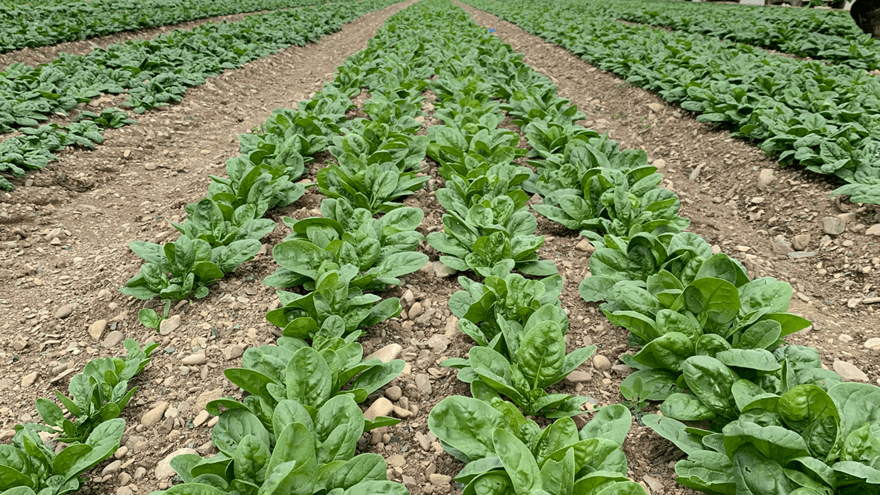 Spinach varieties tested in Nelson
Every year, Seminis Vegetable Seeds conducts screening trials around New Zealand with a range of new and improved vegetable varieties. These trials help gain an understanding of how these varieties perform in various geographical conditions, an important aspect of assessing each variety for its suitability for commercial release.

This year major Nelson grower J.S. Ewers assisted the Fruitfed Supplies and Seminis teams by preparing a demonstration plot to showcase several spinach varieties which were assessed for their suitability as bunch spinach and baby leaf spinach, and in some cases, both.

Nick Williams, Seminis Regional Business Manager New Zealand, says the commercial success of a variety is related to the growing environment and agronomic practices as much as it is to the plant's genetics.

"This spinach trial, carried out in collaboration with Fruitfed Supplies Richmond and J.S. Ewers, helped us to build a more robust dataset of how varieties perform across a range of geographies and microclimates. This data helps growers choose spinach varieties for specific time slots to achieve the desired yields and quality."

Technical Horticultural Representative, Hayden French says the screening trials test new and existing varieties using the grower's current growing practices. "We want to see if we can bring them a new and improved variety that suits their conditions and improves their returns."

Hayden acknowledges the effort growers put into providing space and resources for these screening trials. "Obviously, it takes time to prepare the ground, sow the seed and look after the crop with relevant crop protection products and nutrients. It is also a considerable commitment from growers to allow the use some of their land which is often in short supply, so we really appreciate them being willing to do this."

In Nelson, personnel from J.S. Ewers, Seminis and Fruitfed Supplies spent a morning assessing the spinach trial together. "Some of the things we were looking for were colour, quality, weight, and ease of harvest," Hayden says. "It was great to be able to do this together as a group. We had some great discussion while completing the assessment which was beneficial to all."

Honest feedback from growers about the varieties is critical to decision making, Nick adds. "Working in partnership with Fruitfed Supplies and key growers like J.S. Ewers, we're able to be more responsive to the growers' needs in each region. The support from Hayden and the Fruitfed Supplies team to monitor the progress of our trials and track expected harvest dates allows us to be in the right place at the right time to assess them together. We wish to thank J.S. Ewers for their support in planting and managing the trial. With some very promising results, we expect that next year some of these varieties will be new commercial introductions to the New Zealand market."

A new spinach screening trial is underway in Canterbury, looking at variety performance under winter growing conditions. Nick and Hayden look forward to more screening trials in the future, which will help find more vegetable varieties well suited to regional growing conditions and aid strong working partnerships between all parties.

Your Fruitfed Supplies Technical Horticultural Representative can assist with more information about Seminis vegetable seeds generally, as well as screening trial data.