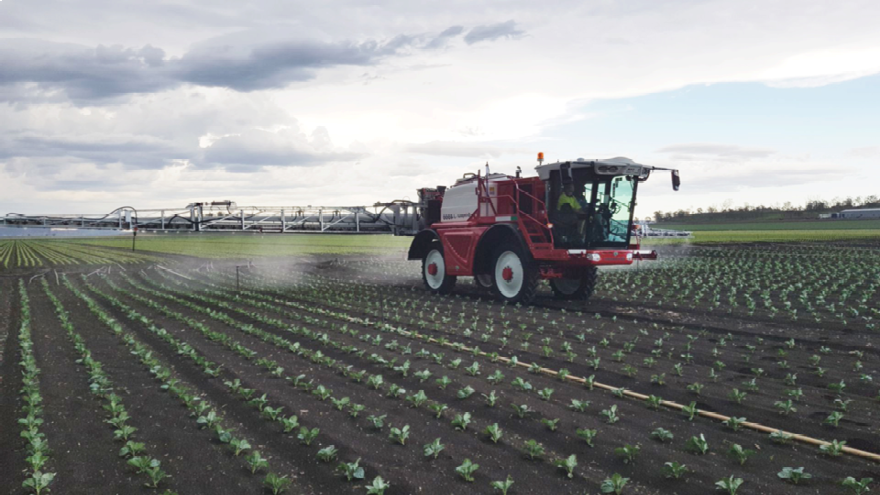 Spray coverage is king
Pest, disease, and weed management are key elements in any vegetable production system. Growers have a range of tools including insecticides, fungicides, herbicides, elicitors and spray adjuvants, all of which need to be applied correctly for best effect.
Andy Mawley, Cropping Application Specialist for Croplands, suggests looking at the following factors to ensure accurate spray coverage on your crop.
One type of nozzle does not fit all situations or products. Risk of off-target damage from herbicides can be minimised by using air inducted (AI) flat fan twin jet nozzles. Finer spray droplet sizes are usually recommended for fungicides and insecticides, and coverage can often be improved using twin jets or cone nozzles.
Water rates change according to canopy density and size. For example, relatively high and dense potato canopies require higher spray volumes than low canopy crops like spinach or onions which have a different canopy architecture. Using the correct nozzles for the desired application volumes and speeds gives the right pressure to deliver an optimal droplet size for correct targeting.
If you can measure it, you can manage it. Set up water sensitive papers within the crop and check them to ensure the desired level of coverage is being achieved.
Ensure output is calibrated for consistency across the spray boom. It is important to see consistent pressures and nozzles output across all boom sections.
Nozzles, pipes and pumps all wear over time. Check regularly and maintain or replace as required.
Understand the products you are using and what kind of coverage is required. Is the product type contact, translaminar, or systemic? Contact products require a finer droplet size. Systemic can be delivered in larger droplets.
For more information on early disease control in vegetable crops, please contact your Fruitfed Supplies Technical Horticultural Representative.