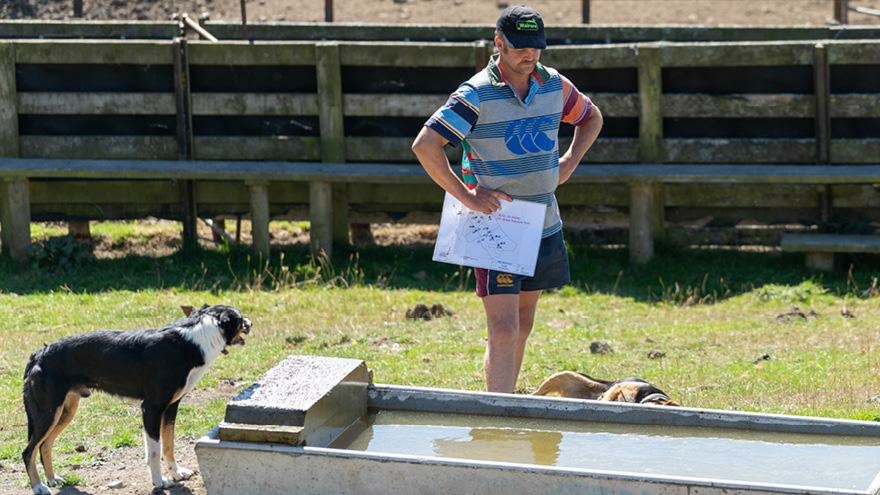 Stock water system improves efficiencies on-farm
Going from minimal water supply to one trough in every paddock around the farm, Andy Wells says his new stock water system has been a game-changer.
Andy and Emilee farm sheep and beef on Dunmore Farms at Clinton in South Otago. North facing, the farm is a mix of flat to rolling to steep country. He winters about 6,000 stock units.
With a minimal system of 10 to 15 troughs, water supply was a huge challenge.
"The stock drank a lot from natural waterways which was hugely unreliable," says Andy. "I also subdivided the farm up for better intensification, so getting water to stock became a must."
Having been a PGG Wrightson customer 'forever', he approached Technical Field Representative, Lester Howden, about planning and installing a new stock water system.
"PGG Wrightson was my first port of call. The team has always done a good job, communication is excellent, we've never had an issue with supply, and they are always price competitive. I didn't bother asking anyone else."
Andy's objective was to get water to every paddock. Lester initiated the PGG Wrightson stockwater design process with partner supplier, Waters & Farr "I have done about five water schemes with Waters & Farr. They are extremely good at what they do," explains Lester.
The first step is to map out the farm and assess requirements. Having worked with the Wells family for the last 10 years, Lester had a pretty good understanding of the situation.
"In addition to intensifying, Andy was fencing off waterways; there was no articulated water to the back of the farm."
Andy knew what he wanted to achieve, Waters & Farr worked out heights and flow rates to get the right amount of water to mobs of varying sizes. Within five months, Andy had three gravity-fed systems all linked-up plus water filling points around the farm.
"I am very pleased with the PGG Wrightson stockwater process, the result and the value for money," says Andy. "For a project like this to work, communication was paramount. PGG Wrightson know this which made for a smooth process. I asked reasonable questions and they gave straight answers.
"I'm happy that both companies stand by the products too.
"I appreciated Lester's flexibility. While things look good on paper, they change in practice – he supplied whatever we needed, plus some."
Andy can now put cattle into blocks where he couldn't before. He cites better efficiency and better-looking stock as key benefits of the new system.
"I haven't weighed the stock, but I see them drinking all the time and they look better. Being able to fill spray units wherever saves us time. Grazing management is much easier and there's been a big improvement in water quality because the troughs have drawn the animals away from our natural creeks."
Sponsored by Waters & Farr