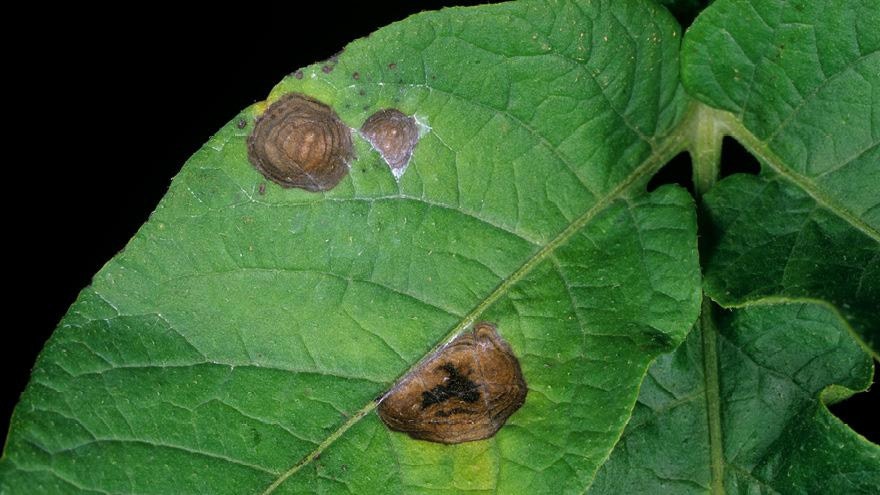 Summer Pests and Diseases in Potatoes
The main growing and development stages of potato crops through the warmer summer months have the potential to be impacted by fungal diseases which also flourish in warmer conditions.

Warm, dry days followed by cool nights with dew favour the development of early blight (Alternaria solani). Be aware of another blight strain Alternaria alternata which also infects potato crops. If left unchecked, both diseases cause severe defoliation. Assess weather patterns and utilise crop monitoring early in the season to detect signs of blight. Implement a strong protective fungicide programme which includes systemic fungicides prior to visible disease symptoms. Stress increases a crop's susceptibility to infection, which is why early blight is often seen later in the growth cycle as the crop begins to senesce.

Miravis® is effective at controlling early blight in potatoes. Use it as a protectant, making the first application prior to visible disease symptoms. It is an SDHI fungicide and the required resistance management steps include tank-mixing Miravis with another strong protectant product and making no more than three Miravis applications per crop. If conditions favour infection, add Score® 250EC with the first application of Miravis.

Insect pests such as the Tomato Potato Psyllid (TPP) and the Potato Tuber Moth (PTM) are also key considerations during summer. Late season infestation of PTM is a real concern due to direct damage that larvae do to tubers. High numbers of TPP in January and February increase the risk of zebra chip bacteria (Candidatus Liberibacter solanacearum) being spread. Monitor regularly for these pests to gather data for informed decisions on control strategies. The effectiveness of insecticides depends on several factors such as pest life stages and population size, and numbers and species of any beneficial insects.

More information on controlling diseases and pests in potato crops is available from your Fruitfed Supplies Technical Horticultural Representative.