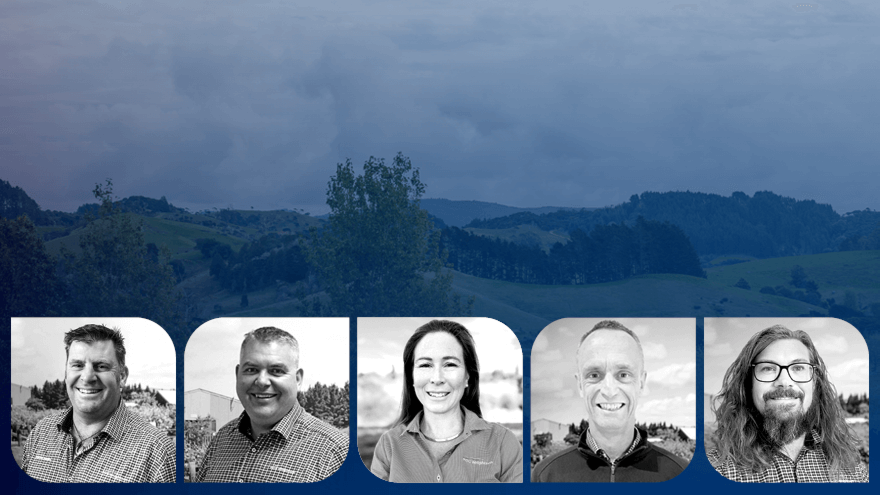 Technical know how: the backbone of field advice
At PGG Wrightson, our Technical Field Representatives (TFR) work alongside farmers everyday providing recommendations that are bolstered by a technical team whose depth of experience will instil confidence in farmers.
With greater regulatory requirements faced by farmers, and the increased technical knowledge needed when choosing quality seed, agricultural chemicals and fertilisers, PGG Wrightson's land
production technical team has expanded to support the company's TFR network countrywide.
As Milton Munro, PGG Wrightson's Technical Manager, comments, "our land production technical team is focused on supporting the company's TFRs who assist farmers with creating productive and
sustainable farming systems, producing crops and pasture to support successful sheep and beef and dairy operations."
"The relationship between TFR and farmer requires trust. A farmer relies on a TFR's specialist knowledge to help improve farm productivity. Understanding that TFRs are supported by an experienced technical team helps build that trust."
The expansion sees the team now comprise of three agronomists and two soil specialists who collectively have over 100 years' experience in agriculture, both here in New Zealand and overseas.
Based throughout the country, the team keeps abreast of the latest developments using multiple channels including field trial analysis and imparts their knowledge to the network of over 100 TFRs. This extends to assisting farmers with leaf, plant and soil testing, with analysis of these results forming the basis of a crop specific fertiliser programme if requested.
Behind the scenes, the land production technical team serves an important role, working alongside suppliers to evaluate the effectiveness of new products registered for use in New Zealand.
By reviewing a product's independent trial results and understanding its efficacy in New Zealand conditions, the team recommends if a product is suitable to be made available in PGG Wrightson stores.
As a PGG Wrightson customer, you can be assured the recommendations given by your local TFR have been designed to achieve optimal growth of your crops and pasture, having been based on science and research, understood by the land production technical team.
Introducing the land production technical team:
Gary Bosley, Technical Specialist Agronomy (Upper North Island) - Gary has been with PGG Wrightson for seven years having moved to New Zealand from the United Kingdom (UK) where he spent 19 years as a Technical Agronomist. Before that he managed a number of large farming operations. This broad experience, spanning 37 years, has provided Gary with experience in maize, arable, pasture, vegetable and brassica agronomy.
Chris Lowe, Technical Specialist Agronomy (Central New Zealand) – Joining PGG Wrightson in 2021, Chris brings 25 years of agronomy experience following a seven year period at Ravensdown as Technical Manager in Agronomy. Prior to this, he held agronomy roles in both New Zealand and the UK. Chris holds an Honours degree in Environmental Sciences and a Masters degree in Crop Protection.
Michael Straight, Technical Specialist Agronomy (Lower South Island) – Michael joined PGG Wrightson in 2021. Prior to this he spent nine years working for both FAR Australia and FAR New Zealand as a Technical Manager and Agronomist. Michael holds an Honours degree in Geography and Geology from Otago University.
Dr Jay Howes, Technical Specialist Soil Science (North Island) – Jay has enjoyed a career spanning 25 years including 15 years growing vegetables and cereals in Cambridgeshire, UK for England's
largest supermarket and, more recently, 10 years as a Soil Scientist here in New Zealand. In 2020, Jay was awarded a PhD in Soil Science from Massey University.
Angela Darke, Technical Specialist Soil Science (South Island) – In 2020 Angela joined PGG Wrightson having spent 16 years in the fertiliser industry. Angela is a Certified Nutrient Management Advisor and her qualifications include a Bachelor of Farm Management from Sydney University. She has also completed programmes from the Agri-Women's Development Trust.
PGG Wrightson's land production team contributes articles and tech tips monthly in the Rural Diary. For on-farm technical advice and recommendations, contact your local Technical Field Representative.