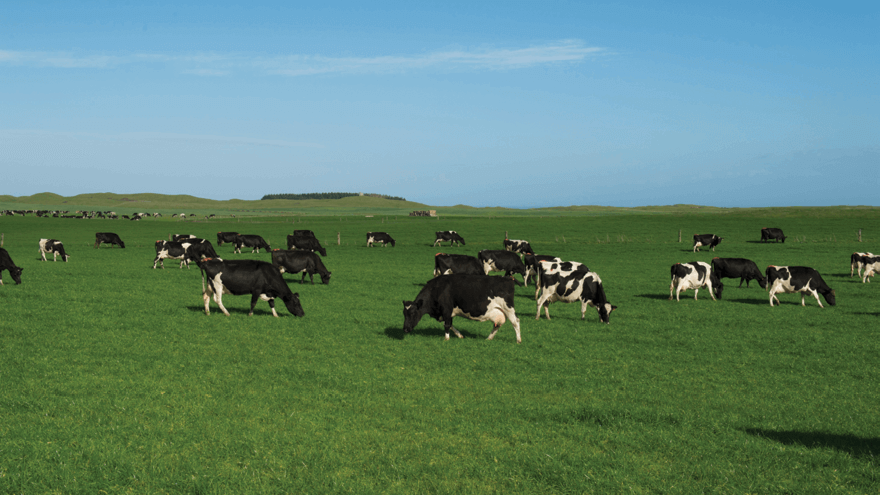 Time to think about facial eczema prevention
The warmth of summer heralds the unwelcome prospect of high spore counts in paddocks with the resulting risk of facial eczema (FE). In the absence of a cure, early intervention is crucial to protect the health of your herd and minimise loss of production.
When temperatures remain above 12 degrees Celsius for three consecutive nights, a biological invasion takes place at the base of pastures. In such warm and moist conditions the toxic spores of the fungus Pithomyces chartarum start to grow rapidly amongst the leaf litter where they represent a risk for ruminants. Once ingested by the animal the fungal spores cause damage in the liver.
Symptoms of FE include animals seeking shade and a loss of appetite which goes hand in hand with an immediate drop in milk yield. FE is also painful due to extensive reddening and flaking of the skin including the teats, leaving raw flesh exposed that becomes a target for infection. In addition, by the time five percent of a herd show obvious clinical signs, up to 70 percent already have liver damage leading to metabolic diseases such as milk fever at calving¹.
Despite the wide-spread risk of FE, there is currently no cure. You can help prevent FE by reducing the fungal growth or stock access to high risk parts of the farm. A planned approach works best uitlising tools including pasture fungicide spraying, grazing forage crops with low spore counts, feeding silage and not grazing high risk paddocks.
Monitoring of spore counts is imperative to assist with preventing FE and the timely treatment of zinc which is used to block the production of the free radicals that cause liver damage. Zinc treatment needs to begin early as spore counts rise to be at the effective dose when they reach 30,000 spores. Increase the dose slowly over a two to three week period to ensure serum zinc concentrations are at a protective level.
While there are several options for zinc supplementation from drenching to inline dispensers or adding to supplements, these can be time consuming or come with other constraints. Zinc has a bitter taste when administered in the required dosage, leading to a drop in water intake.
There's also the matter of composition and quality of ingredients all of which have a bearing on the overall effectiveness. For one, it reduces the absoption so long term therapy can result in low liver concentrations. If you need to add copper to the diet then use a chelated product like Zincmax+™. Chelated or organic copper is the gold standard as it supports increased absorption and effectively maintains liver copper.
These desirable ingredients are hallmarks of SealesWinslow's popular Zincmax+ formulation which also includes a peppermint flavouring to mask the unpalatable bitterness of zinc. It is a solid nutritional cornerstone in the prevention of FE and should be given two to three weeks before spore counts rise. It readily dissolves in water, is easy to administer with in-line dispensers or troughs and is palatable.
Zincmax+ is a quality and convenient supplement for cows and should be accurately dosed as part of a FE control programme early on in combination with regular spore monitoring. It is best used as a sole zinc supplement to avoid overdosing due to multiple methods. Note that the copper content makes Zincmax+ unsuitable for sheep.
To learn more about feeding your cows Zincmax+™ to help prevent facial eczema this summer, contact your local PGG Wrightson Technical Field Representative.

¹DairyNZ. (2020). Farmfact: Facial Eczema – Treatment and prevention (3-6). https://www.dairynz.co.nz/publications/farmfacts/animal-health-welfare-and-young-stock/farmfact-3-6/.