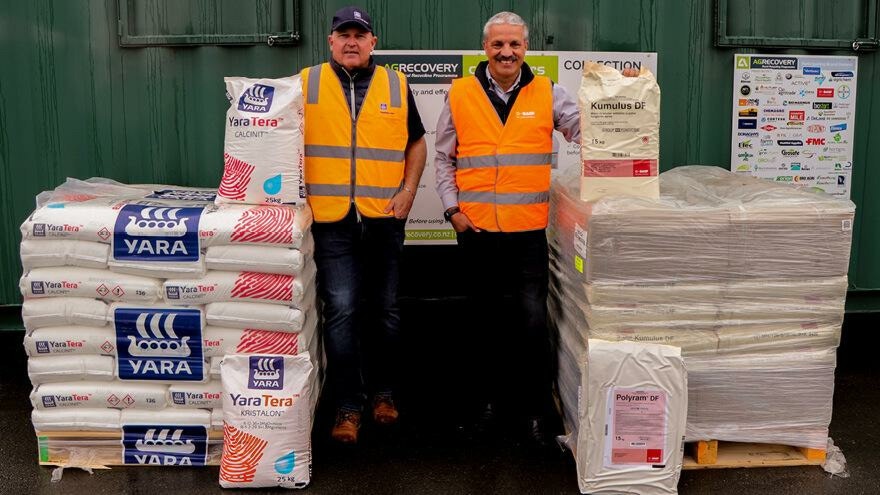 Turning up the dial on rural recycling
Free plastic recycling of specific ag-chem and nutrient bags is available to farmers and growers as Agrecovery, New Zealand's growing rural recycling programme, turns up the dial to offer more sustainable alternatives of disposal.

Following a successful trial held in Marlborough and Hawke's Bay last year, recycling of bags made from Low Density Polyethylene (LDPE) plastic is now available in these two regions ahead of a future, nationwide rollout.

Agrecovery's Chief Executive Tony Wilson says that after 15 years of offering container and drum recycling, the not-for-profit organisation is partnering with agricultural manufacturers, BASF and Yara, to clear more plastic from farms.

"We're extremely proud to have BASF and Yara, who have supported High Density Polyethylene (HDPE) recycling with us for many years, come on the soft plastic journey with us," Tony says.

He explains further: "This is something that farmers and growers have been asking us to do for years, so we're excited to be providing sustainable options for more plastic types."

Felicity Mitchell, Agrecovery's Operations Advisor, says: "The success of the trials and enthusiasm of farmers and growers are behind the move to a permanent solution for these bags. The LDPE bags are made from number four plastic, usually used for fertiliser and fungicides."

This initiative is part of a broader plan that Agrecovery is developing, with the government and industry, to set up product stewardship schemes for the sector.

Tony explains: "Our goal is to collect all types of farm plastics. Our HDPE recycling is well established and it's time to tackle other plastic types. We want to raise the game to achieve better environmental outcomes for rural communities by removing plastic from farms."

The two suppliers, Yara Fertilizers New Zealand and BASF New Zealand, were founding members of the original hard plastics recycling scheme.

Yara's David Spencer says: "The next logical step was to push for soft plastics recycling, so we're delighted that this initiative is underway.

At present, BASF has Kumulus® DF and Polyram® DF bags eligible for the LDPE recycling scheme, while Yara products Croplift®, Croplift K™, Calcinit™, Kristalon™ and the Krista™ range are in the recyclable bags. More products from both companies and other suppliers' products will be part of the programme in the future.

BASF's Fenton Hazelwood adds: "It is important that we all play a role in creating a sustainable future and, through this partnership with Agrecovery, we're pleased to make it easier for farmers to have a positive impact on the environment."

Growers in the two regions where LDPE recycling is currently available are also pleased.

Robbie McCormick, Technical Manager with Mr Apple, says their operation's sustainability goes to a new level now they can recycle these number four LDPE plastic bags.

Dean Astill, Director of Berry Farms NZ, agrees. "We are always looking for ways to reduce our environmental impact and we expect the same from our potential supply partners. This programme is a great initiative."

Growers outside Hawke's Bay and Marlborough who wish to participate in the LDPE recycling scheme should contact Agrecovery directly for more information.

A list of products that can be recycled is available on the Agrecovery website, agrecovery.co.nz. Talk with your Fruitfed Supplies Technical Horticultural Representative for more information about LDPE recycling.