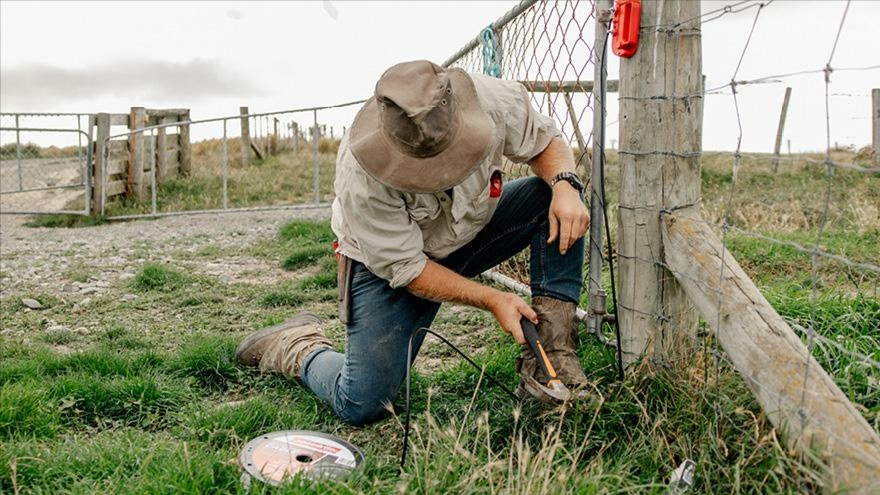 Fencing your lifestyle block
Speaking from experience having lived on farms ranging in size from a sheep station to a lifestyle block, PGG Wrightson Customer Service Representative Becky Latter has plenty of fencing experience. Here, she shares her top tips on fencing repairs.
Starting with your boundary fence, Becky says you'll want a conventional fence incorporating a product like Cyclone's Tighlock Netting. As an extra deterrent for livestock, add a hot wire on top.
Within your lifestyle block, depending on what animals you have, you have the choice of conventional or electric fencing, or a mix of the two.
Electric fencing
Use an energizer to power an electric fence. To find the right energizer for your property, Becky says calculate how many kilometres of wire you'll be running. Say you have a 10 acre block with two acres accounting for your home and surrounding garden, that leaves eight acres to power. One option is a solar unit, ideal for lifestyle blocks as it is portable. Speedrite's S500 Portable Solar Energizer will power up to 5km of fence line using an internal 12 volt battery.
Top tip: Becky says, when purchasing a mains unit or energizer, find a model that will power the size of your block, then select the next size up. By doing so, the unit will be capable of powering more fence line which you may install as temporary fencing.
Electric fence components
Firstly, Becky discusses wire with products including Speedrite Extreme Poliwire or Speedrite Extreme Politape. As this is the weakest part of the fence with the highest point of resistance, Becky recommends purchasing extreme tape or extreme politape as these products have copper strands which are more conductive than stainless steel. A premium wire is particularly important, says Becky, when you've got sheep or goats as they have 'light' feet, and with sheep's woolly insulation, they can be tougher to shock. In contrast, horses and cows are easier to shock so have much more respect for electric fencing!
Create a kit and make fencing repairs easier
In this kit Becky suggests you have:
A range of insulators that match your current system
A hammer
A multi tool. Highly recommended by Becky, this tool will cut wire, crimp and assist with electric fencing applications. Strainrite's Ultra Crimp 5-in-1 Multi Tool is one option.
Electric crimp sleeves fitting 2.5mm high tensile wire, as this is the standard on a lifestyle block. Note Becky says this size is suitable for wire up to 3.15mm.
Standard cut out switch
Underground cable (25m roll) for running wire under gates
Fault finder and/or digital voltmeter
A tip from Becky on laying underground cable: Place the cable in a LDPE pipe so the cable is not only protected from damage but makes it easier to find when being pulled up.
A fault finder is portable and easy to use. As Becky explains, it will display the current and ampage running each way along the wire and show where the current is lower which is likely where the fault is located. A digital voltmeter serves another purpose, reporting not only the fence lines voltage, but will also test your earth. An earth, Becky says, should not have a lot of electricity running through it. If it does, you may need to install another earth rod to increase your capture field.
Break fencing
Here's Becky's suggestions on how to set up your break fencing, depending on the animal.
Cattle: Install one wire with a pigtail. Becky says if you're in a high wind area, choose wire over tape as it is less likely to move around and break the conducting wires.
Sheep and young cattle: Install a triple geared reel that can be easily pulled across a paddock. Attach the wire to plastic tread-ins to hold the wires in place and prevent them from touching.
We have a complete range of fencing tools and equipment online. Purchase now and enjoy the convenience of delivery or click n collect.