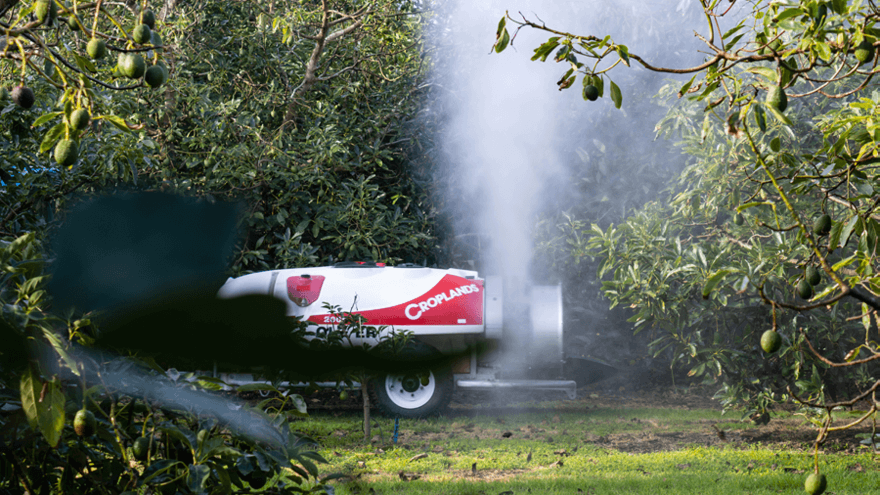 Cropliners feature in far north orchards
The ability to choose the size and components to suit their specific orchard requirements means the ever-growing number of Far North avocado growers are choosing from the Croplands range of horticultural sprayers.
Ian McLarnon has been growing avocados for 47 years, originally in Katikati where he also grew kiwifruit. Ian moved to Houhora about 12 years ago with both his sons having established avocado orchards in the Far North about a decade earlier, one being Jason McLarnon who worked for Fruitfed Supplies for several years.
With 22 ha of Hass trees planted between 2006 and 2018 in 7x4 m and 7x7 m spacings, Ian plans to keep the trees to a maximum six metres in height. "With six metre trees, the 2000 L Avoliner sprayer with the big fan and the nozzles set up properly, you can do the job effectively," Ian says. "I've just updated to the latest Avoliner and handed the previous one onto my son."
Ian likes his sprayers to have all the bells and whistles. "I like to run a designated tractor per sprayer. When we buy a new sprayer, it gets set up on that tractor and that's where it stays. Our Fruitfed Supplies Representative, Bill Mahood brings it out, hooks it on the tractor, programmes all the settings, calibrates the sprayer and away we go. Bill and our local Croplands service agent make it easy for us."
Far North growing conditions with its sandy soils couldn't be more different to Katikati's richer, loam and silt loam soils. "Trees grow easily in Katikati with the soil, but you don't always get the warmth you need early season. Here, you get good days and warm nights for pollination in spring. The poorer soils here can be addressed, but you can't change the climate for growing which makes the Far North a great place for avocados."
Over the years, Ian has used a wide range of sprayers. The Croplands units have always done the job he needed them to do so that's why he continues to upgrade as new models are introduced.
"We concentrate spray and the nozzles are set up accordingly. I always say the proof is in the eating. If you spray and end up with a lot of bugs in your fruit at the end of the season, obviously something's gone terribly wrong. If you don't have an issue with bugs, you're pretty much on track."
Pukenui grower Bruce Fullam is partway through the establishment of a smaller avocado orchard with 5.5 ha of Hass currently planted and another two hectares planned. He's opted for intensive spacing of 5x3 m and will keep trees to a height of three metres.
Tight end-of-row headlands played a key role in Bruce's decision to purchase a 1000 L Cropair sprayer. "It's a versatile size and easy to get around our rows. With the 810 mm fan, it sprays through the rows effectively. Being a smaller orchard, we fill up twice at present and even when trees are larger, we might need to fill up three times. If we'd gone for a larger 2000 L unit, we'd still need to fill up two times and would have to back into rows which is not time efficient, so the smaller unit works well for us."
Bruce praises Mark Robinson from Fruitfed Supplies Kerikeri for making the whole purchase process easy. "Mark provided great information and kept us well informed, even though COVID delayed delivery a few months. Mark organised Spray-Tec to come and do the calibration and the local Croplands service engineer to get the sprayer operational and set-up to the tractor linkages. He made is all simple and once I'd been shown how to use the sprayer, it's been easy."
Mark is pleased to be able to help Northland growers find the right sprayer with the correct specifications for their requirements. He explains: "The new fan trailed Cropair 1000 L sprayer is a great fit for Bruce's smaller, developing property and is priced to avoid overcapitalising on machinery during those development years. The Cropair is also available as 300 L or 600 L linkage sprayers for smaller properties and tight headlands."
Croplands also produce a Slimline unit for narrow row spacings, the Cropliner XL with adjustable height and width, and tandem axles for rough terrain. Of course, the purpose-built Avoliner with 920DSV fan is well proven in New Zealand avocado orchards with its extended coverage in high, mature plantings. Growers can choose from various fan sizes, electronic controls, nozzles, PTO shafts and tyres according to their specific requirements. Local service agents work with Fruitfed Supplies personnel to set up sprayers for growers and provide ongoing service and support.
Mark concludes: "Growers benefit financially by having a sprayer that is correctly set up and specified to provide effective canopy spray coverage to control pests and diseases. Avocado trees have a medium to dense growth habit and spray penetration is important to consistently achieve high export grade fruit."