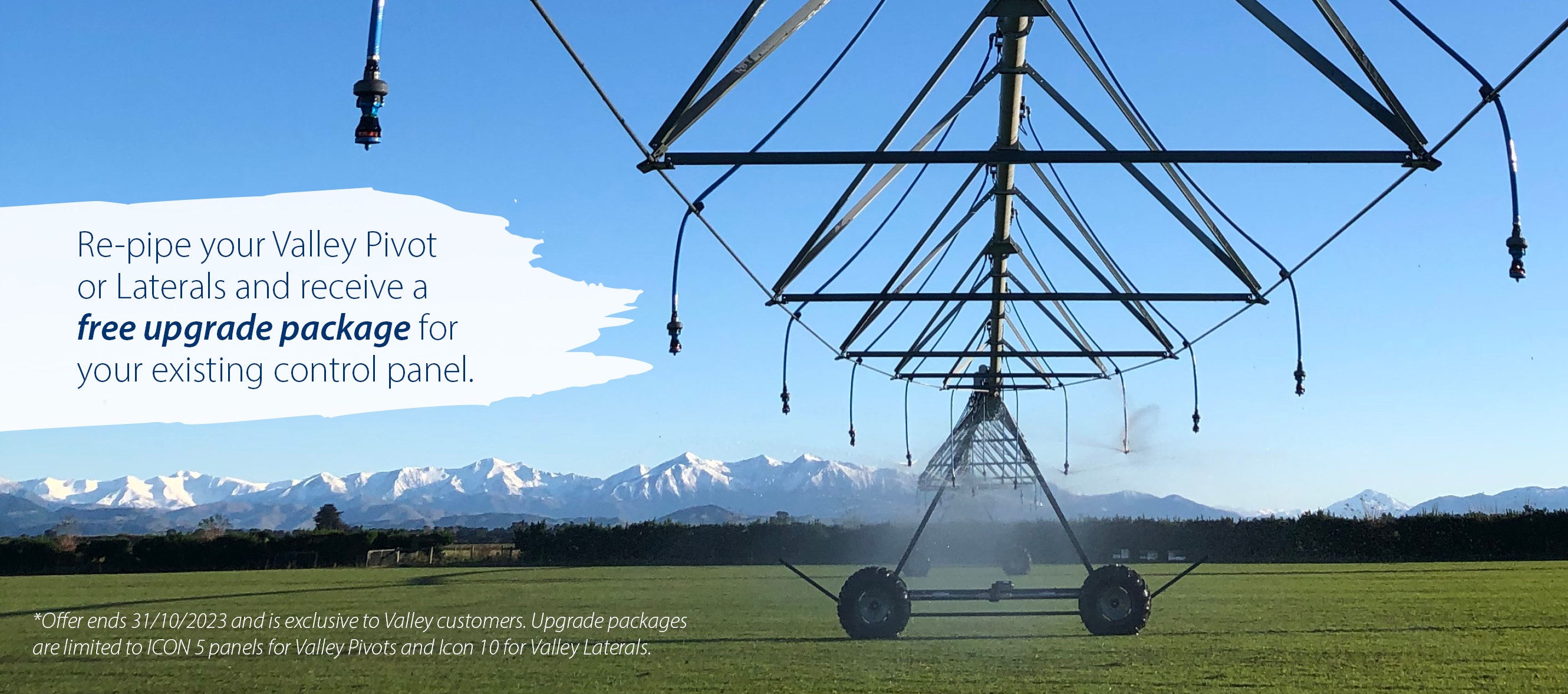 Re-pipe Your Valley Pivot or Laterals
Have you noticed wear and tear along your spans or is your machine between the 15–20-year mark? If so, it could be time to re-pipe your Valley Pivot or Valley Laterals.
Not only will you be future proofing the longevity of your machine, but you will receive a Free Icon 5 Panel upgrade for Valley Pivots or a Free Valley Icon 10 Panel upgrade package for Valley Laterals. For more information contact the PGG Wrightson Water team.
* Offer ends 31/10/2023 and is exclusive to Valley customers or while stocks last. Upgrade packages are limited to ICON 5 for Valley Pivots and ICON 10 for Valley Laterals. Prices are available on request. Our Customer Terms of Trade/Sale located at www.pggwrightson.co.nz apply.
Water & Irrigation Services That Matters
PGG Wrightson Water is the complete service for all of your water and irrigation needs. As well as offering a full service package to farmers and horticulturalists nationwide, we service and repair most makes and models of irrigators, pumps and irrigation systems. We can help with GPS guidance system upgrades, sprinkler pack upgrades, icon panel upgrades and variable rate servicing.
GPS Guidance Upgrades
Have you considered replacing your current buried wire guidance with our state-of-the-art Valley GPS guidance upgrade packages?
The proven benefits of upgrading with this technology is to avoid the costs and time involved with repairing breakages to buried wire which will keep your irrigator up and running for longer and more efficiently.
---
Sprinkler Pack Upgrades
Have you recently failed your compliance bucket testing?
We can install new sprinkler packs including regulators and nozzle assembly allowing a 3-year period of no bucket testing after install. Having your sprinklers replaced regularly means your precious water is being delivered as effectively as possible.
---
Icon Panel Upgrade
An Icon panel upgrade will allow you to not only remotely monitor your irrigator from the ease of your smart phone or PC, but it also allows you to change your end gun settings relative to the current wind direction, see where your irrigator is in the field, receive customisable alerts plus much more. The range of Valley Icon panels can be retrofitted to all leading brand irrigators, call us for more information.
---
Variable Rate Servicing
Is customising your water placement important to you?
If so, Valley variable rate irrigation packages allow individual sprinklers on your Pivot or Lateral Irrigator to be programmed to apply different rates dependent on your topography, soil type, tracks, and trough placement, if this interests you come and speak to one of our field leading specialists.
---
Fill out the below and we'll get in touch: