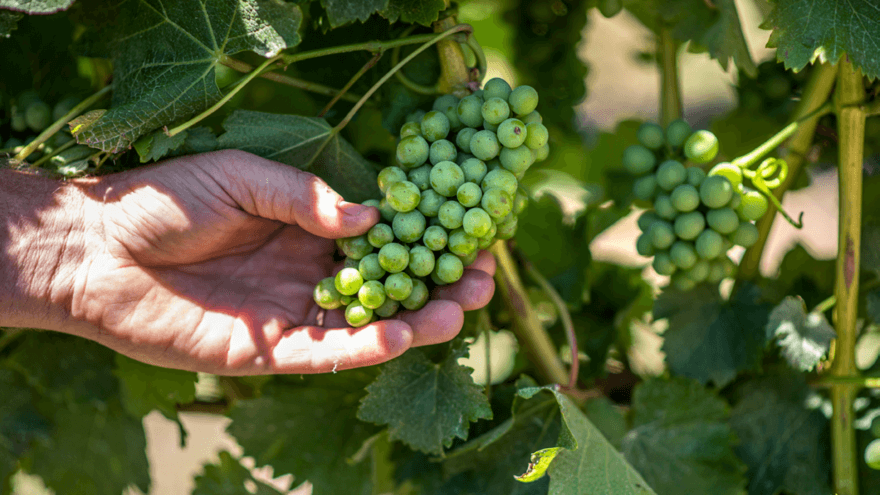 Drop in yield boosts grape quality for 2021 harvest
This year's harvest brought to a close a challenging year for wine growers, though the demand for wine and grape quality remained high. Fruitfed Supplies Technical Specialist in Viticulture Jon Peet, based in Hawke's Bay, and Blair McLean, Marlborough-based Technical Horticultural Representative, comment on the 2021 wine year.
This year's harvest produced outstanding grapes, although yield was low. Jon explains: "This season saw a reduction in yield ranging from 15 to 50% compared to previous years, depending on the region. The east coast of both islands, which accounts for a large proportion of wine production, suffered a cold and wet spring, including a number of devastating frosts, that resulted in poor flowering."
This result had a positive effect on grape quality with the vine putting all its resources into a smaller proportion of fruit. "We've had three years of dry, warm weather at the end of summer going into autumn, creating perfect conditions for ripening," says Jon.
Jon and Blair both highlight wine making trends within the industry. One is the worldwide interest in lighter, less than 10% alcohol wines.
Jon says New Zealand's success in producing this type of wine is due to viticulturists who have developed techniques that retain the unique flavours in the grape at a reduced sugar content. With sugar required as a part of the fermentation process to produce alcohol, less sugar means less alcohol.
Sustainability remains at the forefront of growing according to Jon, with 96% of New Zealand's vineyard growing areas certified with Sustainable Winegrowing NZ¹, a world-renowned programme with membership preferred if a wine grower exports overseas.
To assist growers with their sustainability efforts, the Fruitfed Supplies team is constantly looking for ways to recycle or re-use products including being involved in the Agrecovery recycling programme. Blair says a high proportion of customers are aiming to have zero waste by 2025.
"To help make this a reality for our customers, we work with suppliers to, for instance, reduce the amount of plastic in packaging while also organising plastic bags to be collected from the vineyard for recycling as a part of the Plasback scheme."
While this season's dry conditions brought moderate wet weather disease pressure, powdery mildew is always present. "Powdery mildew is a fungal disease that weakens the vine and gives the grape a dusty, off odour which transfers into the wine," says Jon. Having been a grower himself for 13 years, Jon valued the advice from Fruitfed Supplies who helped him with product selection and application timings to reduce disease pressure and run a successful wine growing operation.
Covid restrictions at the border have created labour challenges with a significant drop in the number of Recognised Seasonal Employer (RSE) workers resulting in increased costs. Blair comments: "Having to use inexperienced pruners means it takes longer, costing the vineyard more. As well, there is the extra cost of bringing RSE workers into the country, with growers having to pay for the MIQ hotel stay."
To help manage this shortage in labour, Jon says, growers are looking for additional efficiencies. "With Sauvignon Blanc accounting for the greatest proportion of wine produced in this country, pruning is mostly done by hand. Many growers are now investigating mechanised options that strip out last season's growth, work that is otherwise highly labour intensive."
In preparation for the 2022 season, Blair says some growers will lay four as opposed to three new canes on the wire as crop for next year during pruning, with the aim of producing a greater yield after this year's poor results.
¹. New Zealand Wine. (2020). Sustainable Winegrowing NZ. Retrieved from: https://www.nzwine.com/en/sustainability/swnz.