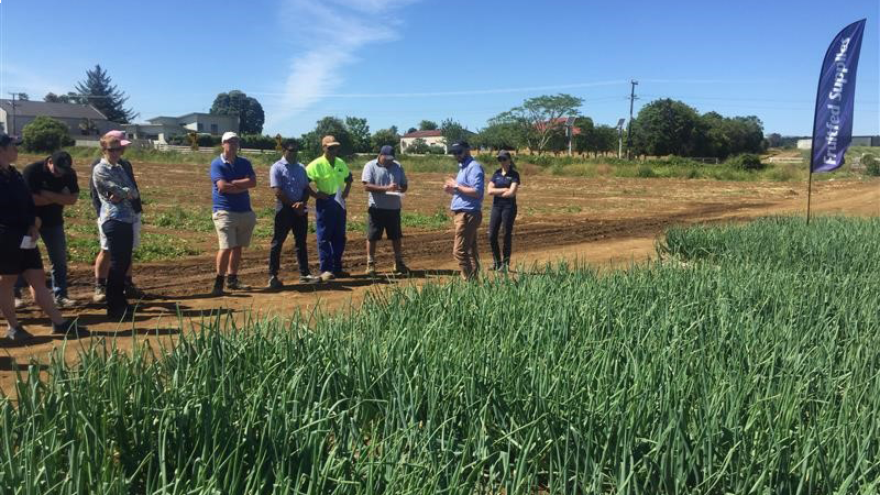 Enhancing IPM practices in onions
The Fruitfed Supplies Technical team has a strong focus on supporting our Technical Horticultural Representatives and growers to apply integrated pest management (IPM) in key crops including apples, wine grapes and vegetable crops such as potatoes and brassicas.
It has been difficult to implement robust IPM practices for insect control in onion crops due to low numbers or a complete lack of beneficial insects within crops to offer a meaningful level of biological control. Onion thrips (Thrips tabaci) are the main pest in onion crops and, in the right conditions, populations can increase quickly to cause numerous issues.
Over the last two seasons, Fruitfed Supplies has been working with FMC to investigate a concept to help control onion thrips developed in Australia by Dr Paul Horne from IPM Technologies.
We have assessed the new IPM practices' suitability for New Zealand onion growing conditions, which include creating an inviting environment for onion thrips predators, using crop monitoring for informed decision making, and the use of selective insecticides only when necessary. Overall, the goal was to produce a marketable crop using IPM practices compared to conventional practices.
To provide a habitat for onion thrips predators, oat silage was spread as a mulch down wheel rows when the onions were at flag-minus-two true leaf stage. Mulch must be applied prior to thrips incursion to allow decomposition and encourage the development of a micro-ecosystem which attracts small insects that feed on fungi in the mulch. Predator insects will follow to feed on the fungi-feeding insects and eventually thrips as the populations get established.
Fruitfed Supplies Crop Monitoring scouts provided weekly insect data, including numbers found, life stages, and insect activity in the mulch. Monitoring data allowed the comparison of one week to the next to identify peaks in insects' numbers between the IPM and conventional crops. It also assisted decisions on whether an insecticide application was required or not.
Benevia, from FMC, was the chosen insecticide as it provides control of onion thrips with minimal impact to beneficial insects. This product works by rapidly stopping thrips feeding and also has a residual effect to target newly hatched thrips and prevent a new population. Uphold was used at the end of the crop to finish.
Overall, the IPM practices produced a comparable crop to the conventional practices and thrips damage was low with no damage observed on the outer skins. By utilising IPM practices, fewer insecticide applications were required, showing the potential for cost savings. Lower concerns about insecticide residue offers a potentially more market friendly onion.
It is encouraging to see that producing an onion crop to conventional standards using increased awareness of insect lifecycles and populations to make educated choices about selective chemical use and timing appears to be possible. Fruitfed Supplies and FMC are looking to continue this work in the upcoming season.
Fruitfed Supplies offers a detailed crop monitoring service. More information is available from your local Fruitfed Supplies Crop Monitoring Coordinator or your Technical Horticultural Representative.