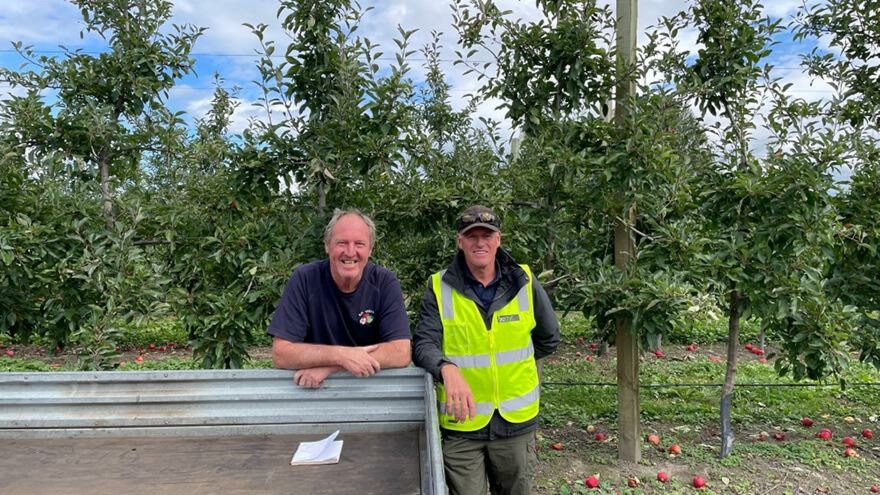 Improved biology for orchard establishment
A BioStart trial¹ shows that enhancing soil biology from the time of planting results in faster orchard establishment, sturdier trees, and higher yields earlier.
The trial started in August 2018 when Royal Gala and Pacific Star trees were planted in a commercial Hawke's Bay orchard. Planting density was 3 m x 1.2 m in a Longlands silt loam. Trees were trained using the standard central leader method and received the same standard fertiliser and agrichemical programme each season.
Mycorrcin, BioStart's soil biostimulant, was applied three times each year: in spring at green tip, in summer at fruit-set and when fruit changed colour. Digester, a biostimulant that speeds up decomposition of litter, was applied at leaf-fall in autumn.
By year four, BioStart-treated trees had an increased trunk cross-sectional area, up 44 percent from 15.5 cm² to 22.3 cm². They were 24 percent taller, up from an average 2.9 m in untreated trees to 3.6 m in treated trees. They also had more branches, with the average up by 25 percent from 9.6 to 12 branches per tree. Importantly, all treated trees had two or more branches at a height of 0.7 m to 1.1 m up the trunk.
In January 2022 the two dominant branches of each tree were assessed for branch length and fruit numbers. BioStart-treated trees had a 27 percent increase in branch length of the two dominant branches per tree, from 0.9 to 1.1 m per tree, and the fruit count was 25 percent greater. This means the BioStart-treated trees had a better architecture with more branches located in the right area of the trunk creating a high yielding tree shape.
This year the grower harvested 3 kg more apples per tree from BioStart-treated trees, meaning a 12 percent yield increase and correlating to 8 MT/ha.
For more information on BioStart products to support new orchard establishment, please talk with your local Fruitfed Supplies Technical Horticultural Representative.
12018-2022 BioStart orchard establishment trial,Hawke's Bay.