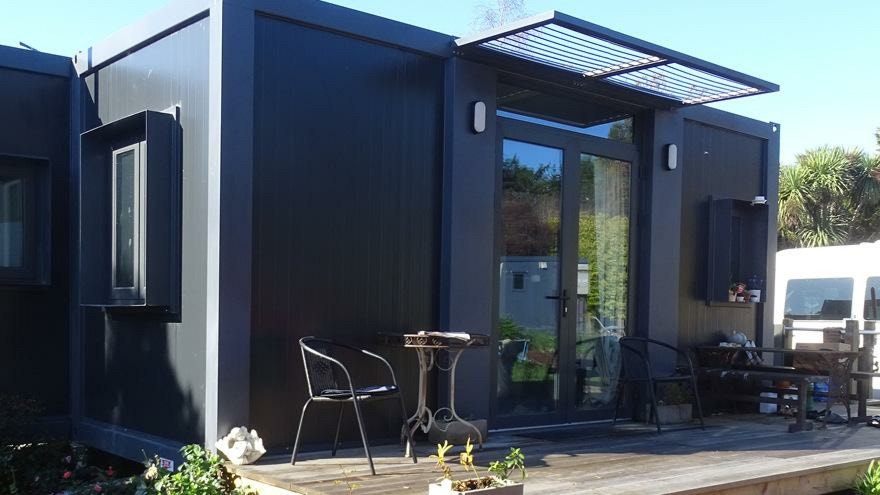 New accommodation solution for orchard and vineyard workers
Fruitfed Supplies has a new line-up of flexible worker accommodation options which are gaining interest from horticultural operators across the country.

Steve Lyons is the National Representative for Canterbury-based Affordable Modular Homes (AMH) assigned to Fruitfed Supplies. Steve is working with Les Rackley and Peter Mortimer, Fruitfed Supplies Product Manager and Key Account Manager respectively, to develop the worker accommodation systems for horticultural and farming operations. The accommodation system is based on a single, self-contained module that can easily be fitted with different interiors and combined in various configurations for multi-module situations.

Les explains: "Of key importance to the whole project was getting input from clients throughout our development process with Steve. Our clients told us that following the issue of securing staff, the next most pressing issue is being able to provide suitable housing for them. They have been open about this issue and the importance of being able to solve it in a practical and cost-effective manner."

Many horticultural accommodation situations are established for Recognised Seasonal Employer (RSE) scheme workers.

Peter says: "Growers want robust, practical and flexible accommodation modules that also take into account the cultural needs of an RSE workforce who often hail from the Pacific Islands. The individual worker accommodation units occupy very little ground space and can be expanded into larger groupings to suit family or village-style living."

The basic unit, dubbed the solo, is a 6 m x 2.5 m self-contained, insulated building with a double-glazed door and windows, an ensuite bathroom and small kitchen unit with a stainless-steel benchtop for making beverages, and cupboards overhead (see next page). Hot water is supplied by a pre-installed califont gas system. Each unit weighs less than 2000 kg and is easily transported to site via a hiab truck or similar. Once onsite, the self-contained unit is placed onto the recommended screw piles, connected to power, water and gas, and furnished by the owner.

The module frames are sourced in China while all interior fittings are manufactured and installed in New Zealand. AMH has a team of registered electricians, gasfitters, and plumbers who install and certify the electrical and bathroom components for each module. The AMH design team can adjust module fitouts and placement combinations to ensure compliance with all relevant requirements.

Peter says there's been considerable interest in the AMH accommodation modules from growers across the country.

"Feedback has been positive and it's easy to see how the flexibility of the accommodation modules can be adapted according to the requirements for workers on each property," says Peter.

Two modules can be combined into a duet (see image on page 4) and configured as a large studio with a fitted kitchen and ensuite, or as a four-bed accommodation unit with living space and small kitchen space.

Steve explains: "The duet modules can be attached side by side to create a simple square building, attached in a L-shape or have the second unit offset as in the photo. It's easy to add a small deck area to create an attractive option as an extra dwelling, rental option, or farm accommodation.

"In the trio option, we have two-and-a-half modules. It's simple to add additional modules in combinations of four, five, six, etc. In these larger layouts, one module would be fitted as an ablution block with showers and toilets. Another module, usually a side-by-side duet, would be fitted with a full kitchen and dining space. An example of a larger layout is seen in Figure 3 which accommodates 10 people, two in each sleeping module, and utilises a covered accessway over decking for the common areas."

Steve emphasises the flexible nature of the AMH worker accommodation modules. "We enjoy working with Fruitfed Supplies personnel to offer simple, adaptable and comfortable accommodation solutions designed for the specific requirements of each property and their seasonal or permanent workers. At present, we are fortunate not to have to contend with local material supply delays and can deliver large numbers of modules within a timeframe of only a few months anywhere in New Zealand to your specifications."

The AMH modules are also being used for family baches, family sleepouts, rental accommodation and granny flats.

Find out more about the AMH worker accommodation modules by speaking with your Fruitfed Supplies Technical Horticultural Representative.
Article by Fruitfed Supplies