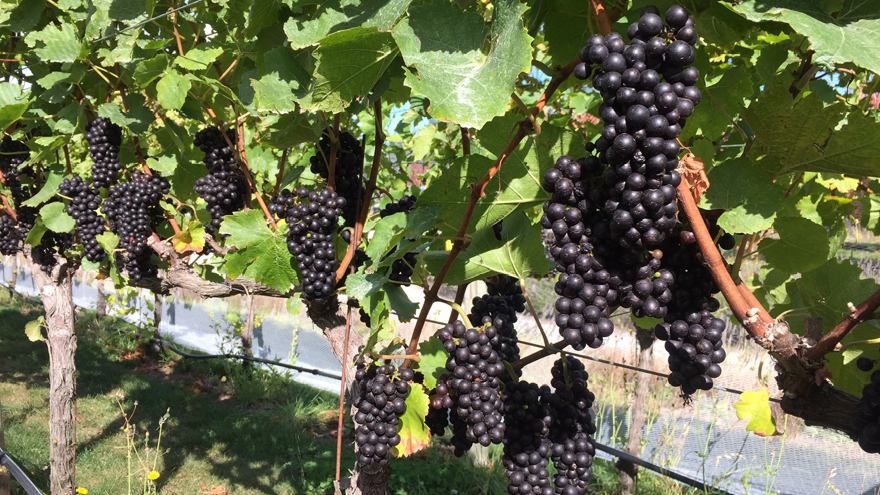 New spray programme leads to better crop
River Rock Estate's Graeme and Jan-Marie McDowell are rapt with this year's harvest from their small vineyard in central Cromwell. The harvest of nearly six tonnes of quality fruit was a stark contrast to the previous season when most of the crop was dropped to the ground due to severe powdery mildew infection.
Graeme credits Cromwell-based Fruitfed Supplies Technical Horticultural Representative Brent Anderson with the turnaround.
"The first four or five seasons here were good with a similar yield to this year's but repeat infection of powdery mildew dropped the yield season after season," says Graeme. "The advice we were given, to spray more sulphur, simply wasn't working.
"Brent's partner Gina helped us with the 2019 harvest, if you can call it a harvest, and she was as disappointed as we were with the results. She mentioned it to Brent, and he came to us to outline how he could help us lessen disease and increase our crop. He said if we stuck to his spray schedule and other vineyard practices he suggested, we'd see an improvement compared to the recommendations we'd received over the past few years."
Brent suggested to Graeme that they put together a robust fungicide programme to control the powdery mildew which would otherwise return from the previous year's overwintering inoculum.
"I also said it wouldn't be cheap, but it would work!" says Brent. "Graeme agreed he couldn't have another season like the last so the price of the crop protection products would be cheap in comparison."
Graeme was surprised by the spray schedule. "I'd never seen so many different and precise sprays, timings and dates to stick with, but we followed it to the letter with Brent's ongoing support and follow-up, which has been amazing. He even turned up in the dark one night at Jan's request, with his head lamp, to help Jan with her pruning technique."
The one-hectare vineyard was established between 2004 and 2008 with Pinot Noir, Pinot Gris and Sauvignon Blanc vines planted closer than normal and trained onto double fruiting wires in a bid to help boost potential yield.
Graeme acknowledges that disease pressure hasn't been helped by the close planting. "Over time, we have slowly reduced cane numbers and carry out extensive leaf plucking to improve air flow. The new spray schedule is more regular. Brent also recommended improving plant nutrition with more fertigation to help vines on our sandy soils."
Graeme has also implemented Brent's suggestions for base fertiliser applications in winter, pea straw around vines and mulching in leaves and grass clippings to help reduce disease inoculum carryover.
"Powdery mildew is an on-going programme for Central Otago vineyards," Brent says. "Our main goals with Graeme's spray programme was to get the timing right, intervals short and have robust chemistry applied to vines slightly before critical growth stages when powdery mildew infections are most likely to get established.
Canopy management has a huge effect on allowing best possible coverage. Jan did a sterling job of maintaining an open canopy through the growing season and Graeme followed the programme exactly to get the fruit they wanted." Even the additional requirements of harvesting during the COVID-19 Level 4 lockdown didn't stop Graeme and Jan getting their 2020 crop off to the Central Otago Wine Company to make their latest vintage in a style Graeme describes as "a bit different to the norm".
With domestic travel now allowed under current Alert Level 2 requirements, the couple will also be looking forward to getting tourists booking into River Rock's vineyard accommodation and, once again, hosting guests for tastings of the wine, port, honey and olive oil that they produce onsite.