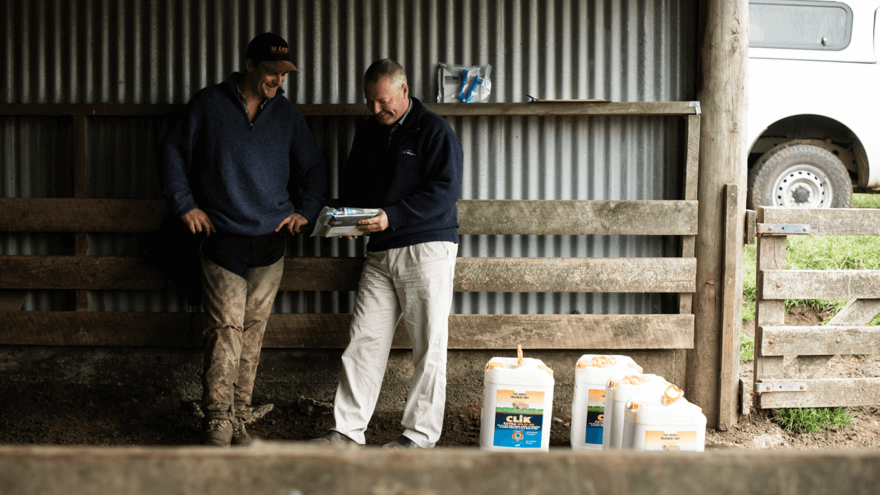 One application enough to prevent flystrike
Flystrike and summer are almost synonymous for drystock farmers across New Zealand, with NZ Beef and Lamb estimating that up to 10 percent of the national flock is affected annually¹.
On the recommendation of PGG Wrightson Technical Field Representative (TFR), Nikki Barbarich-Waikari, Gisborne-based sheep and beef farmers, Dan and James Griffin, have successfully prevented flystrike in their flock with one timely application of Clik™ Spray-on.
The Griffins run 35,000 stock units across three farms on the East Coast of the North Island. Te Kohanga Station is one of them, located at Otoko, North-West Gisborne.
According to James, the main animal health challenges include facial eczema and flystrike over the summer months, plus drench resistance on the breeding and trading block.
James and their staff work closely with local PGG Wrightson representatives, TFR Nikki and Matawai Store Manager, Justin Cameron, while Technical Expert for Animal Production, Andrew Dowling, revises their animal health plan annually.
"As a whole, PGG Wrightson provides us with great support," says James. "They know our farm challenges well and we buy just about all our farm inputs from them.
"Justin is proactive in ensuring the products we need are in stock well before we need them. Andrew has a lot of technical knowledge and has been a huge help in managing drench resistance. We probably see him two to three times a year and liaise with him all the time on our animal health programme.
"Nikki has been a great help, particularly with pasture renewal across the three farms. At peak times, we see her weekly."
There is no 'one size fits all' when it comes to an animal health programme. "The aim on this farm is to ensure no setbacks in finishing stock. Clik provides the sheep with long term protection, and it has different actives to the lice control products used on this property so reduces the risk of resistance," Nikki explains.
James appreciates the ease of use and reassurance of long term protection. "We only need to apply Clik once, unlike other products. We use it on the terminal ewes post-shearing in early autumn; it provides long-acting coverage and we have experienced 100 percent reliability to date.
"We've used Clik consistently for three years and haven't had a single case of flystrike in that time. I consider it cost-effective because it's long lasting and efficient."
Ready to use, Clik provides 10 to 18 weeks protection against flystrike caused by common strike flies.

¹ Beef + Lamb New Zealand. (October 2019). Beef + Lamb Fact Sheet. https://beeflambnz.com/sites/default/files/factsheets/pdfs/fact-sheet-97-flystrike_1.pdf.
PROFILE:
Type: Sheep and beef
Size: 1,330 hectares (ha), (1,200 ha effective)
Stock: 2,500 terminal ewes, 3,000 trade lambs, 500 weaner steers, 700 18-month steers and 330 breeding cows
Owner: Dan & James Griffin, Te Kohanga Station
Location: Gisborne